The Best Ways to Care for, Clean and Store Art
When you've made an investment in artwork you love, it's worth a little extra effort to keep your pieces in the best possible condition. But how exactly are you supposed to do that? What if you need to move or put your art in storage? And what about those gorgeous but grimy old treasures unearthed in your grandparents' attic — how hard would it be to clean them? I asked Rob Delamater and Gaetan Caron, founders and art directors of The Lost Art Salon, a San Francisco gallery that specializes in artists of the modern era, about the best ways to care for, frame, maintain, store and move artwork.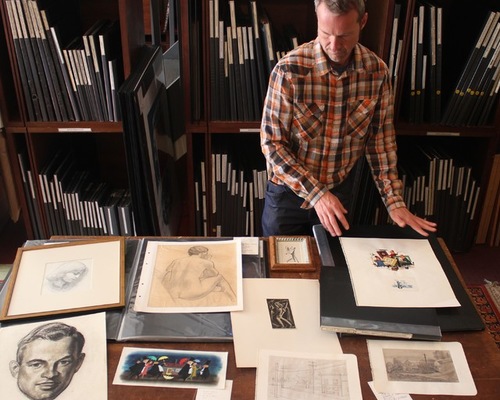 Lost Art Salon (Image: Houzz)
Q. Let's say I've found a vintage painting I love, but it looks really grimy. Is there anything an average person can do to safely clean a painting? 
A. The simplest way to clean up an oil or acrylic painting on canvas is to use a white cotton cloth soaked in a gentle soapy water; olive oil–based soap works wonders. You'll be surprised to see how much grime comes off. Be gentle with paintings with thick impasto, as you do not want to break hardened paint. You might want to use Q-tips and work gently in crevasses.
If the painting still looks grimy, it's better to see an art restorer that would use a stronger art cleaning product and may reapply pigment colors where need be. It's surprising how a restored painting can show its true colors just by taking away the accumulation of cigarette or fireplace smoke. If your oil painting shows paint flaking off, it is better to leave the cleaning and restoration to an art restorer.
Many times canvases have become loosened on the stretcher bars. A simple method to retighten the canvas is to spray water on the back of the canvas and leave the piece to dry in the sun for a couple of hours. Canvases are made of fabric, and with time the weave has become loose. This process is safe and will not damage the painting itself.

Lost Art Salon (Image: Houzz)
As for works on paper, you need to determine first if it is a water-based paint or not. That could be done by wiping a damp white cloth in an area of the piece that would be behind a mat. If the color of the paint can be seen on the cloth, it is a water-based paint. For water-based paint, one would damage the piece while trying to clean using water. We recommend to simply dust using a dry soft and fine brush. If you notice a small stain that bothers your eye, you can try to gently wipe out using a damp, barely humid white cotton cloth, avoiding taking off the pigments.
With non-water-based paint, a soft cleaning with a damp, barely humid white cotton cloth can do wonders. Avoid wetting the exposed paper without paint, as you could create a water stain. With works on paper with lots of water stains, it is better to leave it alone or see an art restorer specializing in works on paper. They would be able to give you an estimate on the cost for restoring your works on paper.
Most of the time, a work on paper looks very grimy because of the accumulation of dirt on the glass itself, which could easily be cleaned up and the piece put back together. You might decide to further protect the piece by changing the mat to an acid-free mat.
Brainstorm Ideas on How to Arrange Your Artwork in Your Living Room
Q. What about regular maintenance? Should we be dusting our paintings and frames?
A. We certainly recommend dusting paintings regularly using a dry, soft and fine brush. As for the frames, one can use a damp cloth or whatever is used with furniture depending on the material the frame is made of. A good piece of advice would be to keep works on paper away from humid areas — bathrooms or next to the stove in kitchen area.
Another easy and useful trick for artwork framed using an exposed canvas mat that has some water stains is to use a toothbrush with gentle soapy water and make sure to wet the entire canvas mat. The stain caused by water should disappear like magic as the entire canvas mat dries. The common error is to try to wash the area with the stain only, causing the stain to only get bigger.
Q. Custom framing can be expensive. Is it OK to use ready-made frames? Are there times it's best to go with a custom frame?
A. Framing costs are expensive. That is why we offer most of our unframed works from The Lost Art Collection with a standard-size archival mat, so one can go to a ready-made frame shop and buy a standard frame for a fraction of the price of a custom frame and pop it right in. Unfortunately, there are not as many choices that come ready made.
Keep Your Most Prized Artwork Off Fireplace Mantels
Q. Should we be concerned about sun damage for artwork hung in a sunny room? 
A. Yes, the sun can damage artwork, especially works on paper, yellowing the paper and sometimes causing the paper to almost disintegrate.
Q. What do you recommend to limit damage?

A. If you would like to have an artwork in a location where there is direct sun at times, do consider having it framed behind a UV-protected glass. There are different grades of UV protection; the bigger protection, the better. But know that such pieces of glass can be quite pricey. Also know that UV-protected glass is usually reflective. We like to have works on paper behind a nonreflective etched glass at times, ensuring that the artwork can be seen without everything from your room reflected in it. Unfortunately, etched glass comes with little UV protection. Depending on the location intended for a piece of art, one can decide what kind of glass is required.
Q. What about protecting paintings on canvas from sun damage?
A. Oil paintings are a lot stronger than works on paper, but exposed to the sun they would also change color. Avoid having direct sun on your paintings. The discovery of oil paint applied to a canvas allowed for artwork to be shown without glass and mat, which is the norm for presenting paintings on canvas. If you have a sunny spot ideal for a work on canvas, one can decide to have it framed behind a UV-protected glass with spacers. The same could be done with an oil that shows quite a bit of damage — we like to call it patina, which can be very charming — avoiding the hefty price of oil restoration.

Lost Art Salon (Image: Houzz)
Q. What is the safest way to store art? Say someone is downsizing and must put a great deal of their belongings in long-term storage. How should their paintings, framed artwork and loose prints be handled?
A. The best way to store art is to follow the following steps:
Wrap up the piece in brown paper.
Wrap it up in bubble wrap.
Place frame corners on all four corners.
Place the wrapped-up artwork in a solid box (for a mirror).
For unframed works on paper, use plastic sleeves with acid-free cardboard to make sure the paper doesn't bend with time.

Lost Art Salon (Image: Houzz)
Find the Right Frame for Your Art
Q. What about protecting art during a move or shipping? Anything we should do in addition to following the steps you shared for storing art?
A. We recommend you double the box by adding cardboard on each side of the painting. Make sure the box is filled in with paper to avoid the piece's moving within the box during transportation.