The 4 Most Shocking Damien Hirst Moments
Damien Hirst has been pushing the boundaries of the art industry for his entire career, showing no signs of slowing down. To celebrate his birthday, we thought we'd take a look back at some of his most shocking moments.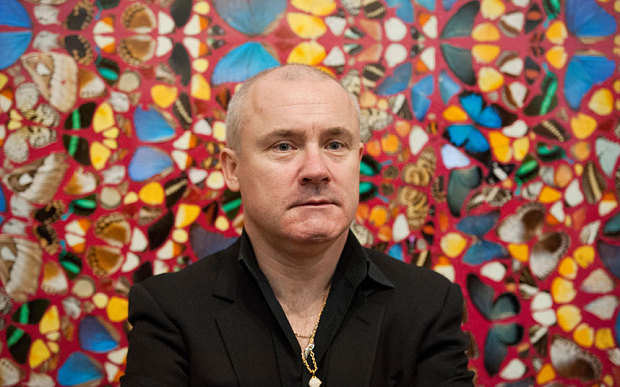 Damian Hirst, standing in front of his 2006 piece, "I Am Become Death, Shatterer of Worlds" made from butterflies and household gloss on canvas. (Image: The Telegraph)
1. In 1992, Hirst burst onto the scene when his work was included in the Young British Artists show at the Saatchi Gallery in London.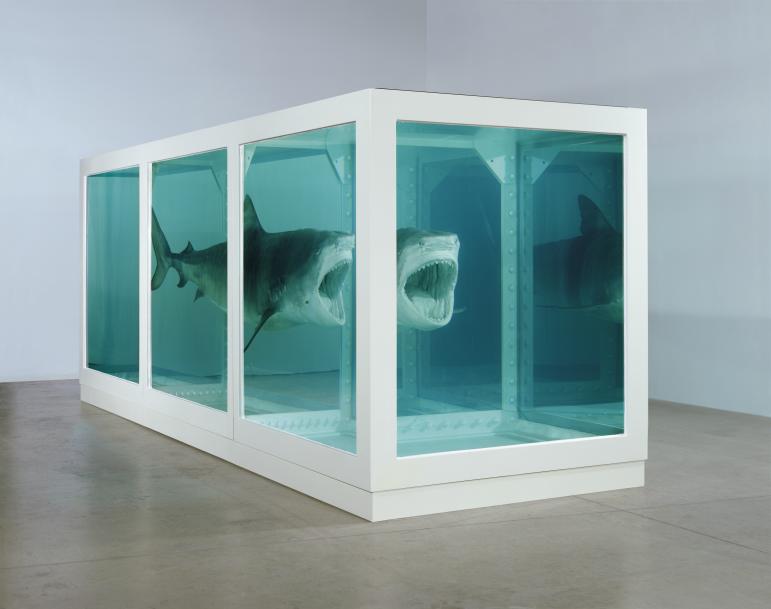 "The Physical Impossibility of Death in the Mind of the Living" by Damien Hirst. (Image: Damien Hirst)
Hirst immediately grabbed attention for his piece "The Physical Impossibility of Death in the Mind of the Living" – a 14-foot-long glass tank holding a tiger shark preserved in formaldehyde. Originally commissioned in 1991 and sold in 2004 for an undisclosed amount (rumored to be $8 million), Hirst's shark came to represent the epitome of British art in the 1990s. Praised by the New York Times for creating a "visceral experience" of life and death, the piece was also mocked and criticized by British newspapers calling it, "£50,000 for fish without chips." (The Guardian, 2012). 
2. "In and Out Of Love" installation at Tate Modern's 2012 retrospective of Hirst contained thousands of live butterflies.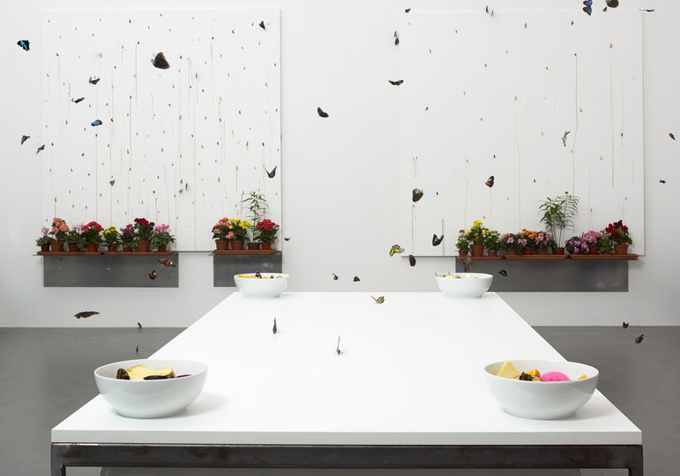 "In and Out of Love (White Paintings and Live Butterflies)" by Damien Hirst (Image: Damien Hirst)
Installed in two windowless rooms in London's Tate Modern, visitors could observe thousands of live butterflies flying above their heads, resting on the walls and eating fruit from bowls. While initially praised by art critics, the death toll of 9,000 butterflies by the exhibit's close, many of them stepped on or injured by swatting visitors, had animal rights groups up in arms. A spokesperson for England's RSPCA said, "There would be national outcry if the exhibition involved any other animal, such as a dog. Just because it is butterflies, that does not mean they do not deserve to be treated with kindness." (The Telegraph, 2012)
"It's about love and realism, dreams, ideals, symbols, life and death. I worked out many possible trajectories for these things, like the way the real butterfly can destroy the ideal (birthday-card) kind of love; the symbol exists apart from the real thing. Or the butterflies still being beautiful even when dead. " – Damien Hirst
3. In 2007, Hirst grabbed the attention of fans and critics alike when he created "For the Love of God," a diamond-encrusted skull made of platinum. The asking price for the piece was £50 million.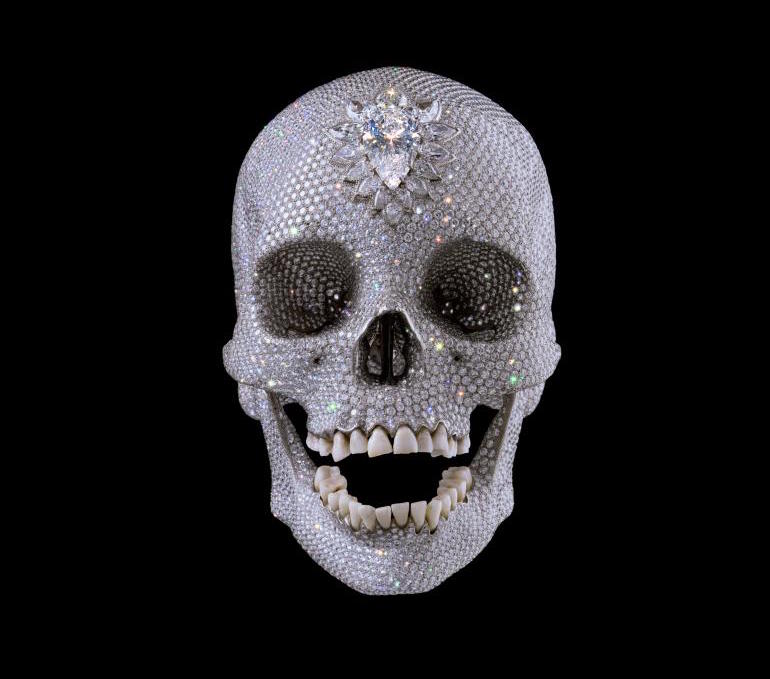 "For the Love of God," by Damien Hirst. (Image: Damien Hirst)
The sculpture, made by Hirst for a whopping £14 million, consists of a platinum cast of a human skull, real human teeth and 8,601 flawless pavé-laid diamonds. While it's still disputed whether or not Hirst was able to sell the piece for the full £50 million asking price, if he indeed had, it would be the most expensive single piece of artwork ever sold by a living artist. (The Guardian, 2010)
 4. In 2008, Hirst unconventionally auctioned his work directly to the public through Sotheby's Auction House. The sale brought in $200.7 million, breaking the record for a single artist auction.

"The Golden Calf," by Damien Hirst on display. (Image: The New York Times)
The prior record for a single-artist auction had been set in 1993 when 88 works by Picasso sold for a total of $20 million. Hirst's top-selling piece, "The Golden Calf" a white bull in formaldehyde with 18-carat gold hoofs, horns and golden halo sold for $18.6 million. In the end, 223 works by Hirst were sold to collectors all over the world. (New York Times, 2008)
To see more provoking artworks by Damien Hirst, check out the video below where the artist and Tate Modern curator, Ann Gallagher, explore each of the pieces in his 2012 retrospective.
Love reading about all things art? You can have articles from Canvas, curated collections and stories about emerging artists delivered straight to your inbox. Sign up for the Saatchi Art Newsletter.