Speak Out: Sarah Maple
"I use humour like a trojan horse to get a message across."
– Sarah Maple
On the occasion of Women's History Month, Saatchi Art's curators spoke with artists about their process, inspiration, and the ways in which their identity as a woman is relevant to their art.
UK-based Sarah Maple has a BFA from Kingston University, London. She won the 4 New Sensations Prize given by the Saatchi Gallery, and a Sky Academy Arts Scholarship. Her works have been widely exhibited, including at the Southbank Centre, London, AIR Gallery, NYC, and Kunisthoone, Estonia, where her show broke the museum's record for visitor numbers in a single day and overall duration.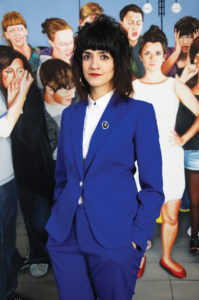 What does it mean to you to be a woman in art?
Right now it's a very interesting time. It feels like people are paying more attention. I was recently in a show called 'Not 30%' curated by Kate Bryan, which focused on how women are only represented 30% of the time in galleries and institutions. We are nowhere close to 50% but I'm glad people are finally waking up. There's a lot of brilliant women out there that need an equal platform.
Which female artist inspires you most—past or present— and why?
I think my all time favourite is Sarah Lucas, I saw her show at New Museum in New York last year and it just filled me with so much joy. She inspired me a lot in my early work and I love parodying her. She makes me excited about art and being an artist.
What is your advice to a young woman who aspires to be an artist?
I would have to give it in secret so the men don't see.
What are the themes you pursue in your work?
I pursue a lot of different themes and adapt my media to the statement I'm making. I'm very inspired by politics and responding to the here and now. Especially the past couple of years politically have been crazy in the UK and the US, I can't not comment on that! There's a lot of fodder out there right now for artists. I also like having a laugh and making comments about the art world itself.
Can you tell us about your process? Do you begin with a sketch, or do you just jump in? How long do you spend on one work? How do you know when it is finished?
Every piece is different I think but I spend a lot of time thinking and planning before I make anything. I use a lot of humour in my work like a trojan horse to get a message across. I recently started collage which has been brilliant, it's much more organic which is where a lot of magic happens!
If you couldn't be an artist, what would you do?
Crazy cat lady.