Recap: Our 4 Artists to Watch this June
Every week, we at Saatchi Art highlight some of the artists we believe are hot and on the rise through our One To Watch series. Let's take a look back at those we discovered in June!
1. Wendi Turchan – blending the real and the imaginary through organic abstracts
Wendi Turchan is an emerging artist living and working in Appleton, Wisconsin, United States. She received a MFA from the University of Oregon and a BFA from the University of Wisconsin. Wendi's abstract paintings, characterized by their vivid hue and organic shapes, are about transformation in physical and emotional states, exploring the space between real and imaginary conditions. She creates unexpected and at times illusionary compositions by layering and obscuring these geometric forms, to parallel how perceptions of the past can shape our present and future.
What was the best advice given to you as an artist?
To trust myself, and to be open to new discoveries. It can be easy to get comfortable with what you are doing or to allow self-doubt to prevent risk taking. I have recently discovered the importance of not allowing my inner critic stop me from trying something new.
2. Matthew David Smith – transforming pieces of the city into unique works of art
Matthew David Smith is an emerging artist living and working in London and Oxford. He received a BA (Hons) in Fine Art and a Diploma in Foundation Studies in Art and Design from Oxford Brookes University. Matthew is interested in the urban environment, the man-made, and the divide between the new and the old within the city itself. He creates mixed-media works, adding and removing layers of materials to parallel the constant flux of the urban environment. By juxtaposing found objects with more traditional mediums like oil and acrylic, he transforms the everyday into unique works with new meanings.
Prefer to work with music or in silence? 
Always music. Hip-hop and rap seem to stir up the best results and it is yet another source of contemporary culture that I use. I suppose it is the flow, energy, and aggression of hip-hop and rap that gets me in the zone. I quite often think of lyrics as abstract formations that can be played with and rearranged to create unexpected imagery.
3. Jake Wood-Evans – reimagining classical styles with a surreal twist
Jake Wood-Evans is an emerging artist living and working in Hastings, East Sussex, United Kingdom. He received a BA (Hons) in Fine Art from Falmouth University in England, where he was named the Free Range Most Promising Graduate. He was also awarded a scholarship from the Royal Academy for classical study at the Prado Museum in Madrid, Spain. Jake's figurative paintings and drawings are inspired by the Old Masters. He reimagines traditional motifs, using the careful application of oil paint and a play with light to depict eerie, fragmented subjects.
If you could only have one piece of art in your life, what would it be? 
There are plenty of artworks I'd love to have on my wall, but if I had to pick one, perhaps Venus at her Mirror by Diego Velázquez.
4. Gagyi Botond – constructing new realities from found imagery in his vibrant paintings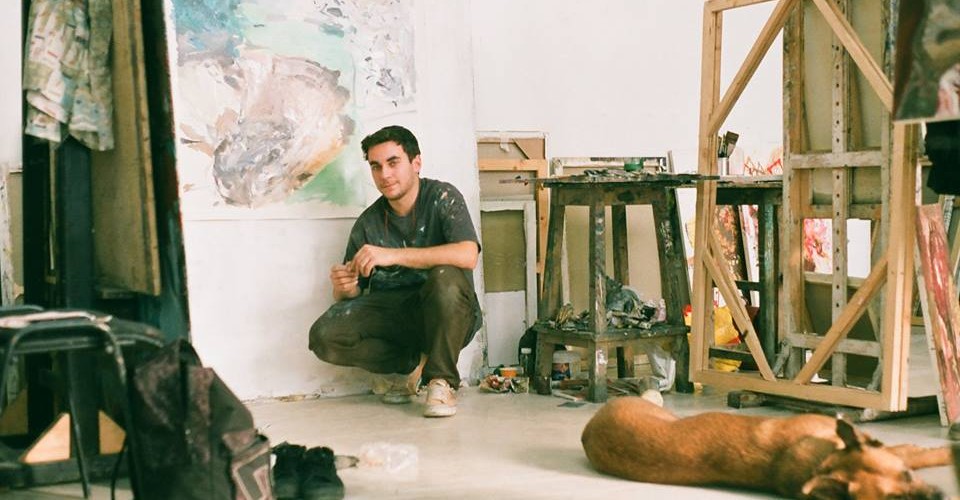 Gagyi Botond is an emerging artist living and working in Cluj Napoca, Romania. He is pursuing an MA in Painting and received a BA in Painting with Magna Cum Laude from the University of Art and Design in Cluj Napoca. Gagyi often pulls inspiration for his expressive figurative works from found images, desconstructing and rebuilding their original meaning through the use of vivid color and gestural strokes. His works border between the abstract and realist, inviting viewers to experience familiar scenes in new ways.
Who are your favorite writers?
I really like Rene Berger's interesting analysis and essays of artworks and art. Beside this, I was always interested in history, so I like historical books. I just started the Imprimatur of Monaldi and Sorti.
I also like poems by the Hungarian poet Pillinszky János. In his work he analyzed the suffering state that is the result of the futile idea of escape. The main subjects of his poems are the stages of life, fear and terror, and the metaphysics of art, which by the way, he considers to be love and humility.
Love reading about all things art? You can have articles from Canvas, curated collections and stories about emerging artists delivered straight to your inbox. Sign up for the Saatchi Art Newsletter!