Recap: Our 4 Artist to Watch this July
Every week, we at Saatchi Art highlight some of the artists we believe are hot and on the rise through our One To Watch series. Let's take a look back at those we discovered in July!
1. Patricia Kaliczka – takes viewers to a fourth dimension through her spatial paintings

Patricia Kaliczka is an emerging artist living and working in Budapest, Hungary. Patricia received an MA from the Hungarian University of Fine Arts, Budapest, and studied at the Faculdade de Belas-Artes at the University of Lisbon in Portugal. Patricia's paintings are depictions of objects fluid in time and space, in what she considers to be the fourth dimension. She overlaps forms, ranging from everyday objects like clothing and furniture to historical and mythological figures. Rather than focus on one narrative, she emphasizes the cohesion of these subjects as they transcend spatial and linear boundaries.
What was the best advice given to you as an artist?
A practical one: a painter should not have a favorite color. And a theoretical one: follow what you think is correct, and don't give a damn what others tell you or think of you. So basically it means never take other's advice – or at least more seriously than your own.
2. Carlos Blanco Artero – deconstructing the human form through portraits
Carlos Blanco Artero is an emerging Spanish artist living and working in Zaragoza, Spain. He studied technical illustration at the School of Art in Zaragoza. Carlos takes an abstracted approach to the human form. He often begins his works with a spontaneous, unmeditated drawing, in which he searches for recognizable forms to serve as the basis for his paintings. He plays with the human form, often distorting the female figure while maintaining a formal and aesthetic balance.
Prefer to work with music or in silence? 
I usually paint while listening to music. I think it is essential at times– quoting Raphael and Dalí, "An artist paints better when thinking about something else". When I am painting, my head is usually aware of three things: painting, music, and talking to myself. Sometimes the music is part of the work, as in the series that I've done about some of Claude Debussy´s pieces. Sometimes silence is also necessary for painting, because music somehow keeps you tied to time, as a reference to time elapsed. When painting in silence, hours just pass by.
3. Sophie Morro – creates new realities based on memories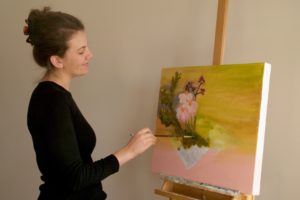 Sophie Morro is an emerging artist currently living and working in Montreal, Canada. She is pursuing a BFA in Studio Arts at Concordia University in Montreal and has studied fine arts and illustration in New York and Nice, France. Sophie finds inspiration for her paintings in film and the quotidien (relationships, dreams, home environments) and combines found imagery with her own photographs. Her dreamy montages  are often autobiographical, referencing the female form and themes of identity, transformation, beauty, and even the subconscious and the spiritual.
If you could only have one piece of art in your life, what would it be? 
Probably a painting by the Swedish artist Mamma Andersson. I love her color palette, compositions, and often female-related narratives. I would love to own some of my favorite art one day!
4. Baldvin Ringsted – translates musical rhythm into his paintings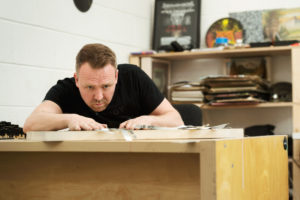 Baldvin Ringsted is an Icelandic artist living and working in Glasgow, Scotland, United Kingdom. He received an MFA from the Glasgow School of Art and a diploma from the Akureyri School of Art in Iceland. Baldvin pulls from his musical background, translating the formal, cultural, and mathematical properties of music into visual forms in his fragmented landscape paintings. He approaches these works as he would a musical composition, breaking up a carefully arranged scene to add an element of spontaneity and chaos.
Who are your favorite writers?
There are many and I will surely forget a few but just to name some:
Icelandic writers Gyrðir Eliason, Sjón, Einar Kárason and Gudrun Eva Minervudottir. Richard Brautigan, Gunter Grass, Dave Hickey, Alan Moore, and I also have to name Ray Bradbury as I am borrowing his short story titles for my most recent paintings.
Love reading about all things art? You can have articles from Canvas, curated collections and stories about emerging artists delivered straight to your inbox. Sign up for the Saatchi Art Newsletter!