Rebecca Wilson's 6 Must See Artists at The Other Art Fair New York
This June, The Other Art Fair New York is making its debut in the creative heart of Brooklyn at Greenpoint's Brooklyn Expo Center, presenting 110 talented emerging artist to an audience of art buyers and enthusiasts. Celebrated for its unique visitor experience, The Other Art Fair's inaugural U.S. edition in New York will delight and inspire art lovers with a tightly curated and distinctive program of fair features that will create a platform for the 'unexpected' at the fair. Buy your tickets for The Other Art Fair New York, opening June 1st. 
Dean West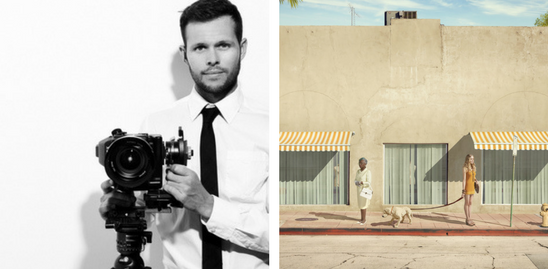 A wide range of environments and character types are explored in the works of New York City-based Dean West. The Australian-born artist is best known for his intricate and highly staged photographs that take everyday occurrences beyond the realm of natural reality. Extraordinary in their tonal range, digital clarity, and artistic vision, West's meticulously choreographed scenes, character studies, and atmospheric landscapes powerfully link needs to desires, and documentation to invention. See more artworks by Dean West.
Adam Robinson
Adam Robinson was born and raised in Sydney, now residing London. He graduated with a degree in Theatre Design and has worked in television as an Art Director prior to his artistic career. His work reflects his passion for color, coupled with a concerned for the processes of collecting and arranging. He uses found and forgotten materials, drawing inspiration from their bespoke history. See more artworks by Adam Robinson.
Geraldine Swayne
Geraldine Swayne is a figurative painter, distinguished by her miniature paintings in enamel paint on metal. Swayne finds her livelihood in human faces, standing out as the key source of artistic inspiration for her. She aims to capture a cinematic moment, capturing fleeting facial expressions that reveal intimate moments of her subjects. Her first museum show was in 2014, at Magasin3, Stockholm, and she has been exhibited and collected internationally. Geraldine is also represented by The Fine Art Society in London. See more artworks by Geraldine Swayne. 
Diana Roig
Diana Roig was born in Mar del Plata, Argentina and now lives in Rotterdam, The Netherlands. Her work is a study of the transformative nature within the process of painting. She is nurtured and driven by personal experiences, altered states of consciousness and an urge to communicate simply by the act of painting. Diana is influenced by natural growth, biological processes, and rhizomatic shapes. Each painting, in a way, tells its own story and becomes a framework for perceptual faculties that address our associative mind. See more artworks by Diana Roig.
Lisa Krannichfeld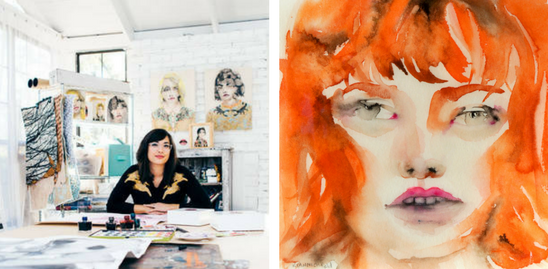 Lisa Krannichfeld was born and raised in Little Rock, Arkansas to a mixed household of  Southern American and Chinese cultures. Her experiences growing up in these two intermixing cultures and their distinct traditions have greatly influenced her work, which primarily focuses on the woman as its subject. Lisa gives the women in her paintings a voice and an outlet, reshaping cultural tradition she witnessed growing up, reifying passive impulses into defiant expressions. See more artworks by Lisa Krannichfeld.
Nicole Charles
Nicole Charles is a visual artist and graphic designer based in Toronto, Canada. She is most widely known for her layered acrylic artwork, in which she works with soluble pigments and acrylic panels to create light and elusive abstractions. Each piece is composed of multiple panels that are used to create transparency and depth, resulting in a painting that appears sculptural. These layers parrot the ones all around us, from the makeup of our personalities to the structure of our planet. The existence of layers is what brings depth to life, both literally and figuratively. See more artworks by Nicole Charles.
Check out the full list of The Other Art Fair New York 2017 exhibiting artists here.