Rebecca Wilson's 6 Must See Artists at The Other Art Fair Bristol
This September, The Other Art Fair is returning to Bristol's waterside Arnolfini, presenting 80 of the best emerging artists to an audience of art buyers and enthusiasts. Celebrated for its unique visitor experience, The Other Art Fair's third Bristol Edition will continue to delight and inspire art lovers with a tightly curated and distinctive program of fair features that will create a platform for the unexpected at the fair. Buy your tickets for The Other Art Fair Bristol, opening September 1st. 
Saatchi Art Chief Curator Rebecca Wilson selected 6 of the fair's exhibiting artists she's excited about. Meet them all below.
Nigel Sharman
Nigel Sharman is originally from South West England, where the landscape and culture still influence his work. He uses oil paint on canvas, sometimes using card as well, with particular concern for color and composition. Though Nigel paints abstracts, there remains a certain figurative read to his work. He starts his paintings by either abstracting from a figurative source, such as a landscape, or by deriving it from hand-made geometry.  See more artworks by Nigel Sharman.
Benjamin Phillips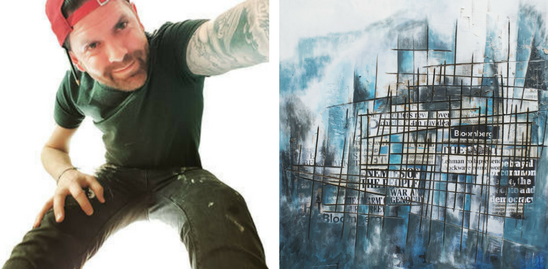 Benjamin Phillips' style has evolved into one that's been deeply influenced by his formative years and time spent working in the financial world. In his words, "That daily fix of city life has given me a hunger and fascination for street life, urban culture, and the metaphors created." The collage elements of much of Benjamin's works are taken directly from the street where they were first displayed. Posters, flyers, and street adverts have been one of Benjamin's long held fascinations, drawing upon their imperfect and malleable nature.  The artwork of the original posters is constantly being overlaid by others, and the passing of time means layer after layer of designs are creating an ever-transforming art of their own. See more artworks by Benjamin Phillips.
Clare Crouchman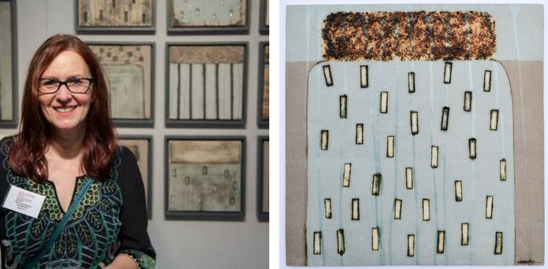 Clare Crouchman has been creating her highly distinctive ceramic wall panels since setting up her own studio in 1997. Stoneware clay has unique properties that she enjoys exploring. These properties include the multiple textures ranging from rough, heavy grog to smooth, shiny glazed porcelain, which creates tactile and contrasting surfaces. For Clare, painting layers with different stained clays and inlaying different clays, drawing into the clay is a crucial element to her work. It is in itself a contemplative process for Clare. See more artworks by Clare Crouchman. 
Tomas Rowell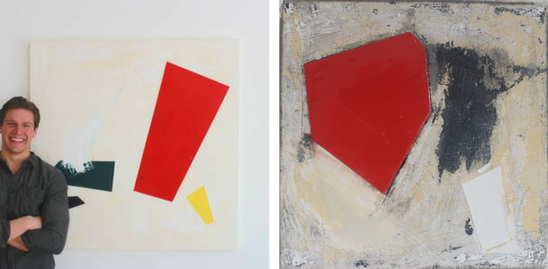 Birmingham-based artist Tomas Rowell has continually explored the complexity of art through academic progression. Since graduating from Leeds College of Art in 2014, there has persistently been an exploration into painting's ability to remove any imitation or possible foreign associations. Rowell has persistently experimented with painting, understanding its ability to confront the physical qualities of art over an external embodiment. The physical depth of his artwork overpowers the traditional views of painting, granting a sculptural approach to minimalist art. See more artworks by Tomas Rowell.
Tom White
With his latest series of paintings, Tom White puts the spotlight on The U.K's cities, exploring their less iconic but no less familiar corners. With his accomplished manipulation of light and shadow and his refined brushwork, Tom shows that the beauty and spirit of a city can be found everywhere: in its rusting bridges, its shopfronts, its graffiti, and on its street corners. His painted snapshots of urban life highlight the otherwise overlooked details of a passing moment and celebrate the ever-changing facades of some of our best-loved cities. See more artworks by Tom White.
Michelle Loa Kum Cheung
Michelle Loa Kum Cheung's latest series of works explores the artist's growing geographical dislocation between her family lineage, her real present, and imagining the future. She creates the juxtaposed landscapes using extracts from old family photographs, social media, and Google Earth images. For these works, Cheung specifically includes elements of places she has never personally been nor experienced, but are imbued with the tones and hues of the Orient.
See more artworks by Michelle Loa Kum Chrung.
Check out the full list of The Other Art Fair Bristol 2017 exhibiting artists here.
SaveSave
SaveSaveSaveSave
SaveSave
SaveSaveSaveSaveSaveSave
SaveSave
SaveSaveSaveSaveSaveSave
SaveSave
SaveSave
SaveSave
SaveSave
SaveSaveSaveSaveSaveSaveSaveSaveSaveSave
SaveSaveSaveSaveSaveSaveSaveSaveSaveSave