Rebecca Wilson's 4 Must-See Artists at The Other Art Fair Sydney
This October 27th – 30th The Other Art Fair Sydney returns to Commune, one of Australia's dynamic, cultural hubs, to present the very best in emerging artistic talent. Celebrated for its unique visitor experience, the Sydney Fair's second edition will continue to delight and inspire art lovers with a tightly curated and distinctive program of fair features that will create a platform for the 'unexpected' at the fair. Buy your tickets for The Other Art Fair Sydney.
Jordy Hewitt
Hailing from Perth, WA, Jordy Hewitt pursues vulnerability, authenticity, intimacy and beauty in her serene, minimalist paintings. With the goal to "transcribe interior life, to find synthesis and balance with existential concerns, to address catalytic moments and to create and break spells," Hewitt's works have struck a chord with the Australian art community. She has exhibited in numerous exhibitions from Perth to Melbourne, with a notable six solo exhibitions since 2011. See more artworks by Jordy Hewitt. 
Lisa Patroni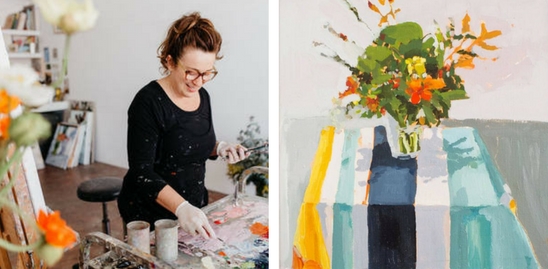 Lisa Patroni is an Australian artist living and working in Sydney. She paints everyday objects and the space around her in an attempt 'to make sense' of her surroundings. Through structured and repetitive study of small, intimate objects from her close environment, and through the sustained and daily observation of the ordinary, Patroni has found that the ordinary becomes extraordinary. After studying printmaking under notable printmaker Jörg Schmeisser at Canberra School of Art, Patroni completed her BFA in Printmaking and Painting at the Sydney College of the Arts and received a scholarship to complete Post Graduate studies in Painting at the Rijks Academie S'hertogenbosch in the Netherlands. Her work is held in public and private collections in Australia and Europe including works in the National Gallery of Australia. See more artworks by Lisa Patroni. 
Louise McRae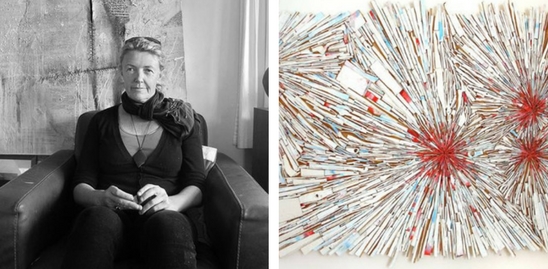 Louise McRae is a New Zealand artist living and working in Pakiri Beach, Rodney. McRae creates one of a kind artworks by cutting and smashing up her paintings and reassembling them into organic grids. Using found timber discarded from building sites as canvas, McRae applies color, burns and uses builders tools to generate her unique paintings. All of her works are named with reference to the "human experience of pleasure, pain, acts of courage or natural phenomena both great and disastrous that can open us up to our essential selves." McRae earned her MFA from Whitecliffe College of Art Design in Auckland NewZealand in 2016. See more artworks by Louise McRae.
Kirsten Duncombe
Hailing from Earlwood, Australia, Kirsten Duncombe creates paintings inspired by the Surrealists, and their belief that our imaginative mind is continuously repressed by the conscious, rational one. Her process driven, collage-based works layer contrasting media which act to reveal or conceal what lies beneath. The element of chance plays a large role in her practice, with the paint often poured in a way that is impossible to fully control or manipulate. Duncombe has used a much-loved play, The Duchess of Malfi (John Webster, 1614), to source titles for her works. This is both a nod to Surrealist playfulness and love of language, as well as to that age-old truth of playwrights – that things are rarely as they seem. See more artworks by Kirsten Duncombe.