Meet the Saatchi Art 2017 Fall Catalog Artists
We are delighted to debut our Fall 2017 catalog featuring six emerging Saatchi Art artists. Within our pages, you'll discover surreal photography, beachscapes laden with meaning, minimalist abstracts, and much more. While each artist has several featured artworks in our 2017 Fall Catalog, there are more works for you to discover within their portfolios. Read further to learn about each artist, and follow the links below to browse more of their artworks.
---
Miss Aniela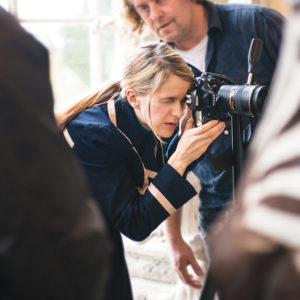 "I'm a photographer who loves to breathe something 'unphotographic' into my work—painterly, classical and beyond the photograph. It is chasing the delicate boundary that is my constant mission."
Miss Aniela (Natalie Dybisz) is a British photographer whose illusory digitally manipulated works have been exhibited in the Waldermarsudde Museum in Stockholm, the Houses of Parliament in London, and in the Saatchi Gallery as part of Saatchi Art's 2014 Continental Shift exhibition. Miss Aniela collaborates with her partner and producer Matt Lennard in Sussex, UK for her works; her roster of clients include Nikon, HTC, Yakult, and Microsoft. Saatchi Art has named her as a One to Watch artist in both 2013 and 2017.
---
Niki Hare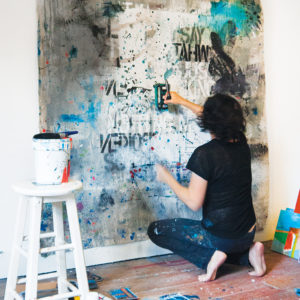 Investigating the world around her, Niki Hare deconstructs experiences creating an array of frames, maps, and diagrams. Once inspired, her process is playful and fervent. Niki experiments with layers only to scrape them away, balancing sleek typography with dripping paint, neon colors, and collage techniques. Living and working in Gloucestershire, England, Niki has exhibited her works in solo and group exhibitions across Europe. Her works have been selected from almost 1,000 entries for the Royal Society of Portrait Painters in the Self-Portraiture competition; it was exhibited alongside paintings by some of Britain's leading portrait artists at the Mall Galleries in London.   
---
Michael Lentz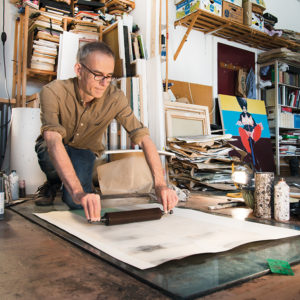 "I love the experimental aspects of abstract art, especially making black and white drawings. Sometimes the results are so unexpected that they give the impression that the art "made itself. Those are the best moments."
Swiss artist Michael Lentz's challenges the conventional boundaries of formalism with his minimalist abstractions. In his series Sgraffito, Michael produces uncomplicated forms exhibiting a semblance through layered washes of black ink and experimentation with textures and forms. Michael's works are held in private collections around the world, in countries including the United States, United Kingdom, Australia, France, Spain, and India. 
---
Martynova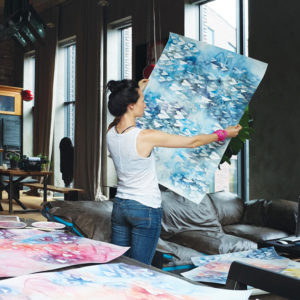 Artist Martynova creates dreamy, celestial works that are sure to captivate. Her ethereal dotted paper planes and sailboats seem to levitate off the canvas against vibrant and clouded washes. Martynova was born in Kazakhstan, and now lives and works in London. After studying both art and law, Martynova committed herself fully to her art practice in 2015. She has sold her works to collectors all over the world in countries such as the UK, the US, Canada, Australia, and Germany. Martynova has extensively exhibited her artworks throughout the UK, most recently at The Other Art Fair in London.
---
Carlos Martín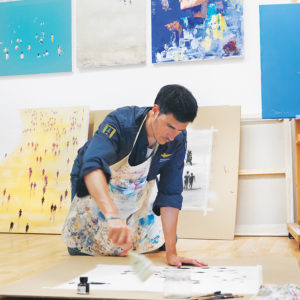 Artist Carlos Martín's tranquil landscapes display his curiosity between the interaction of mankind with the natural world. Hazy figures roam the terrain against a muted beach backdrop, capturing the essence of walking along an abandoned shore. The works he produces offer serenity and mindfulness, in both composition and execution. Carlos is based in Zaragoza, Spain and has worked as a professional photographer, a career that allowed him to travel all over the world, which informs the subject of his paintings. His artworks have sold to private collectors around the world, including the UK, the US, Spain, Portugal, Italy, Greece, Australia, and Singapore. 
---
Thomas Saliot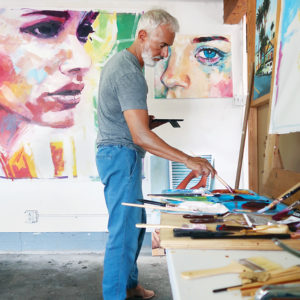 Living and working between Paris and Marrakech, Thomas Saliot magnifies visual symbols that saturate our digital world. Examining the process of meaning and how it is communicated through images, Thomas draws inspiration for his monumental works from the internet and focuses on extreme close-ups of beautiful, bold women, which he skillfully renders in oil paint. He has sold works to collectors in the US, the UK, Australia and New Zealand, France, Switzerland, Germany, Italy, and Hong Kong; he has also been featured in our Inside the Studio series in 2012.
---
Interesting in learning more about investing in emerging artists? Learn the basics of investing in art through our six-part series.