Meet the Others: MARC O MATIC
The Game Changers. The Rule Breakers. The Innovators. Discover some of the fantastic emerging talent showcasing their work at The Other Art Fair Live & Virtual Editions.
Meet MARC O MATIC, a self-taught Illustrator and Virtual/Augmented Reality guru based in Melbourne. Marc has an impressive portfolio, having previously worked with renowned brands such as Adobe and more local projects such as City of Melbourne. We are so thrilled to interview Marc ahead of his feature at The Other Art Fair Sydney (IRL and #VirtualEditions) and delve into his immersive, other-worldly, storytelling artworks…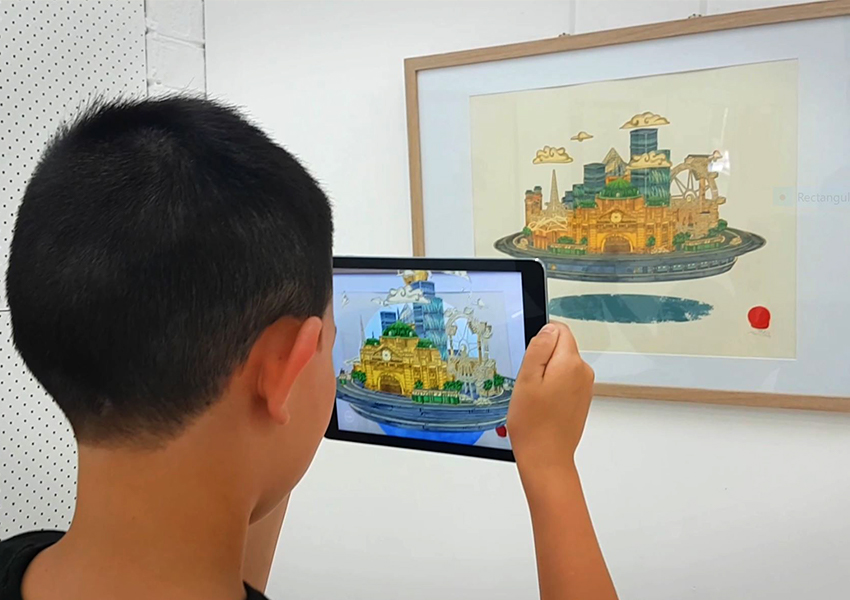 Tell us a little bit about yourself and your creative practice. How did you develop an understanding of VR and AR?
I'm an independent multi-disciplinary Creator, Illustrator, Animator & Creative AR/VR Technologist based in Melbourne Victoria. Over the last 4 years I've been creating intersections between traditional/analogue art mediums and immersive Augmented (AR) and Virtual Reality (VR) tech and platforms; transforming otherwise static flat art into 3D, experiential, storytelling works. Unlike most AR/VR experiences that tend to feel clunky, geometric and 'gamey' I try to incorporate an analogue, illustrative and painterly aesthetic into my activations to create a connection between the physical and digital, evoking a sense of traditional storybook nostalgia.
My work and approach to art has always been driven by self-teaching and experimentation. Drawing inspiration, design principles and techniques across a broad range of creative industries including Fine Art, Video Games, Fashion, Animation. Having an understanding of design across these different fields/disciplines have been highly beneficial in better utilizing immersive AR/VR tools.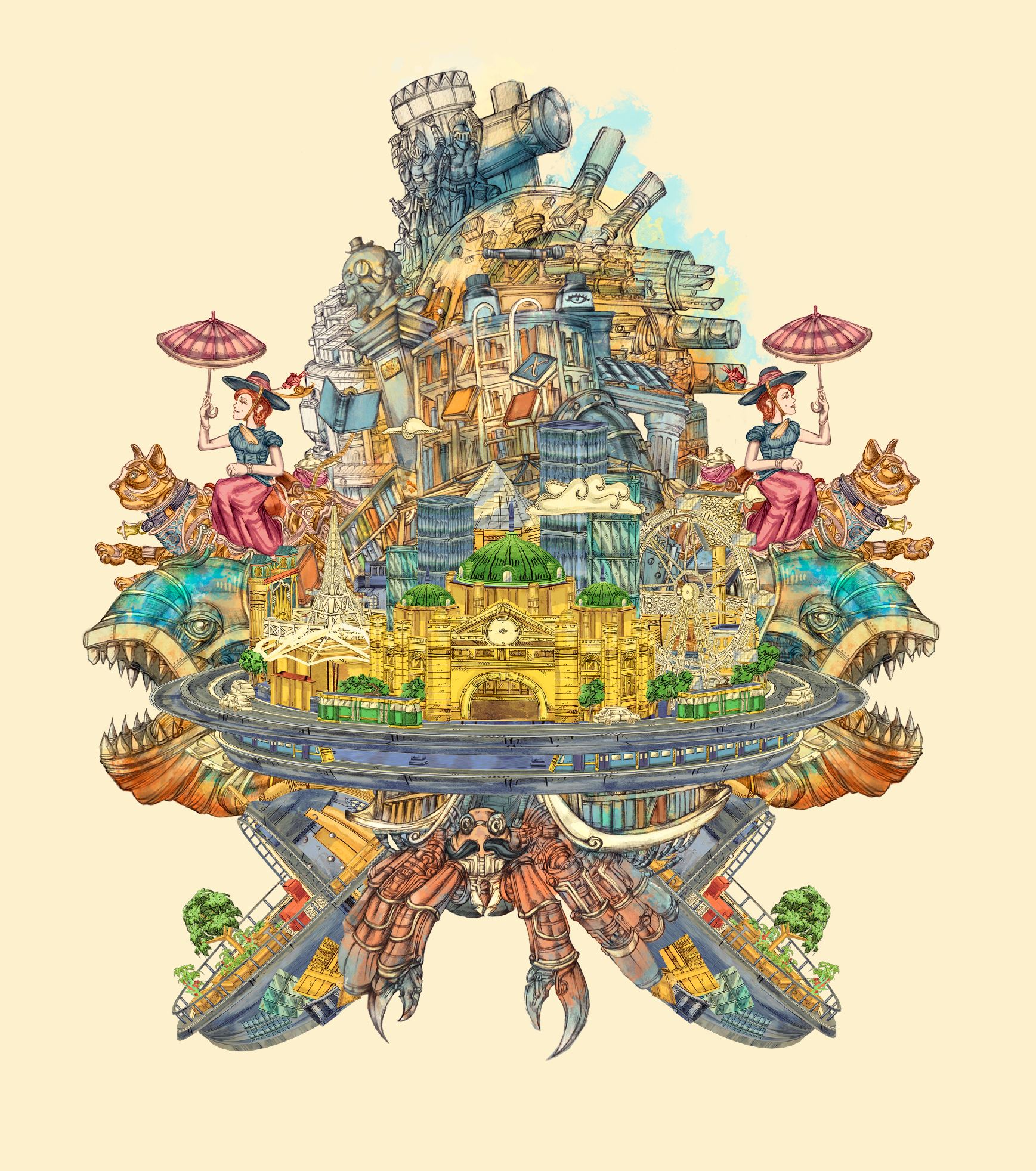 How does your artwork integrate storytelling? Where do you source inspiration for these Narratives?
Through Augmented Reality I can add digital layers on top of my physical Artworks and bring them to life. AR allows me to transform a 2d flat illustration into a fully 3 dimensional animated artwork that can be explored more intimately up close and at different angles. The ability to experience the art in this way opens up opportunities for artists to tell stories within the art itself, utilising 3d animation and interactive elements so that audiences can not only explore the work in a 3d space but also engage in different points of interest within the scene. I'd say this has been heavily inspired by traditional pop up books where hidden layers reveal themselves when you interact with mechanisms in the pages.
How have you used your artwork as a platform to educate and inform?
I think the processes and techniques behind my AR Art creations have helped to demonstrate how merging the physical with digital can provide more insight and engagement into physical subject matter, so this isn't just confined to art alone. Augmenting digital overlays onto real-world graphics and objects can be used to better engage, educate and inform audiences of subject matter that may be too complex to explain through text and diagrams alone. AR has the power to dissect, break apart or study subject matter on a more closer intimate and practical level.
Working with past clients including City of Melbourne, Telstra Labs, Adobe, I've been using AR to transform highly complex schematics, blueprints, maps and complex text heavy narratives into informative Augmented Reality Activated content, that when activated, reveal how machines may be assembled operate or how complex topics like Industry 4.0 will revolutionise society by creating microcosmic animated scenes that tell
storytelling narratives as the scenes unfold.
What is the process behind transforming your intricate illustrations into immersive 3D Artworks?
It's really a cross-disciplinary approach using a combination of good old ink illustration, 3D modelling with VR/animation tools like Gravity Sketch and Blender 3D and Game Engine's like Unity 3D or Unreal to build the AR functionality. Everything essentially starts off on paper by illustrating the artwork which is then scanned onto the computer and spliced into several pieces to form a texture atlas. A texture atlas is essentially a flat 2d modular layout of the illustration that I use to texture the 3d version of the original 2d drawing.
When that's done I start creating a 3D version of the original drawing using VR sculpting and modelling tools like Gravity sketch to help me establish the overall shape and form of the work. From there I then use a mix of Blender 3D and Game Engines software like Unity or Unreal to create the animation and interactivity behind the work. Unity/Unreal allows me to build functionality/interactivity behind the work so that when audiences hold their phones up over the AR activation is then triggered and brings the art to life.
For a bit more insight into my processes, you can watch the video here:
https://www.youtube.com/watch?v=4TJhLoFqd0U&t=2s&ab_channel=Marc-O-Matic
Finally, what advice would you give to aspiring artists who want to work with Immersive Media?
For those wanting to explore immersive media I'd highly encourage them to be open to learning new skills and disciplines outside of their comfort zone. Even if it's an area that may not be of particular interest to you right now, gaining an understanding of skills outside your own current area of expertise can potentially complement your own field. Allowing you to evolve and expand on how you execute your ideas. Augmented and Virtual Reality media largely involves working within 3D spaces, so understanding 3d principles or having experience working in 3d software can be beneficial. I would highly recommend learning 3D modelling and animation software like Blender 3D to help designers gain a better understanding of what it's like to create and move around a 3D space.