Meet The Others: Lana Filippone
The Game Changers. The Rule Breakers. The Innovators. Discover some of the fantastic emerging talent showcasing their work at The Other Art Fair.
Lana Filippone creates magical porcelain masterpieces inspired by the natural world. A trained astrologer Lana's work transcends what she finds in the woods outside her Toronto home but looks to the larger Cosmos for inspiration for her detailed sculptures. We asked Lana a few questions about her unique practice.
Can you tell us more about your process and how you began working in your signature style?
My intentions were to be humble potter, but it didn't work out that way. I received a very technical training in clay, which gave me a lot of freedom. I think it was moving to the city and the stimulation and expression that comes along with that; wanting to be closer to nature, and constantly trying to be innovative with my techniques and to push my work to be more meaningful. Because I didn't have the same access to nature that I was used to, I started planning longer and more challenging wilderness trips to try to get my fill, and those trips come out in my work. I like to push myself in similar ways that I like to push my material. It can be very challenging, I work in many different stages and porcelain is extremely fussy.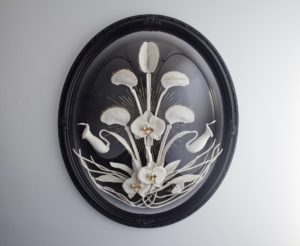 Orchis and Satyrion, Lana Filippone
What are you inspired by art and otherwise?
I'm inspired by the outdoors, wilderness adventure infused with learning about Natural Heritage and History. (We were supposed to paddle from Whitehorse to Dawson City, Yukon this Summer, but now I have more time to read.) I'm inspired by lifecycles and relationships in nature; liminal places between life and death. I'm a trained astrologer, so I'm always following cycles, and working with them, and continually learning about the language that we've co-created with the cosmos and centuries of human contribution and observation. I'm curious to follow the etheric threads that connect everything and everyone. I'm inspired by the mystical and magical and people who live outside of the box. I'm a very inquisitive person, there are not a lot of topics that I would refuse to learn more about, or rabbit holes where I wouldn't poke my head.
Will you tell us more about the folklore and symbolic narratives in your sculptures?
I work with symbols from traditional herbalism and with the properties of their magical lore, history and mythology. Every symbol in the visual language is imbued with intention and invokes deeper archetypal meaning. I've always been interested in divinatory languages (I also have a degree in language and literature) – the most familiar to people of course, being the Tarot and the hero's journey, but there are many languages useful for artists to infuse intent and relatable narrative.
I work with psycho-spiritual concept of alchemical transmutation and the Threefold Nature of Gold – (material, spiritual, ethereal), most explored in my series Unmanifest; Solve Et Coagula, but many of the symbols and themes overlap in the visual language. I'm interested in poison plants with regard to the concept of transmutation and poison as medicine.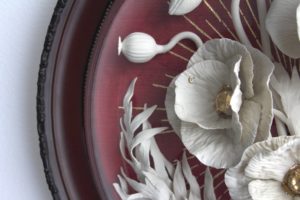 Papaver somniferum, Neptune-Saturn-Moon, Lana Filippone
Your manipulation of porcelain is extremely unique. Can you tell us about your use and choice of material?
Porcelain simultaneously expresses fragility and time immemorial. It's a material that can be elevated, but it begins as messy Prima Materia, transmuted emotionally and physically through harnessing its primordial processes. The artist as well as the material are subject to a transformation. It's a teacher. It's pure, but has a complicated past. It can be abundantly ornate or simple and refined. It's malleable, but fussy. We're a good match in a lot of ways, I'm very particular about certain things but I'm not afraid to get my hands dirty.
What are you working on at the moment?
I'm working on some very small flora and fauna companion pieces and talismans at home. I'm not able to be in my studio right now, which is tough, but I'm using this time as a period of study and reflection and of course there's always so much more clerical work to be done as artists than anyone ever imagines.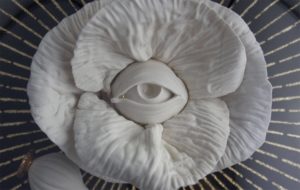 Papaver Somniferum, Lana Filippone
How are you staying inspired?
I try to get out into the woods every couple of days, off the trails. High Park was closed during the popular cherry blossom peak, so I was encouraged to discover new places to explore. I've been foraging mushrooms and plants and watching the season transform the little forests where I spend most of my time, deepening my relationships and knowledge with the Green Elders there. There's lots of wildlife and I can be alone to tune in. I'm refreshing plant and mushroom knowledge from my days as a naturalist and am constantly cross-referencing my field guides with my books of Herbalism, grimoires, dictionaries of symbols and rulerships in classical Astrology; broadening my understanding of these animated archetypes.
I walk in neighborhoods I've never visited, with the intention of trying to stay clear of the usual popular spots. I'm seeing the city in a whole new light; the architecture the topography, brushing up on local ghost stories. I'm fortunate to be able to run errands on my motorcycle and ride my bicycle.
Shop artwork by Lana and other trailblazing artists at The Other Art Fair's Online Studios.
Introducing The Other Art Fair Online Studios, a new online platform offering art lovers around the world access to over 800 Fair artists. The Online Studios will keep our community feeling inspired, engaged, and continue to spread joy through art.