Meet The Others: John Paine
In December last year, cartoonist John Paine set out to draw 'Every Person Ever' – that's an estimated 117 billion people.
As a self-taught cartoonist, John Paine's sense of humour translates into his artworks, gaining him a strong online following. As of today, Paine's content has gained over 20 million views across Facebook, Instagram, YouTube, Vimeo and Reddit – not quite as many people as he plans to draw but still a lot!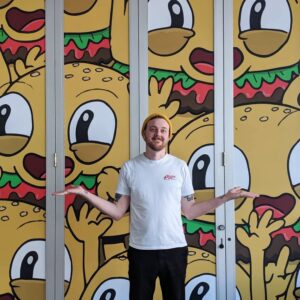 Portraits have long been a regal right of passage, destined for only royals and those of high status. Whilst Paine has and will no doubt continue to capture such people hence his efforts to draw every person ever, his portraits extend to the 'you and I's' of society – those less likely to be painted by the court painter.
Currently, John Paine has drawn a grand total of 120 people, including some fictional characters such as Dobby, Willy Wonka and Ronald McDonald. This extends to historical figures from the likes of Neil Armstrong and Julius Caesar to artistic icons such as Bob Ross and Frida Kahlo.
Now, in partnership with The Other Art Fair and with your help, John hopes to reignite his noble, if not entirely futile, objective by drawing YOU. Guests will be able to get a free illustration of themselves drawn by John during the fair to take home with them, plus they'll be able to buy prints of the original 120 John drew.