Meet The Others: D. Lammie-Hanson
The Game Changers. The Rule Breakers. The Innovators. Discover some of the fantastic emerging talent showcasing their work with The Other Art Fair.
Chicago based artist D. Lammie- Hanson's Metalpoint drawings combine a 15th century technique with contemporary portraiture and storytelling.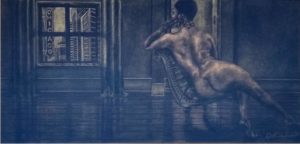 Could you tell us more about your process with metal point drawings?
 Metalpoint is an experience from beginning to end. Using this technique, I draw mostly large contemporary portraits and figurative works of women and people of color, employing the use of precious metal wires of 24K gold, silver, or brass with copper against dark surfaces. (The dark background represents the shadow of flesh. The metal mimics light dancing on the skin.) I work within the daylight frame of natural indirect light – revealing to my eye an even application of metal. The process of completing a piece can take one to three months.
How did you start working in this medium/ style?
 My husband, Samir, introduced me to silverpoint knowing how much I love Leonardo Da Vinci and the Renaissance period of art making. At the time, I was exploring a new way to draw exquisite, contemporary subjects of color. So we did a two-month residency together in Barcelona in the middle of the vineyards, experimenting with organic materials to make the right surface. Once we figured that part out, I assembled a collection of images and ideas and began my work in the medium of silverpoint drawing.  My layering technique is rather heavy-handed. But, I take care to reveal the subtle nuances of my subjects' inner light.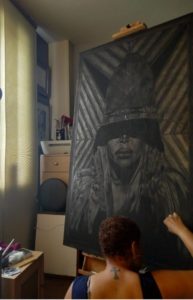 The artist working on Dared to Be Ever Evolving, a large drawing or musician Erykah Badu
What art/ artists are you inspired by?
I love DaVinci and early Renaissance silverpoint art making. However, Majorie Williams-Smith is a contemporary silverpoint artist who has unknowingly influenced my transitioning from paints to metals. Williams-Smith is the first artist I'd encountered who employs the color black as background in Metalpoint artistry. I absolutely love her work. And my favorites are Charles White and Kehinde Wiley.
What are you working on at the moment?
At the moment, I am creating my new series "Indigo Seven". Indigo is the seventh color of the rainbow's visual spectrum and a semitone between purple and blue. These pieces are figurative drawings in 24K gold, brass, and copper laid on Indigo blue wood panels. The first two pieces are large multi-panel pieces that emit intense emotional impulses: "Exhilaration" consists of six panels of unbridled joy, and "Falling into a Piece" is an eleven-panel visual articulation of self-comfort and sorrow. The last two pieces are dedicated to surviving in Chicago during the Covid-19 pandemic.