Meet The Others: Barbara Kuebel
The Game Changers. The Rule Breakers. The Innovators. Discover some of the fantastic emerging talent showcasing their work at The Other Art Fair.
Can you tell us more about your process?
I chose a minimalistic approach to drawing soon after I started my painting degree at the Academy of Fine Art Vienna. Drawing is the backbone of the composition and will carry the major information for all works I do – whether I add color to these drawings or not. I also paint with oil colors on canvases, but I know that the technique of drawing is present even when using a brush. I would describe myself as an artist who intends to transmit visual information through less rather than more and eventually reduce the topic matter to a single line – this procedure is not however a quite complex one as it is important to me where exactly lines cross, are applied, where they start and end. As I'm working with construction wood panels for relief-printing I also use the structure and the massive feeling of the wood as a guiding aspect. I never do sketches on paper in advance, I mostly either do a bit shaping of dimensions on the wood – I prefer to cut directly without defining too much. (which is a bit like Japanese calligraphy).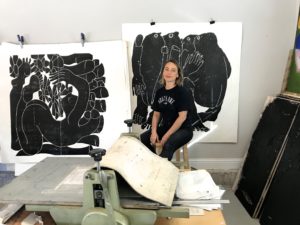 The Artist pictured with her printing press
What are your biggest inspirations and influences?
I have always been influenced by Non-European art and art brut. I cannot name a specific artist but of course there is Anselm Kiefer and Georg Baselitz as representatives of European art within the tradition of Central European art, and whose works are important to me because of their monumental character. I am also influenced by Austrian sculptors such as Alfred Hrdlicka, Bruno Gironcoli  and Franz West, because of their emotional, physical and non-aesthetic approach to the visual. In a nutshell "Things need to be as such, because there is no other way to do it or how it can be done – at the moment."
I'm also drawing on a social science background when it comes to understand, and do art – socially constructed terms such as "taste" and "beauty" are definitely important before skill and manual aspects can count. I see those aspects as incredibly important when doing art in more various social environments or places. What people see and consider important to them, what attracts them and to which degree should art satisfy such trends. I, again, refer to my personal influencers and still tend to favor art that looks for the modulation of understanding (creating mew meaning) rather than for unambiguity. This probably could be seen as a hard to achieve goal in a society where understandings are very categorized rather than fluid. I add that I see myself as "non-rooted person" with life stages in Austria (my home country) , Switzerland, The Netherlands, Brazil and now the US. I like to participate in diverse social environments not only as an artist but also as an international teacher and polyglot.
Can you tell us bit about being a member of the British Psychological Society?
A few words on a more personal side: My interest in Psychology came slowly, but was somehow inevitable, therefore naturally. After having completed my art and education degrees in Austria I was working as a high-school art teacher and felt that teaching is perfect, but does not allow for the kind of "surprises" I needed at this stage of my life (I was around 29). I was given a scholarship in an institution for young adults with developmental disabilities. – A large studio + salary solely for doing projects for 2 days of the week with the clients. The rest of the week I could use the studio for my own purposes. This was a brilliant situation for me but at the end of the time together I was so fascinated  by the people rather than the aim itself that I immediately started with a degree for art therapy. I soon did a project in a forensic institution and it became more obvious that apart from the applied aspect of education and art therapy the theory and science based part was missing for me. I finished my BSc in Psychology (hons) with a British program in 2014 and the MS in 2016 with a US program.
The BPS (British Psychological Society) does tremendously good work for all professionals in the wider health-related and educational field to keep up with professional perspectives and results specifically when not engaged in any research at the moment (just as me, now). It is also important to have access to latest research papers and congresses in order to be able to navigate in an increasingly complex world and to understand, not only your personal approach (e.g. as an artist) but also the effects of your doings. Finally, as an artist to play with these effects by not being playful solely with materials but with meanings that are relevant for making an impact on your art. (The joy of material engagement might be not enough from my viewpoint). From a social science-based perspective psychologists and artists have to be aware that things are changing all the time and disregarding your focus you can make the choices, depending in which area you want to see growth.
For me this has the following consequences: I want to develop further in two broad areas: 1st in my art-related career and 2nd in my academic/ applied skills related career which is psychology of education.

Die Reichweite/ The reach out, Barbara Kuebel
Your work depicts and explores human interactions is this a reflection in you interest in psychology?
Yes, there are many ideas that reach into both areas of interest. From an academic perspective I did research on friendships in international school environments or effects of environmental factors in resource poor work environments for teachers and social workers. From an art-related perspective I can go into more "data unrelated fields" and explore "imaginary" effects" directly – but still under controlled conditions. – I like to concentrate on certain formats or amounts of figures. The volume in relation to negative space and positive space within the composition should be controlled and I spend a lot of time figuring out which part should be given more dedication and should stand out; just like in an experiment in which you decide which factors you will select to investigate and their correlation, pos/ neg. relationship etc.
You so generously donated an artwork to The Other Art Fair's collection to raise money for The National Council for Behavioral Health, can you talk a bit about why you chose to donate and the importance of mental health and mental health initiatives?
I think mental health is a social question. People ideally should not be dependent on donations but have a right to get the best support they can have that moment. Psychologists are trained to do so and are generally eager to apply their knowledge to any clinical or academic field. There should be more public awareness and social responsibility for those who fall beyond choice and open access to mental health services. I donate to those who need quick action. Having said so, donations cannot excuse those who decide upon wider political action – rather than that, donations point to open questions and provide quick help where official intervention would take too long. In a functioning system, I assume problems would be detected right away and issued rapidly and aligned with the clients' needs.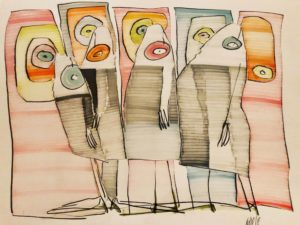 The Walk, Barbara Kuebel. The Artwork donated to the Charity Collection supporting the National Council for Behavioral Healths Covid-19 relief fund
What are you currently working on?
I am of course preparing my works for The Other Art Fair in Chicago this autumn 2020.
I have two participations at the moment "behind closed doors", at two Galleries (Søren Christensen, New Orleans and Kai Lin Art, in Atlanta). I'm preparing a concept for an exhibition with my Austrian/ British friend Georgina Krausz in Austria next year. Little things always pop up during the year and have to be taken care. I'm doing woodcut for all these deadlines.
How are you staying inspired at the moment?
I am a nervous person always looking for a possible "next" – therefore I normally do not lack inspiration.
From a subject matter viewpoint I have been continuously working on the theme of "Shunga", which is a form of Japanese erotic art with an educative aspect. The theme is perfect for bridging my preferred areas of interest: art, education and psychology through a holistic and physical approach.
Shop artwork by Barbara and other trailblazing artists at The Other Art Fair's Online Studios.
Introducing The Other Art Fair Online Studios, a new online platform offering art lovers around the world access to over 800 Fair artists. The Online Studios will keep our community feeling inspired, engaged, and continue to spread joy through art.