London: Rebecca Strickson's Future Rituals
The Other Art Fair launches its first summer-time edition in London, King's Cross this July and, as well as exhibiting 100 emerging and independent artists at the fair, there is lots to enjoy in the local area!
Head to Coal Drop's Yard, King's Cross for shopping, cafes, bars and more emerging artistic talent including Rebecca Strickson's Future Rituals, read on to find out more…
In an attempt to look into the future, to see how we will be viewed as antecedents to the world's demise, artist Rebecca Strickson has created 12 flags of four designs that represent rituals foretold. Commissioned by Kiosk N1C and exhibited across Lower Stable Street, part of Coal Drops Yard in King's Cross, the work concentrates on some of the ways climate change will impact us, including rising sea levels, overfishing, aberrant weather patterns and climate refugees. Based upon ancient heraldic designs, old English folklore and nature patterns, whilst using the bright and bold colours of the 70's, these flags will be displayed to the public throughout the summer months; a time of celebration and ritual for all religions and faiths.
We spoke to the artist as she prepares to exhibit the work.

Can you tell us a little about how this work came about.
When Kiosk N1C approached me to create something to hang on Lower Stable Street over the summer months, I really wanted to work with several themes that I'm really into: English folklore and how that is reflected in traditional vexillology in this country, especially in regards to heraldry and pageantry, and secondly how folklore is always being created, it's not a static, archaic thing. I wanted to think about how we will be looked back upon by future generations.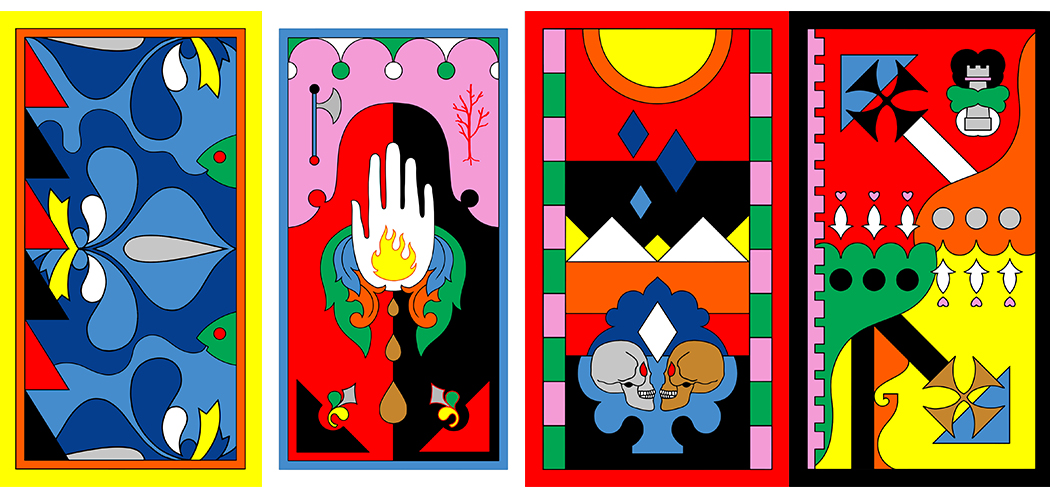 What drew you to the idea of your work being exhibited in a public space.
Lower Stable Street is in a newly developed area, somewhere whose past is radically different to its current use, and even more so the further back you go. But that goes for London as well. And as a city whose very nature is threatened by the future, and what climate crisis will cause if we don't act, I wanted to think about what would our potential followers think of us, when they reflect back? What kind of rituals and folklore will surround us, knowing we have the power to change things and yet are choosing not to?"
Rebecca Strickson's banners will be installed on Lower Stable Street in Coal Drops Yard from 5th July, only a 2 minute walk from this year's The Other Art Fair. The installation runs until mid-September as part of Kiosk N1C's First Fridays series. The limited edition run of banners and accompanying prints are for sale in the Kiosk N1C store, 116 Lower Stable Street, London, N1C 4DR.