Inside the Studio: Mark Petty
Get a glimpse Inside the Studios, a weekly IGTV series where our regional Fair Directors get taken on a personal Live tour around the workspaces and collections of The Other Art Fair exhibitors. Head to our IGTV to watch the interviews in full.
Mark Petty's screen prints aim to promote sustainability in art, following his awareness of the increased plastic pollution in our oceans during scuba diving and surfing trips. Mark recycles plastic that was due to go to landfill sites, carefully blending the material to create what would then be his medium for 'Ocean Life Limited Edition'. Today, we get an insight 'Inside the Studio' of Mark, who was due to exhibit at our postponed London edition of The Other Art Fair…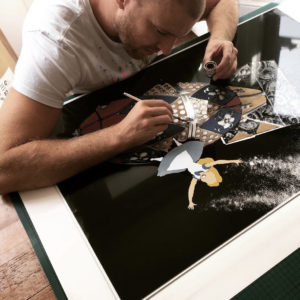 Tell us a little bit about yourself and your creative practice. How did you first learn about screen printing as a medium?
Mostly known as just Petty. Half Irish, half English, East London-born and London-based self taught artist. I've spent the last 22 years in dirty advertising, knowing that I really wanted to be was an artist which I felt I had left behind at school & college. Leave a very comfortable life behind and pursue your dreams? Why not!
I got back into screen printing about 5/6 years ago by doing a beginners course at Sonsoles studios in Peckham London and I've never looked back! it was great getting away from the soulless digital world that I was living in and getting dirty with real paints, with successes whilst also making lots of mistakes!! It took me a good 5 years of hard graft and two TOAF's whilst holding down my 9-5 at the same time, to finally have the courage to give up my job, but I did!  I got my first studio in February 2020, I picked a right year to go full time!! but to be honest, there are worse problems, on the whole it's been amazing, I love the quote "An artist cannot fail, it's a success to be one…"!
How has your personal connection with the ocean (a water sports enthusiast I believe!) influenced your creative practice?
My ideal is being on top of a snowy mountain or in the sea, so I'm very aware of the plastic waste we put in our oceans when surfing, diving etc, which made me even more aware as an artist, of the silly amount of waste we all make, after seeing this blender that could blend iPhones on you tube I wondered whether it could be used to blend plastic, then use that blended plastic as pigments in resin, which worked out really well! I released a series of art called 'Ocean life limited edition 'where all the art had waste up cycled blended plastic in it, from coffee cup lids to water bottles, I had Starbucks giving me all there waste coffee cup lids! "The Ocean is in my heART and I'm ready for love…"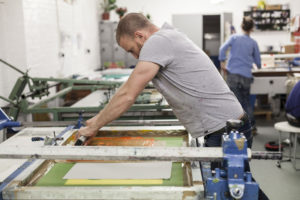 What does the use of gold leaf / gilding represent in your works?
Most of my work is onto glass, so I love using gold leaf and gilding, it gives the piece a certain warmth, especially if you break it up and textureize it, maybe even mixing it with other mediums too, I also like layering up my work on two or more panes of glass to give it extra depth.
What message do you want your audience to take away from your works about sustainability?
That's easy, a smile on your face and any positive thought or emotion, knowing it is possible to be more sustainable as an artist, I've still got a long way to go, reducing my waste more which usually comes from my mistakes from experimenting! but I'm moving in the right direction!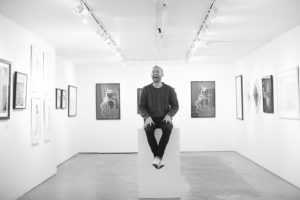 Finally, what have you been working on lately?
Oooo lots, I'm working on making frames out of concrete but instead of using sand/mortor I'm using waste blended plastic, I've also just released my new 'Wanderlust' which has gone down really well with the different choices of Mickey & Minnie mouse combo's, I'm also just about to release my 'LockDown Love' piece; whether you've been split up from your loved one, found new love or even been brought together by this strange year I hope this brings a smile to a few people!
Follow The Other Art Fair's regular 'Inside the Studio' series on Instagram with Live talks between Fair Director's and Fair Artists, and shop all Fair artists via the Online Studios.