In Celebration of Black History Month: Interpreting History with Vincent Keele
In honor of Black History Month this February, Saatchi Art will be featuring four emerging artists who center their practices on elements of Black history.
Self-taught painter Vincent Keele creates both abstract expressionist paintings and symbolic figurative works that portray narratives about African American experiences, taking to task the Eurocentric art world, voter suppression, and systemic racism.
His work is underpinned by careful compositional planning and a deep appreciation for art history, from the Western canon to the diverse motifs and techniques of art around the African continent, which he seeks to bring to the fore. Vincent's attention to these historical and artistic influences manifest at every level of his work, down to the signature vermillion paint on the sides of his canvases, an homage to the romantic painter J.M.W Turner's famous use of a touch of red to complete his paintings.
"My work is about retelling history, bringing back phenomenal people and places that have been misplaced, forgotten, or unknown. These paintings are portals that create metaphysical realms where every thought and action is balanced by its counterpart. Within this infinite expanse I've created a space where directed energy and the immeasurable meet analytical thinking.

I am interested in awakening cognitive processes, harnessing creative energy and expanding the limits of universal thinking." — Vincent Keele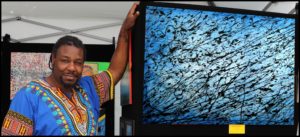 Vincent was born in Los Angeles. He inherited his love of painting from his mother, Mary M. Scott, an abstract painter who trained at the School of the Art Institute of Chicago and passed her course books on to him. Now based in Lake Stevens, Washington, Vincent exhibits his work regularly throughout the Pacific Northwest, as well as in New York and Florence, Italy. In 2018, he had the honor of curating the Seattle Black Panther 50th Anniversary Art and Fashion Show. His work is held in private collections throughout the United States.
Want to continue the celebration? Explore an online exhibition of artworks guest-curated by Saatchi Art artist Barry Johnson in honor of Black History Month.