Happy Birthday, Basquiat
Today we're celebrating the birthday of legendary street artist Jean-Michel Basquiat with a stunning collection of original art inspired by the street art style he so boldly heralded in his short, but successful career.
Following a tenuous childhood in Brooklyn in the 1960s and early '70s – which included being hit by a car, dropping out of high school, being kicked out of his family home, and a brief stint living on the streets – Basquiat quickly made a name for himself as one half of the street art duo SAMO. With a feature in the Village Voice covering his graffiti endeavors, it was only a matter of time before Basquiat made his way onto the fine art scene. Just two years after befriending Pop Art icon Andy Warhol in 1980, Basquiat and girlfriend Madonna went to Los Angeles and turned the bottom floor of iconic art dealer Larry Gagosian's home into a makeshift studio.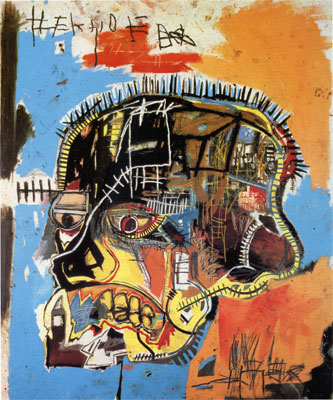 (Image: Jean-Michel Basquiat, "Unitled" acrylic and mixed media on canvas. Source: Wikipedia)
Basquiat's works were famed for their stunning incorporation of a wide range of influences including not only the textual imagery found in his earlier graffiti, but also anatomical studies, the notebooks of Leonardo da Vinci, and various symbolism from African and ancient cultures. His figurative and wildly gestural compositions also incorporated contemporary celebrities like athletes, musicians, and even himself. Calling Basquiat a star, by the way, isn't much of a reach. In his very short lifetime, he shot to international fame and was even featured on the cover of The New York Times Magazine accompanying a feature called "New Art, New Money: The Marketing of an American Artist."
While his career was taking off, personal trauma including the death of his dear friend Andy Warhol led to his own demise at the young age of 27. In a career that lasted less than a decade, Basquiat managed to make a tremendous impact on the art world and especially on the style of Neo-Expressionism that he was mostly closely aligned with. Characterized by often aggressive, gestural, and harshly colored figures, this style was pioneered by Basquiat and contemporaries like Julian Schnabel, Eric Fischl, and David Salle. A turn away from the conceptual art that dominated the 1970s, Neo-Expressionism was lauded for its honesty and brashness and Basquiat's work was certainly the pinnacle of such a commitment to this integrity.
On what would have been his 55th birthday, we're celebrating his legacy with a collection featuring original artwork by Saatchi Art artists that showcases the emotional power and the constant growth of street art even three decades after Basquiat's death.