Get to Know Saatchi Art Artist Christian Hetzel
If you love large abstract paintings and embrace modern minimalist design, get ready to be drawn in by the works of Saatchi Art artist Christian Hetzel. His compositions offer the viewer a chance to escape into a world of subdued color, organic texture and light… Quietly powerful, Hetzel's paintings offer pause for reflection while making a striking statement.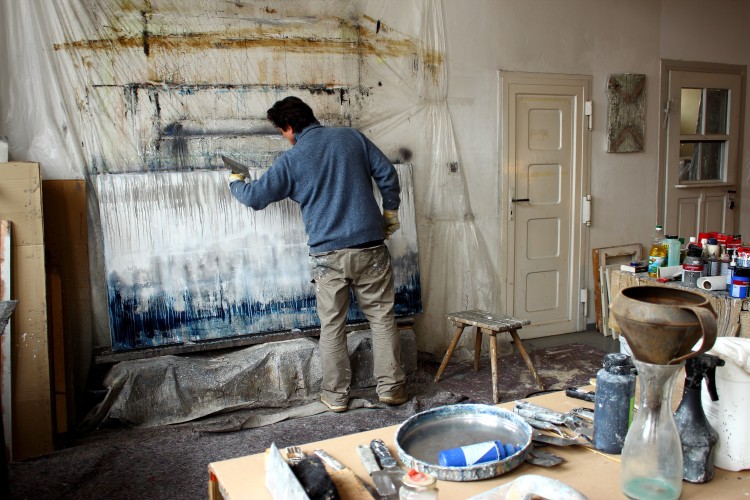 A self-taught artist, Hetzel has taken part in more than 15 shows and exhibitions in Germany and beyond, including Art Fair Cologne, Context Art Miami, and The Unit in London. Rothko's Color Field paintings and Rauschenberg's White Paintings are some of the art he credits as inspiration for his work. (Image: Saatchi Art/Christian Hetzel)
In a 2015 interview with Coeval Magazine, Hetzel explained his "less is more" approach:
"While painting I try to keep myself away from the commercial structures, use less tools and enormous art supplies and instead work with my own tools and methods or self-made materials… to minimize the overloading of an image with bold bright colors and put the focus on the few in color or interesting surface structures."

Christian is based in Esslingen, and his paintings are featured in private collections around the world. His work was also chosen as part of a special selection by renowned architect Peter Marino on display at the Chanel Boutique in Frankfurt. (Image: L: blues, by Saatchi Art artist Christian Hetzel, R: Hetzel at work, Saatchi Art/Christian Hetzel)
While Hetzel's approach is non-commercial, his engaging abstracts would certainly make a fine addition to any upscale modern office, boutique, or hotel. Saatchi Art's Director of Art Advisory to the Trade, Hayley Miner is a fan, and says of Hetzel's paintings "Christian's work always brings me to a different place in nature. The space he creates seems to expand beyond the canvas."
If you like what you see, be sure to take a look at Christian Hetzel's paintings included in our new Spring 2016 Catalog and explore his other artworks for for sale on Saatchi Art.
Love reading about all things art? You can have articles from Canvas, curated collections and stories about emerging artists delivered straight to your inbox. Sign up for the Saatchi Art Newsletter.