Get to Know Featured Artist Hormazd Narielwalla
Hormazd Narielwalla's artwork serves as an elegant reminder of the potential to make something wonderful when we reimagine the familiar. His thoughtfully placed blocks of color magically revive obsolete bespoke patterns into brilliant works of contemporary collage. On the occasion of his current solo show, Body Architecture, presented by Saatchi Art at the Foundry Gallery in London, get to know a little more about Hormazd.
Bespoke patterns are made to order for individual clients, and it's customary for them to be destroyed after a client passes away, and they are no longer needed.  After coming to the UK to study Fashion Design at the age of 23, Narielwalla's interests and training led him to Savile Row, where he got to know the respected tailors at Dege & Skinner, and started saving unneeded patterns from the shredder by deconstructing them and transforming them into new works of art. He also draws inspiration from and uses vintage lingerie patterns, military uniforms, and hats to create his one-of-a-kind works.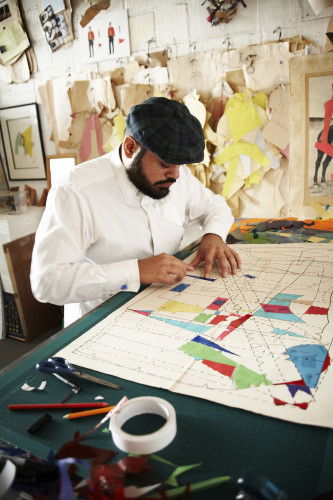 Narielwalla's passion for fashion began by collecting magazines as a child in India. He considers Matisse another essential source of inspiration. Narielwalla's regard for the craft of fine tailoring is evident. In addition to creating his collage art, Hormazd authored a biography about Master Tailor Michael Skinner, called The Savile Row Cutter (Benefactum, 2011). (Image: Hormazd Narielwalla/Saatchi Art)
Traversing the intersection of fine art and fashion, the appeal of Hormazd's work is widespread. Since his first show at Paul Smith Gallery in 2009, his work has been exhibited at numerous galleries and shows in London and around the world, including shows and exhibitions in New York, Stockholm, Athens, and Melbourne. Narielwalla's artwork was featured in Block Party, a national touring exhibit by Crafts Council, England, and he also participated in India Art Fair 2014.
This short video by Asafe Ghalib allows a brief peek of Hormazd at work in his studio last year.
Narielwalla won first prize in Saatchi Art's 2014 Showdown competition, 'The Body Electric.' In 2015, he was featured in a solo show presented by Saatchi Art at Timothy Everest's Bespoke Atelier, and his works were shown for the first time in a museum in a solo presentation at Bath's Museum of Fashion. You can learn more about Hormazd and his art in this article from Vogue or on his website.

Layering rich color over bespoke patterns renews them and adds dimension. In a radio interview with BBC, Narielwalla describes the patterns as "abstractions of human bodies…There are people in these envelopes." (Image: Hormazd Narielwalla/Saatchi Art. Photo: Denis Laner)
If striking pattern and color rates high on your list, and you love mid-century modern art and design, be sure to see Hormazd Narielwalla's latest original artworks in Body Architecture, a presentation of new works in London and online at Saatchi Art. View the complete exhibition here.