From Basquiat to Duchamp: Learn More About the Famous Works From David Bowie's Collection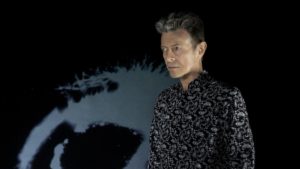 Transcending his transformative music, David Bowie is regarded as an artistic innovator that greatly impacted the visual arts in a way no other musician had done before him. His legacy and substantial influence will not only endure in the music world, but Bowie's iconic appearance, his many personas, and relentlessly innovative spirit will continue to inspire artists and their artworks forever. During a two-night event, Sotheby's will be granting the world a rare glimpse at a true art lover's collection. Over 300 works from Bowie's personal art collection will be auctioned off in three lots on November 10th and 11th.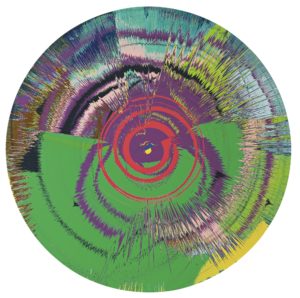 Throughout his life, Bowie was an avid patron of the arts. His private art collection contains works by some of the most revered artists and genre-innovators in the world: contemporary artists such as Damien Hirst and Jean-Michel Basquiat to modern masters Marcel Duchamp and Francis Picabia to a 16th century Venetian altarpiece by Tintoretto.
Read on for more about the highlights of David Bowie's collection that will be auctioned off at Sotheby's on November 10th and 11th. 
Head of Gerda Boehm by Frank Auerbach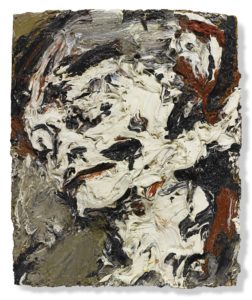 Possibly the work in Bowie's collection that best embodies his fascination with the synthesis of visual and auditory art is Head of Gerda Boehm by Frank Auerbach. In an interview with the NY Times, Bowie professed, referring to the painting, "want[ing] to sound like that looks." An innovator in his own right, Auerbach studied at the Bromberg School in London after WWII and approached painting with a spontaneous desire to capture the spirit of a being.
Untitled Fish for David by Damien Hirst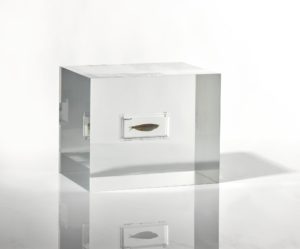 Included in Damien Hirst's most iconic oeuvre that also contains The Physical Impossibility of Death in the Mind of Someone Living, Untitled Fish for David Bowie places a minuscule fish in formaldehyde. Bowie considered Hirst one of the few contemporary artists, "who has helped make art very accessible to the public in Britain in a way that had never happened before." The two artists were friends as well as collaborators and collected each other's works.
With Hidden Noise (A Bruit Secret) by Marcel Duchamp
As a precursor to the Dada movement, Marcel Duchamp proclaimed his readymades to be anti-art. In With Hidden Noise (A Bruit Secret), Duchamp enclosed an unknown object within a ball of string and secured it with brass plates and nails. The work created a noise when rattled; in the original work (Bowie's is an edition signed by Duchamp) Duchamp's friend and patron Walter Arensberg placed the object in the string.
The Angel Foretelling Saint Catherine of Alexandria of Her Martyrdom by Jacopo Tintoretto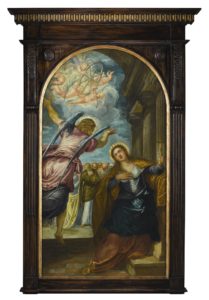 Bowie had many questions about religion throughout his life, he was in constant search of meaning. This search influenced his music greatly and influenced the artworks to which he was drawn. Created by Jacopo Tintoretto, the oldest work in Bowie's lot is a 16th century altarpiece depicting Saint Catherine of Alexandria. She was a true believer in her faith and became a martyr for being unwilling to renounce Christianity.
Mendica by Francis Picabia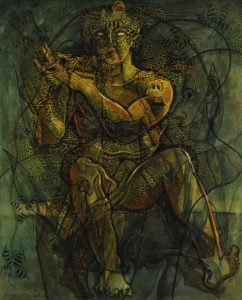 Described as "chameleon-like" by Bowie, Francis Picaba had a major influence on Bowie's music career and his own visual creations. Both Bowie and Picabia frequently re-invented themselves throughout their careers based on their many intense passions.
Air Power by Jean-Michel Basquiat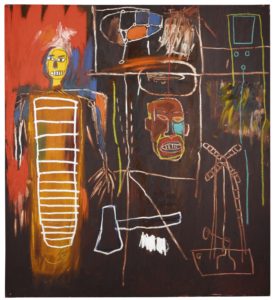 Expected to be the blockbuster of Bowie's collection is Air Power by Jean-Michel Basquiat, which is estimated to sell for nearly $4.5 million. Like Picabia, Bowie's interest in Basquiat lied in the immediacy portrayed in his works. Bowie believed that Basquiat's works displayed spontaneity and relevance that would be felt years after their creation.
Love reading about all things art? You can have articles from Canvas, curated collections, and stories about emerging artists delivered straight to your inbox.