From a Curator: The Other Art Fair London
This month, The Other Art Fair London held its most extensive art fair to date. With 140 artists exhibiting across four days and two venues in the city center, The Other Art Fair London triumphantly marked its 30th exposition. With an impressive track record for showing top emerging international talent, the fair has become a well regarded institution in the city, and with hundreds of artist applicants from all around the world, this year's standard of work was remarkably high. 
Guest artists included The Connor Brothers, whose original artworks completely sold out on opening night, all proceeds going to charity CALM (Campaign Against Living Miserably) which supports men's mental health. Live broadcasts from Soho Radio and DJs from around London curated the soundtrack of the weekend, and The Illustrated Menagerie offered anthropomorphic portraits drawn for free by artists Aga Giecko and Doctor Gurlfriend.
Specially curated for the 30th Autumn edition, Not 30% showcased 30 emerging women artists, in an effort to raise awareness of male dominance in the art world. Curated by arts broadcaster and Soho House's Head of Collections, Kate Bryan, the exhibition was a deliberate response to the fact that only 30% of artists represented by commercial galleries are women (National Museum of Women in the Arts). Femme Fatale Tattoo studio offered on-site hand-poked tattoos by Emily Malice, and Missy Flynn, London's cool girl of cocktails served her unique brand of mixology.
I was extremely fortunate to be able to attend this year's fair, and I was delighted to discover incredible emerging talent with each successive tour. At Victoria House, I was thrilled to see, in person, the works of Polish artist Marcelina Amelia. Inspired by religious iconography and interpreted with a pop-twist, her works are a curious mixture of lustful darkness and adolescent innocence. Published in Booooooom, Digital Arts, Art Wednesday, Vogue and Ballad Of Magazine, Marcelina is unquestionably an artist on the rise.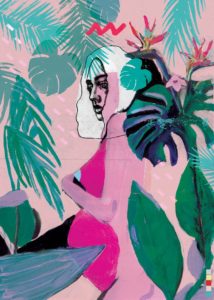 Other standouts from Victoria House include: Hamburg mixed media artist Stefan Heyer, noted as a favourite of the fair by Chief Curator Rebecca Wilson's during her Invest In Art talk on Saturday afternoon; Israeli artists Raffael & Tai Lomas' conceptual sculpture and photographic works around chairs; Gordon Ellis-Brown's graphic exploration of cultural traditions inspired by his time in New Mexico; and award winning sculptor Mark Beattie who creates atomically energetic neon and metal works (contact a curator for oversized works and commissions).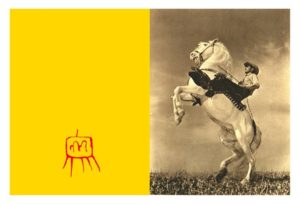 The College presented a select group of women artists, all very different from one another in medium and practice. Memorable in this respect is artist Elle Kaye, who describes her artwork as a modern take on taxidermy. Receiving her animals from zoos and sanctuaries after passing away from natural causes, Elle's love of animals can be easily seen in the colourful collection of tropical birds that were displayed in the centre of the room, each artfully posed to show their exquisite natural beauty.
Other highlights from The College's Not 30% show: Chinwe Ibe-Russell's historical fiction artworks – paintings that rewrite history in mural-like style; Dawn Beckles' vibrant and exotic florals, influenced by Hockney and inspired by her native Barbados; UK based artist Hanna Ten Doornkaat's works which test the limits of and intricacies of line drawing (showing at the Venice Biennale 58th European Cultural Exhibition in 2019); and Rosa Roberts' larger than life abstracts that emphasize colour and bold mark making.
For a seemingly limitless selection of exquisite artworks by emerging artists, you can browse more works by artists from The Other Art Fair London: