Exclusive Interview with Jin-Woo Prensena
Saatchi Art photographer, Jin-Woo Prensena's photograph of Capri, Italy was hand-chosen for the cover of the August/September issue of National Geographic Traveler. Read on to learn more about Jin-Woo's process and how he gets the perfect shot.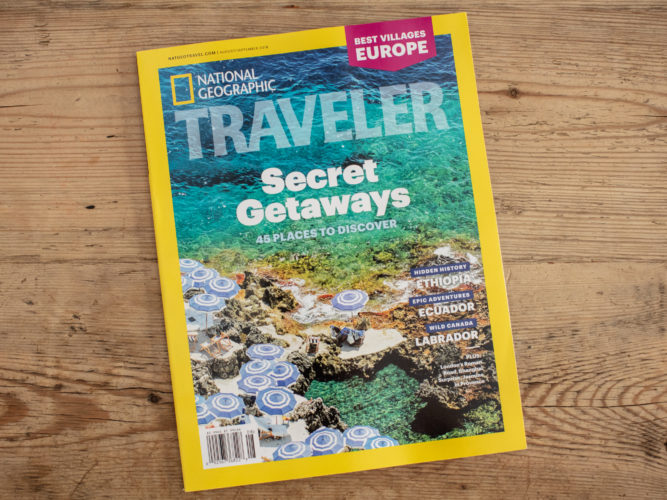 Can you describe your shooting process? How do you choose and scout your locations?
I am a quiet person by nature and have always preferred communicating through pictures. I find it's when I can be my true self. Often, I have the rough version of an image in my head that I wish to capture to express a feeling or mood. This begins the process. I like to shoot iconic global destinations in my own way. I research the countries and locations online in great detail before I set plans to shoot. Of course, weather can be every photographer's closest friend or biggest enemy, so it has to be monitored and studied closely as well.
On location I use the help of the best local guides who can quickly get me to my shots. Quite often the guides reveal their favorite "secret" spots as a bonus. This adds a local flair to my shots and often is the beginning of a new inspiration. I specialize in aerial photography and frequently incorporate the use of local helicopter pilots and boat captains for scouting and shooting.
I find myself inspired by beautiful, unique and often challenging spots around the world. They can be very desirable travel destinations, such as the picturesque coastline of Capri and the Amalfi Coast, or the top of a remote glacier in Iceland that is accessible only by helicopter or deep in the rainforest of St. Lucia.
How was your work chosen for the cover of National Geographic Traveler? 
Out of the blue, the director of photography for National Geographic Traveler contacted me directly and mentioned that she found my website and that my Fontelina Capri image was being strongly considered to be on the cover page for their next upcoming issue. To my absolute joy, around a week later, I was told that my image made it on the cover. I couldn't be more thrilled to share my work with their readers.
Can you describe the actual shoot for the photo? Does anything stand out in that particular shoot?
I visited the Amalfi Coast and Capri many years ago and recently wanted to refresh my memory. I went on a scout by boat with an experienced local skipper around Capri and mentally marked locations that inspired me to shoot La Fontelina and some other spots that I had on my list. I returned to the island on foot to find the right spot on a high cliff trail. I wanted to capture the magnificent aquas of the Tyrrhenian Sea and create a way to showcase the true feeling of La Dolce Vita. The beautiful blue and white umbrellas had to be open and the sun needed to be high to avoid shadows spoiling the fun.
From a technical standpoint, I shoot on a Phase One 100MP medium format camera and prefer to take quite a bit of equipment with me, which gives me the freedom to choose the right lens setup when I am on location. The overlook I chose to take my image from is high up and relatively far from La Fontelia so I went with a longer focal length lens and a polarizing filter to minimize reflections on the water. This allowed me to capture great detail and the beautiful colors of the vibrant summer day. I can still feel how brutally hot it was on that cliff that day. An ice cold Peroni and a jump in the refreshing waters helped me cool down.
What moment of your career has made you the happiest or proud?
I truly enjoy seeing the largest prints of my work framed and installed at the homes and offices of my collectors. My ultimate reward is when my clientele shares with me that my framed art triggers in them true emotions and an escape from their busy lives. But, I am obviously also very proud and beyond honored that National Geographic Traveler chose my Frontelina image for their cover shot.
Do you have any thoughts or feelings about the rise of drone photography? 
I recognize the role for drones in capturing content for many types of photography and videography. I think this is a great way to gather very cool behind the scenes content as well. Personally, I specialize in large scale aerial photography. It's very complicated and tedious. As I strap myself into safety gear and literally hang out of helicopters, there are many variables I must juggle to get the perfect shot. There is also something exciting and special about shooting live up in the air with the elements and I think it reflects in my work. There is a real connection between me and my image. Drones do not provide this connection for me. Call me old school, but at least for now I will stick with helicopters.