Collector Favorites: Bestselling Artists of October
Ever wondered what other people are buying for their personal art collections? Though your tastes may differ, seeing what others are purchasing can help you discover new artists whose works you might not otherwise have considered.
Below, meet 5 artists who have proven to be popular favorites with our collectors. For more ideas, browse our recently sold works and contact our curators who can help you find similar works in your budget.
Barry Johnson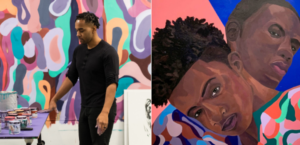 An up-and-coming young artist based in Seattle, Barry Johnson regularly exhibits his work throughout the Pacific Northwest, and his work is held in private collections around the world. Barry works across mediums, including painting, sculpture, and installation. He is perhaps most known for his realist portraits of Black subjects on abstract backgrounds painted in synthetic color palettes. With nuanced facial expressions and energetic compositions, Barry's portraits convey an interest in identity and human connection. In his sculptures, found objects spray painted gold and classical busts dripping in layers of paint incisively comment on race, power, and historical narratives. Barry was chosen to give a TEDx talk in 2018 and recently received the Edwin T. Pratt Scholarship. See more of Barry's work here. 
Nadia Attura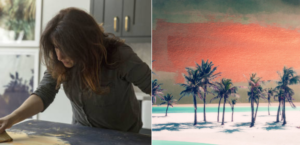 Photographer and mixed-media artist Nadia Attura collages her original photographs of far-flung places with paint, chalk, and other photographic material, yielding dreamlike and painterly tableaux. Printed in saturated and otherworldly colors, Nadia's finished photographs gesture towards the notion of paradise. Based in London, Nadia has exhibited her work at The Other Art Fair in New York and London, the Affordable Art Fair in London, and was selected for inclusion in the 2016 and 2019 Royal Academy Summer Exhibitions. Her work has also been covered in the New York Times, The Guardian, and Ideal Home magazine. See more of Nadia's work here.
János Huszti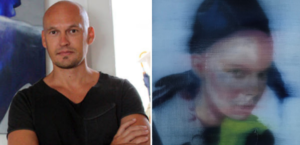 A mixed-media artist working primarily with oil paint, János Huszti challenges himself to capture subjects removed from their origin or context, resulting in destabilizing portraits and abstract paintings. Reminiscent of Gerhard Richter, János blurs and obscures his subjects with wide brushstrokes, prompting the viewer to consider movement, the passing of time, and entropy in his work. János' artwork is held in collections across the US, Europe, Middle East, and East Asia. He exhibits his work regularly in Budapest, Hungary, where he is based. See more of János' work here.
Luigi Quarta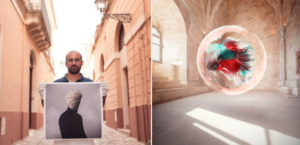 Luigi Quarta is an Italian surrealist artist based in the small town of Parabita, Italy. With his digital photography practice, Luigi seeks to journey into a parallel universe, exploring the potential for mystery and profound meaning behind ordinary scenes and subjects. Since picking up photography as a hobby in 2012, Luigi has turned his pastime into a burgeoning career, with exhibitions across Europe—including at Cluster London and Espace Des Arts Sans Frontières in Paris—and works held in private collections throughout the US, Europe, and Australia. Luigi's work has also been published in Photographize and FotograFARE magazines. See more of Luigi's work here. 
JJ Galloway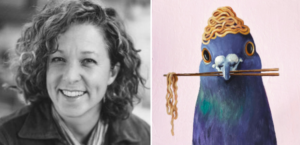 Working across watercolor, oil, and sculpture, JJ Galloway juxtaposes quotidian subjects, most often her two favorites, animals and foods, into whimsical artworks, from a portrait of a flamingo wearing a hat of macarons to a sculpture of a pigeon enjoying some ramen. Ultimately, JJ's work never fails to delight or surprise. JJ has exhibited her work prolifically across the United States, including at the Affordable Art Fair in New York, PULSE Miami, and The Other Art Fair in Los Angeles. She studied fine art and graphic design at the Tyler School of Art at Temple University in Philadelphia, and now lives and works in Maryland. See more of JJ's work here. 
Love reading about all things art? You can have articles from Canvas, curated collections, and stories about emerging artists delivered straight to your inbox. Sign up for the Saatchi Art Newsletter.