Collector Favorites: Bestselling Artists of June
Ever wondered what other people are buying for their personal art collections? Though your tastes may differ, seeing what others are purchasing can help you discover new artists whose works you might not otherwise have considered. Below, meet 5 artists who have proven to be popular favorites with our collectors.
For more ideas, browse our recently sold works and contact our curators who can help you find similar works in your budget.
Alec Cumming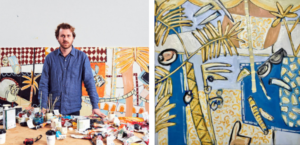 Alec Cumming's canvases engage in vibrant scenes filled with lively arrangements of objects and moments drawn from his surroundings. Within his own abstracted painting style, there are shapes and forms that lead to suggestions of 'things'. His unique method of abstraction allows him the pleasure of observing the world and translating it into a visual dialogue. Cumming is a young international artist who works between studios in the UK and India. He has most recently participated in The Other Art Fair in both Los Angeles and London this year. See more of Alec's work here.
Emilia Brandão

Emilia Brandão is a Brazilian Lifestyle, Portrait, and Fine Art photographer based in Paris. Her black and white photographs cinematically capture the romantic streets of the city. She is a regular contributor to notable fashion magazines including Vogue, Glamour, GQ, and Elle magazine. Brandão received her Master's Degree in Creative and Conceptual Photography at EFTI, Madrid, and received a diploma in cinematography at the FAAP University of Communication in São Paulo. See more of Emilia's work here.
Corinna Wagner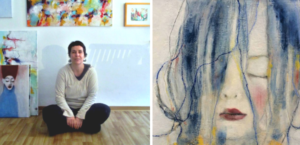 Corinna Wagner is a self-taught artist whose works are a reflection of her relationships, feelings, and memories. She has been painting for more than 20 years and works out of her studio in Frankfurt, Germany. Preferring to paint with her fingers rather than brushes, she mainly works with mediums such as chalk, acrylic, and gesso. See more of Corinna's works here.
Patrick Gonzales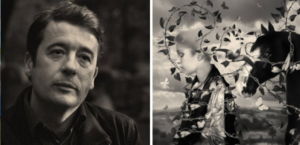 Based in Dijon, France, Patrick Gonzales presents a unique blend of personal dream fragments, childhood memories, and fantasy. In 1998 he began to work more digitally, and today he is most comfortable referring to his art as a mixture of photography and digital painting. Whether it is the lush spectrum of dark greys in his black and white works or the balanced compositions in full color, the syncretic mix of media and references that point forwards and back in time is highly memorable. He has exhibited his works internationally, and most recently participated in the Yixian International Photo Festival in China. See more of Patrick's works here.
Louise McNaught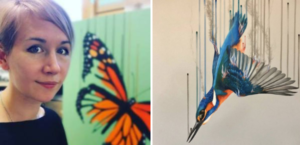 Born in Scotland, and now residing near London – Louise McNaught completed her Fine Art Degree at the University of Greenwich and has continued to work as a professional artist ever since, with international representation. Her artwork has also been featured in art fairs in Milan, Hong Kong, Singapore, Stockholm, Brussels and all over the UK. ​Louise's creations feature nature and animals, where the animals are God-like, sublime and ethereal in their presence and depiction. McNaught's work is motivated by emotive and spiritual experiences which have manifested in a mixed-media approach. Her soft style suggests a delicate relationship between nature and ourselves, making a clear point about man's destruction of nature – which flutters jewel-like in the balance. See more of Louise's work here.
Love reading about all things art? You can have articles from Canvas, curated collections, and stories about emerging artists delivered straight to your inbox. Sign up for the Saatchi Art Newsletter.