Collector Favorites: Bestselling Artists of July
Ever wondered what other people are buying for their personal art collections? Though your tastes may differ, seeing what others are purchasing can help you discover new artists whose works you might not otherwise have considered.
Below, meet 5 artists who have proven to be popular favorites with our collectors. For more ideas, browse our recently sold works and contact our curators who can help you find similar works in your budget.
Erica Lambertson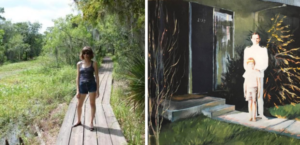 With vivid palettes and confident brushstrokes, Erica Lambertson's paintings capture the subtle beauty of the world around her. Erica finds inspiration anywhere and in anything, painting figures and scenes that come to life, and occasionally tend towards the surreal. Stylistically, Erica paints in a gestural manner with a remarkable awareness of color and light.
Erica began painting in 1998 at the New Orleans Center for Creative Arts. From there she went on to study art at the School of the Art Institute of Chicago and the School of Art and Culture in Aix en Provence, France. She completed her BFA in Painting at the Maryland Institute College of Art in 2006. After graduation, she spent two years living in the south of France, nine years in New Orleans, and now works out of her studio on Bainbridge Island, Washington. Her work has been widely exhibited across the US, with exhibitions in Marfa, Texas; New Orleans; and Washington. See more of Erica's work here. 
Dan Nelson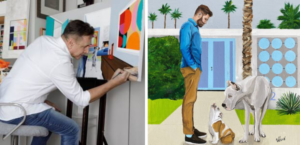 Painting with humor and levity, Dan Nelson hopes that his paintings will "spark your imagination to create your own stories." A born and bred Chicago artist, Dan graduated from the city's Ray Vogue School of Design in 1975. Since then, he has worked in advertising, a background that comes to bear in his graphic and geometrically informed paintings. His current series Living Mid-Century combines his love of color with his love of Mid-Century architecture, and the sun-worshipping, pet-loving culture of Palm Springs, California. He has recently exhibited in a solo show at Marshall J Gardner Center for the Arts in Indiana, as well as in group exhibitions throughout Chicago, where he continues to live and work. See more of Dan's work here. 
David Dyett
With a focus on inclusion and how implicit biases can shape our perception of others, David Dyett uses the familiar genre of portraiture to highlight both our similarities and differences as individuals. Even through the simplicity of a lone figure against a sparse backdrop, David manages to convey the complicated nature of identity, and our understanding of one another. Based in Toronto, Canada, David gathers inspiration from city life and personal relationships, working with oils and acrylics to confront issues in queer culture. David's work can be found in private collections throughout North America as well as Asia, Australia, Europe, and South America. See more of David's work here. 
Jaco Putker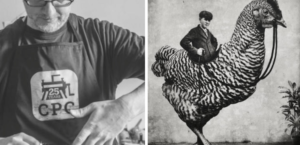 Printmaker Jaco Putker combines digital and traditional techniques to create surrealist scenes that are equal parts delightful and unsettling in their unexpected juxtapositions. His most common medium is photopolymer, or solar plate etching, a non-toxic etching technique that allows for photorealistic depictions via exposure to natural light.
Jaco studied at the Escuela Superior de Belles Artes Ernesto de la Carcova in Buenos Aires and the Royal Academy of Fine Arts in The Hague, where he is now based. In 2021, he received the Dutch National Business Art Service award for Graphic Arts. He won the Awagami Paper Factory Prize at the annual Awagami International Miniature Print Exhibition twice in 2015 and 2017. Jaco's work has been exhibited throughout Europe, as well as in Australia, South America, East Asia, and the US. See more of Jaco's work here.
Ziesook You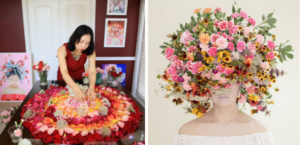 Since 2016, photographer Ziesook You has been engaged with her ongoing series Scent of Broq-pa, wherein models wear floral arrangements as whimsical headdresses that overwhelm the picture plane. Inspired by the Nepalese village of Broq-pa, where flowers serve as a feminine symbol of love and happiness, Ziesook hopes to convey "the happy coexistence of humans and nature" with this series.
Ziesook earned her MFA and BFA from the Seoul Women's University and taught contemporary art, video art, and techniques at universities and graduate schools from 2006 to 2014. Ziesook has had over a dozen solo exhibitions throughout Korea and Texas, including four solo exhibitions this year alone. She has also exhibited in group exhibitions in Australia, Europe, and the US. She is the recipient of numerous awards and recognitions, including the first place prize in photography at the 55th Annual Regional Juried Show at the Richardson Civic Arts Society in Texas. See more of Ziesook's work here. 
Love reading about all things art? You can have articles from Canvas, curated collections, and stories about emerging artists delivered straight to your inbox. Sign up for the Saatchi Art Newsletter.