Collector Favorites: Bestselling Artists of January
Ever wondered what other people are buying for their personal art collections? Though your tastes may differ, seeing what others are purchasing can help you discover new artists whose works you might not otherwise have considered.
Below, meet 5 artists who have proven to be popular favorites with our collectors. For more ideas, browse our recently sold works and contact our curators who can help you find similar works in your budget.
Segun Aiyesan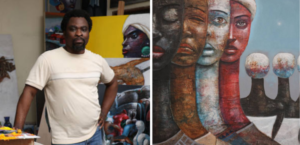 Nigerian painter Segun Aiyesan studied and worked as an engineer before pursuing painting full time, and his background in the oil industry, particularly as an oil rig engineer for Chevron, has informed some of his most celebrated works: In 2014, his acclaimed solo exhibition Oil Man at Boys Quarters' Project Space in Port-Harcourt, Nigeria, explored the physical and social effects of exploitation of the region by oil corporations. Segun's signature stylized and highly textured figures take on totemic qualities, and speak to complex, universal and timeless narratives. Segun has exhibited his work throughout Nigeria, South Africa, and Europe, including at the 2009 Florence Biennale. See more of Segun's work here. 
Alyson Khan
Such varied styles as the cleanliness of mid-century modern design, the decadence of Art Deco, and the vibrancy of Yorùbá textiles collide in Alyson Khan's rich, geometric paintings. The Colorado-based painter's reverence for the formal power of color and symbolism shine through her rhythmic compositions, which, though abstract, evoke narratives, emotion, and the ritualistic potential of art objects. Khan studied at the University of Colorado in Denver, where she is currently based and regularly exhibits her work. In 2019, her work was shown at both Cristina Grajales Gallery in New York and Space Gallery in Denver. Her design-conscious works have been featured in Create! Magazine and Elle Decor Italia. See more of Alyson's work here.
Kevin Foote
Kevin Foote captures the strange and unusual lurking beneath the everyday, with richly textured portraits and sparse settings that suggest we are catching his subjects mid-narrative. While the often empty backgrounds allow the viewer's imagination to fill in the scene, the nuanced glances of his subjects, and the out of place elements, all conveyed by Kevin with sparing brushstrokes, heavily suggest that the narratives we are glimpsing are surrealist and uncertain. Kevin studied fine art at Columbia College and the School of the Art Institute of Chicago before he moved to Austin, Texas, where he opened and operated the art community staple Birdhouse Gallery. He now lives and works in Madison, Wisconsin, and was recently named one of Saatchi Art's 21 Artists to Collect in 2021. See more of Kevin's work here.
Mary Cinque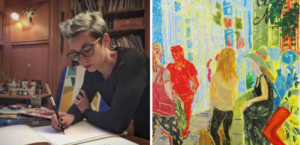 Painter, illustrator and graphic designer Mary Cinque captures the action and nuance of city life. In her oil pastel drawings, rich colors evoke bustling atmospheres, and bold mark making effuse a sense of ebullience and optimism. Mary lives and works in Agerola, a town just outside of Naples on the Amalfi Coast of Italy, and draws on her time spent in Italy, Ethiopia, London, and New York to capture people and architecture with a fresh sense of wonder. Mary has exhibited her work throughout Europe and the United States. Mary's work is held in collections around the world, including in the US, UK, and East Asia. See more of Mary's work here.
Kenny Nguyen
Kenny Nguyen explores cultural identity and displacement in his sculptural paintings and tapestries, using silk as a metaphor for his Vietnamese heritage. Kenny paints, sculpts, and builds up this tradition-rich material into complex works that contemplate life between two cultures. Born in Vietnam, Kenny studied fashion design at Ho Chi Minh City University of Art and Architecture, and later painting at the University of North Carolina in Charlotte, North Carolina, where he is now based. In 2017, Kenny received the Asia Contemporary Young Artist Excellence Award at the Sejong Museum of Art in Seoul. In 2020, he completed the Gilfalag artist residency at the Gil Society and Akureyri Art Museum in Akureyri, Iceland, and was named a Saatchi Art Rising Star. See more of Kenny's work here.
Love reading about all things art? You can have articles from Canvas, curated collections, and stories about emerging artists delivered straight to your inbox. Sign up for the Saatchi Art Newsletter.