Brooklyn: Print Yourself with Gowanus Print Lab
The Other Art Fair are excited to announce Gowanus Print Lab and some of their incredible artists in residence will be at the upcoming Brooklyn Fair helping you make your very own screen prints.
Gowanus Print Lab, is a Brooklyn based community screen printing studio. Run by artists they are dedicated to creating a nurturing artist community. Not only do they teach and provide affordable access to studios and tools but they also provide exhibition space for emerging artists. The combination of practicing artists and students discovering screen printing for the first time makes the Gowns Print Lab a vibrant and active community. The Other Art Fair are not only excited to host the Gowanus Print Lab at the upcoming Brooklyn fair but four of their talented and diverse artists in residence who will show you the ropes. So whether you're a screen print guru or a first timer you can take home your own free screen prints.
Here's the lineup so you don't miss any of the action:
Thursday: Marta Murray
Marta Murray is new to the Gowanus Print Lab community. So far she's taught several Intro to Silkscreen classes, worked Mobile Print Lab events, and will be teaching a series of intro classes for kids over the coming month.
Marta recently moved back to NYC after taking a year long hiatus, spending time in upstate NY, Vermont and Chicago. While upstate, she rented a studio in the attic of an 1850's row house in Hudson, NY where she made work about the surrounding industrial landscape. Only recently has she begun to reincorporate printmaking into her work. Drawn toward the painterly quality of mono prints, Marta is always looking for new and experimental ways to disrupt the predictable outcome of a screen print. She's  inspired by traditional advertisements and magazines from the 70s and  using CMYK dots Marta is interested in the concept of reproducing these ads and images via the same method they were once created with. . She plans to create a series of prints in line with these themes for the Other Art Fair.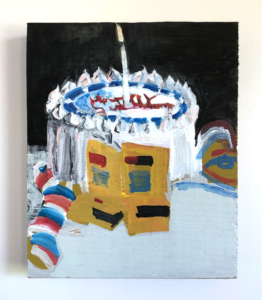 Marta Murray, Kodak Moment
Find Marta at the Gowanus stand for Artist designed stickers, Thursday, 11/7 6pm-10pm
Live Print Times: 6pm-7pm, 8pm-10pm
Friday: Todd Rutledge
Todd has been at Gowanus Print Lab for over year as a printing instructor and part-time studio manager. Based in Brooklyn Todd takes inspiration from the urban environment and liveliness of the city, using humor and characters to communicate messages. His recent work has been comprised of smaller black and white illustration. For The Other Art Fair, Todd will be creating a few original images and also revamping some of his older works. I will have 4 single color images ready to be printed on shirts as well as "Other Art Fair Bingo Cards".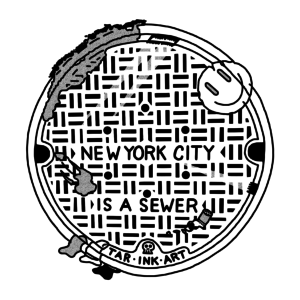 Todd Rutledge, New York City is a Sewer
Find Todd at the Gowanus booth for The Other Art Fair Bingo Cards, Friday, 11/8 3pm-10pm
Live Print Times: 3pm-4pm, 5pm-6pm, 7pm-8pm, 9pm-10pm
Saturday: Julia DePinto
Julia Innocenza DePinto has been involved with Gowanus Print Lab since 2018. Julia is an Italian-American visual artist and writer based in Brooklyn. Her highly emotive artworks explore the discourse of identity, sexuality, and memoir. Julia's work has been shown internationally in solo and group exhibitions.Aside from printmaking, Julie also work in performance, video, photography and print-media. She often uses stills from videos of her performances as sources for her printmaking.
Julia DePinto
Find Julia at the Gowanus Booth for Artist designed postcards, Saturday, 11/9 11am-7pm
Live Print Times: 11am-12pm, 1pm-2pm, 3pm-4pm, 5pm-7pm
Sunday: Maya Filmeridis
After completing a BFA in Printmaking Maya Filmeridis has been at Gowanus Print Lab for a year. Her practise is interdisciplinary and she has been increasingly exploring digital media in conjunction with her fine art practices. Her work has an autobiographical focus drawing inspiration from events in my life, usually speaking towards topics of identity and loss. She is currently working on a exciting new project on identity voyeurism in simulation games which is in early stages of its development. At the fair Maya will be showing work from a multimedia instillation of her childhood bedroom, I'll Be Back, Maybe.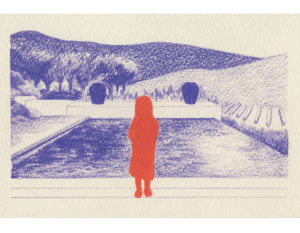 Maya Filmerderidis, I'll Be Back Maybe
Find Maya at the Gowanus booth, for Artist Postcards, Sunday, 11/10 11am-6pm
Live Print Times: 11am-12pm, 1pm-2pm, 3pm-4pm, 5pm-6pm