Brooklyn: Abstract Art
The Other Art fair is proud of the diverse range of styles and mediums our artists work in. From Landscapes to light art and sculptures to street art you can find it all at our upcoming Brooklyn Fair.
One style we are particularly excited about at this coming fair is Abstract Art. Abstract Art does not explicitly attempt to represent visual reality but instead uses blocks of color, shaps forms and sometimes texture to show a different reality. Abstract art has been a prominent style in modern art since the early 1900s and a style used by numerous famous artists such as Rothko, Frank Stella and Kandinsky. We took a moment to ask two of our abstract artists, Tom Flanagan and Jaclyn Mottola exhibiting at the upcoming Brooklyn fair about their work.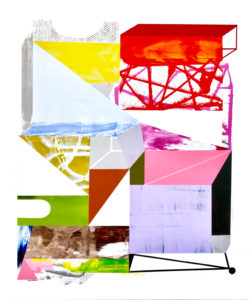 Tom Flanagan, Ever, Acrylic on Canvas
Tom Flanagan
Can you tell us a bit about your process?
At the moment I'm trying to not define my process. Instead I'm trying to follow and articulate something that can't be defined by words. For me that works best when I'm drawing. Everything comes from the line and playing a line off of a shape then playing a line off of a color. The important thing for me is not to know where the work is going but to trust that my sensibility will be there no matter what. I realized a long time ago that what works best is finding your own voice. We can't escape ourselves so finding ones voice is everything.
Do you have a favorite shape or a shape you find yourself coming back to the most?
For about three years I was using triangles to articulate movement and action but recently I've been stacking blocks of color almost like imagined still lives that come off as figurative. It's always changing.
Do you have a favorite abstract artist?
I have about 50 favorites I'm afraid. But top three – Picasso, de Kooning, Mitchell
What are you inspired by at the moment?
Luminosity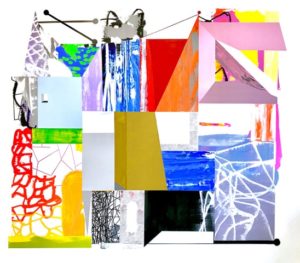 Tom Flanagan, Spin, Oil on Canvas
Jaclyn Mottola
Can you tell us a bit about your process?
I collect resource material all the time – usually just quick photographs of a texture, shape, or color on my phone through the day. When I approach a new painting, I digitally or manually collage these images to create a jumping off point. From there I draw a basic composition and start building the painting up in layers, focusing on the basic structural attributes of the composition. I draw out shapes using different types of rulers, handmade stencils or compasses before taping them off and applying paint. Depending on the texture I am trying to achieve and the material I am working with, I use different tools – brushes, palette knives, or paint rollers. The bulk of my process is problem-solving through trial and error – visualizing, moving, adding, subtracting, shifting. I focus on manipulating color, texture, and shapes – searching for a composition that creates a sense of harmony and comfort.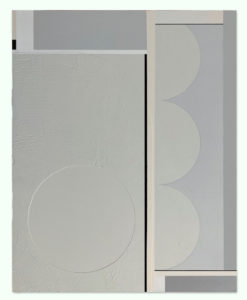 Jaclyn Mottola, Yellow Tinted River, Acrylic and Plaster on Wood Pannel
Do you have a favorite shape or a shape you find yourself coming back to the most?
My favorite shape is a triangle, they are grounding and stable with sharp angels that can pierce through picture planes. My current work uses a lot of circles and rectangles in the foreground but there are almost always still triangles in the underlying layers that are subtle but just as important to the composition.
Do you have a favorite abstract artist?
Carmen Herrera is my favorite artist. I remember the first time I saw a painting from her Blanco y Verde series years ago and was overwhelmed by the impact of the formal simplicity and striking color. I'm inspired by her story and her dedication to her practice. Her loyalty to her vision, without recognition, is truly inspirational.
I also love Zilia Sanchez, Alma Thomas, Agnes Martin, and Lygia Clark – to name a few there are so many!
What are you inspired by at the moment?
Right now, I am really fixated on texture and material. I have always been drawn to the tactile and have been working to incorporate new and non-traditional materials into my work.
I've also been thinking a lot about the way we interact with the environment around us and how geometric shapes function in our surroundings. Living in NYC, I'm fascinated by the way the spaces around me are organized and how these complex and elaborately built environments guide our movement through fixed systems.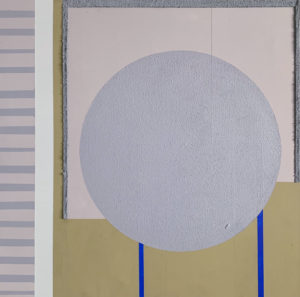 Jaclyn Mottola, Shared Padin, Acrylic and Sand on Wood Panel
Tom Flanagan and Jaclyn Mottola will both have work on view at the upcoming Brooklyn edition of The Other Art Fair, November 7- 10 at the Brooklyn Expo center.