BP Portrait Award at the National Portrait Gallery
The BP Portrait Award is considered one of the most prestigious and coveted portrait awards in the world. Previous winners of the award have gone on to tremendous successes and participation in exhibitions in the world's most premier museums.
Saatchi Art is proud to announce that two Saatchi Art artists will be featured in the exhibition, opening June 14th at the National Portrait Gallery, London. Saatchi Art artists Michael Bergt and Rebecca Driffield will lend their unique approach to the portraiture genre to the exhibition.
The National Portrait Gallery was the first portrait gallery in the world, opening in 1856. The collection houses historically important and famous British people. Since its founding, the Gallery's mission is 'to promote through the medium of portraits the appreciation and understanding of the men and women who have made and are making British history and culture, and … to promote the appreciation and understanding of portraiture in all media'.
The BP Portrait Award is the successor of John Player Portrait Award, which was launched at the National Portrait Gallery in 1980. From 1990 onward, the award has since been known as the BP Portrait Award. The award has served as a launchpad to numerous artists and have propelled many to acclaim. The 2018 winner of the award is Spanish painter Miriam Escofet for her portrait of her mother.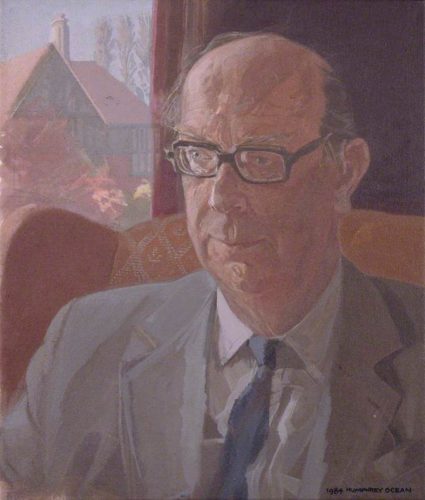 After winning the award in 1982, Humphrey Ocean would go onto three distinguished solo exhibitions at the National Portrait Gallery, as well as a solo exhibition at the Tate Liverpool. Since 2012, Humphrey has been the Royal Academy Professor of Perspective, a position once held by J. M. W. Turner.
Alison Watt won the award in 1987, while she was still a student at Glasgow School of Art. In 2000, she was the youngest person to be offered a solo exhibition at the Scottish Museum of Modern Art. Alison was appointed Officer of the Order of the British Empire by Queen Elizabeth in 2008 for her contributions to the arts.
Winner of the 1991 award, painter Justin Mortimer was commissioned to paint several high-profile figures in Britain. His commissions included David Bowie and Queen Elizabeth. Justin's portrait of the queen was to mark her 50th year as President of the Royal Society of the Arts.
For more portraits inspired by the works in the National Portrait Gallery, browse our National Portrait Gallery collection.