Collector Favorites: Bestselling Artists of April
Ever wondered what other people are buying for their personal art collections? Though your tastes may differ, seeing what others are purchasing can help you discover new artists whose works you might not otherwise have considered. Below, meet 5 artists who have proven to be popular favorites with our collectors.
For more ideas, browse our recently sold works and contact our curators who can help you find similar works in your budget.
Dane Shue

With a heavy pop art aesthetic, Texan visual artist Dane Shue paints portraits of iconic figures ranging from Audrey Hepburn to Queen Elizabeth II. Vibrant and eye-catching, Dane's paintings give new energy to familiar faces. Dane's works can be found in private collections around the world. See more of Dane's works here.
Ruth Lantz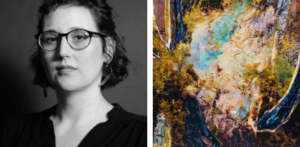 Ruth Lantz's abstract artworks integrate the language of painting and digital media, commenting on the influence technology has on the way we understand our visual environment. Her work has exhibited nationally at institutions including The University of Illinois at Chicago, and Washington State University. After receiving her MFA in Visual Studies from Pacific Northwest College of Art, Edith became a recipient for the Regional Arts and Culture Council and Community Arts Assistance Program Grant. See more of Ruth's works here.
Félix Hemme
French artist Félix Hemme depicts patterned forms and minimal color schemes in his abstract paintings. Félix received his diploma in Product Design at the European Institute of Design in Toulon. He has exhibited his works in numerous galleries throughout France including Salon des Réalités Nouvelles and Centre d'art La Passerelle. See more of Félix's works here.
Gleb Kriukov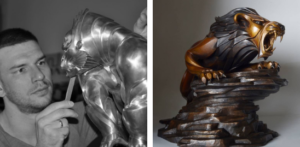 Russian artist Gleb Kriukov studied Technology of Artistic Materials Processing at State Marine Technical University of Saint Petersburg. With a focus on body language and emotion, Gleb examines human and animal forms through an ethereal lens that often places his characters in unconventional postures. Gleb has most recently exhibited in an individual showcase at Konstantin Palace in Saint Petersburg. He received 2nd and 3rd place prizes at Art Expo in Saint Petersburg, and a 3rd place prize at Art Week in Rome. See more of Gleb's works here.
Laina Hadengue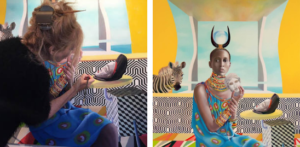 French artist Laina Hadengue paints the strange and absurd in a hyperrealistic style. The surrealistic subject matter of her works allows her to creatively explore themes of humanity and our relationship with time. Laina's works have been featured in prominent collections such as the Museum of Borneim and the Biennale de Venezia 2017, Palazzo Mora. She received the 2006 Prize of Contemporary Art Space for Dialogos. See more of Laina's works here.
Love reading about all things art? You can have articles from Canvas, curated collections, and stories about emerging artists delivered straight to your inbox. Sign up for the Saatchi Art Newsletter.