A Brief History of the Salon Wall

The words "salon wall" are familiar to most as a style of decoration espousing the spirit of "more is more." Recently taking the design world by storm, salon walls—or gallery walls, as they are also called— offer myriad ways to display art of all mediums, sizes, and textures in one spot, a sort of wall tableau. Contemporary trend aside, the words go back hundreds of years, drawing from the French Salons that arose in the late seventeenth century as a respite from rigid and exclusive French court culture. Salons became the first public displays of art and breeding grounds for Enlightenment thought, frequented by intellectuals and the rising bourgeoisie class. The spirit of the Salons incited the impending French Revolution by spreading the notion that appreciating culture, specifically art, extended beyond the elite classes.
The first Salon was established in 1670 at the Académie Royale de Peinture et de Sculpture in Paris, sanctioned by the crown as a semi-public exhibition for recent graduates of the École des Beaux-Arts to display their work for aristocratic participants. The walls were packed with as much work as could fit, inspiring viewers to take in all they could. Alternative salons began to spring up throughout France, as the desire for enriched cultural engagement spread throughout all classes with the rising malaise at the monarchic French crown.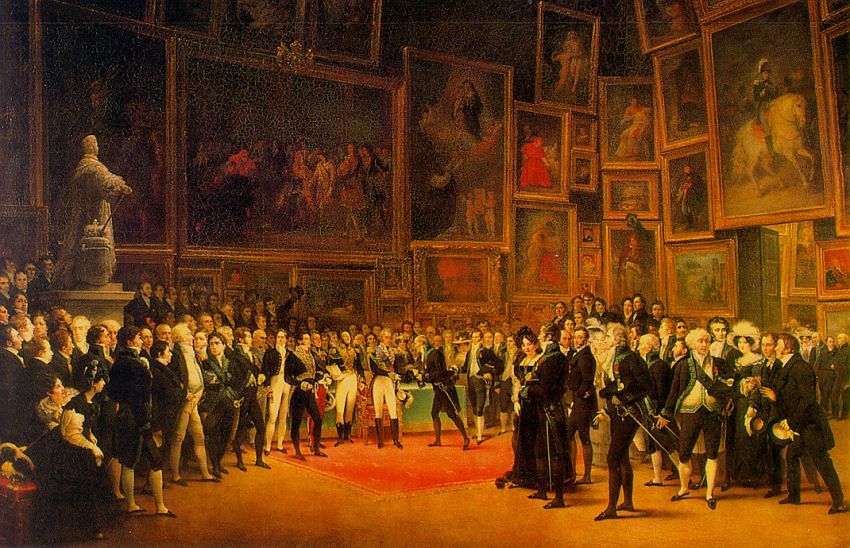 By 1737 the Academy opened the Salons up to the public, liberating art as an activity accessible to any who desired. Salons spread outside of France and solidified their place as cultural hubs, birthing the art critic who recorded their opinion in pamphlets, and providing a center for radical thought to germinate. Established in 1768, the Royal Academy of Art in London kicked off its first Summer Exhibition the next year, open to artists of all merit. In classic Salon fashion, the exhibition displays a wall-to-wall assortment of works that captures the artistic spirit of the moment. The Summer Exhibition continues annually, sparing little of its inaugural charm.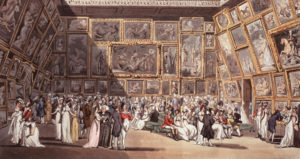 The "salon wall" of today is drawn from this style, encouraging a frenzied placement of an assortment of works. The style is perfect for art lovers who are looking to display large collections while utilizing the most of their space. For an easy, 3-step guide to creating your own, watch this video and you'll be on your way to your own piece of French history in your home. Head here for placement ideas, and browse this specially curated selection of works that work perfect on a single wall.
Love reading about all things art? You can have articles from Canvas, curated collections and stories about emerging artists delivered straight to your inbox. Sign up for the Saatchi Art Newsletter.