7 Things To Know This Week In Art
Our recap of what's happening this week at Saatchi Art, online, and around the world.
#1: Peace for Paris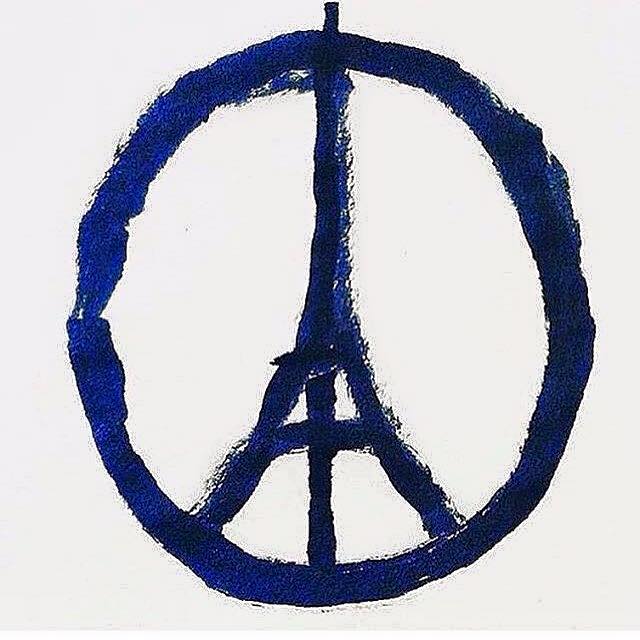 [Editor's note: This post has been updated] We had originally planned to share a collection of new works by artists based in Paris, in celebration of the premier annual photo fair to be held there this weekend. In the wake of Friday's atrocities, and the ensuing cancellation of Paris Photo, we share this artwork by Jean Jullien as a tribute to those affected and as a shared hope for peace.
#2: Artist Duo Merges Voodoo Ritual with Darwinian Logic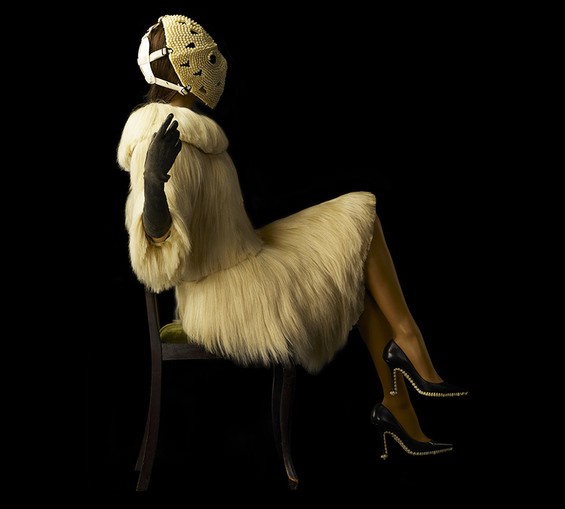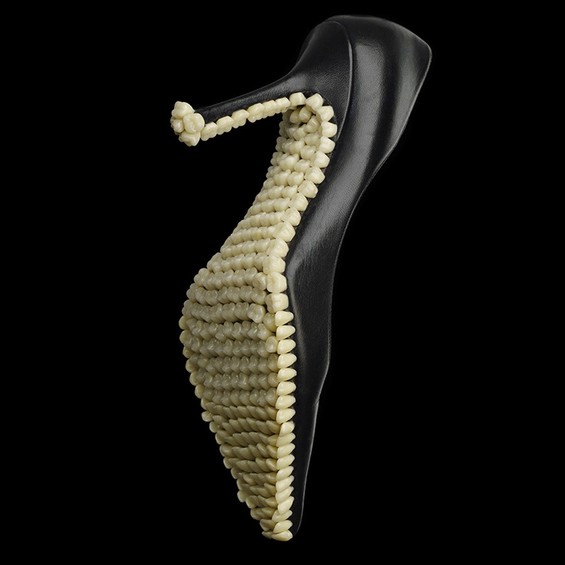 "Darwinian Voodoo" combines inherently human elements with supernatural ceremony [Beautiful Decay] 
Fantich & Young have created a new wardrobe for their "apex predator," aesthetically driven by garb typically seen in ceremonial rituals of tribal cultures. Composed of Ukraine's Mariana Fantich and the UK's Dominic Young, the artist duo center their practice around creating visceral work that subverts the seedier aspects of human nature. Often employing the use of human hair, bones, and nails, Fantich & Young incite an emotional response in viewers by placing these objects in an ominous arrangement.
In accordance, Darwinian Voodoo presents a visual interpretation of what Darwin outlined about human nature, namely a proclivity for power, dominance, and the rewards of self-aggrandized pursuits. What they call a "pedigree lifestyle brand" for the "discerning client with the taste for power and exclusivity," Darwinian Voodoo is not for the faint of heart, coating clothes and recognizable items in teeth and bones, giving them a sinister edge.
Read more about Darwinian Voodoo, and keep an eye on Fantich & Young's Saatchi Art portfolio for your chance to own a piece.
#3: Happy Birthday, Monet!
"Water Lilies" (1917) by Claude Monet [Source]
November 14th we celebrate the Birthday of Claude Monet, iconic French painter and founder of the Impressionist movement. Monet's oeuvre is celebrated for his treatment of natural light, famously painting "en plein air" under a white umbrella in order to better capture the landscape and the artist's emotional reaction to it.
Alongside Pierre-Auguste Renoir, Camille Pissaro, and Alfred Sisley, Monet exhibited his impressionist works throughout the late nineteenth century, enjoying success during his life. His dreamy impressionist style is still sought after today. Browse our own collection of contemporary works recalling his style.
#4: Meta-Referential Landscapes Have a Compelling Impact
Log paintings connect landscape paintings back to their source [Colossal]
Alison Moritsugu's log landscapes impute the subject with its context. She paints onto tree stumps from naturally fallen trees, their flat surface indicating human manipulation in naturally occurring phenomena. Alison aims to capture this juxtaposition of human versus environment in this series, challenging typical pastoral image that skims over the interaction one has with the other. In her statement, she professes
Today, photoshopped images of verdant forests and unspoiled beaches invite us to vacation and sightsee, providing a false sense of assurance that the wilderness will always exist. By exploring idealized views of nature, my work acknowledges our more complex and precarious relationship with the environment.
Alison's log paintings present an encompassing glimpse at the interaction we have with the world around us. Head to Colossal to see more.
#5: Easily Find Art Gifts with Saatchi Art's Holiday Gift Guide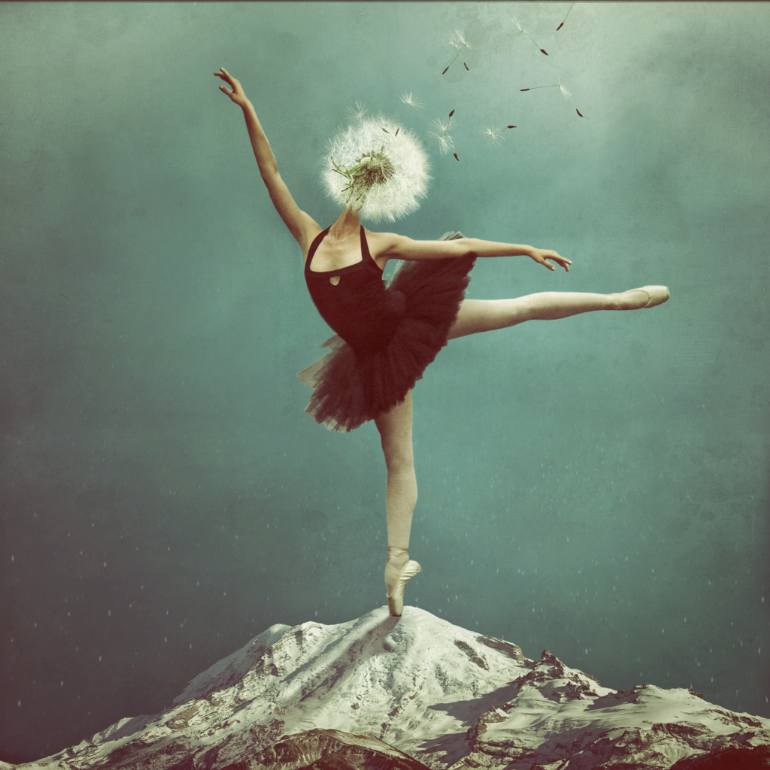 "Destiono" digital collage by Simon Scheurele, featured in our collection of Gifts Under $500
As the holidays rapidly approach, we've been hard at work putting together a comprehensive gift guide to help assuage the stresses of giving. These specially-curated collections range an impressive list, truly offering something for everyone. Whether you're looking for a gift for a foodie, garden enthusiast, film buff, and more, we're confident you'll find a great option in our Gift Guide.
Each collection contains work by emerging artists from around the world, carefully selected by our curators. Every sale on Saatchi Art supports these artists, a cause worthy of the holiday season. Explore all of the collections here.
#6: Auction Season Proves Art Prices Remain Sky High
Modigliani's "Reclining Woman" painting sold for a record $170.4M at Christie's this week [Hyperallergic]
New York's fall fine art auction season continued its contemporary auctions this week, presenting works by some of the most celebrated artists of the last century. The auction house rounded off the season this Thursday night with an Impressionist and Modern art sale that had a closing total of $146M for the night alone, a sum deemed unimpressive. In total, the 10 days of auction brought in a staggering $2.3B.
A 1917 nude painting by Modigliani made headlines for its record setting high of $170.4M, one of only 10 works to have hit 9 figures at auction (Bloomberg). Hyperallergic broke down this insurmountable sum into more digestible, and frankly grim, offering. The $170.4M could, for example, pay off the student loan debt of 4,868 college graduates, pay for one month's worth of food stamps for 1,363,200 Americans, and so on. Really makes you think.
#7: Fantastical Projections Transform Church Chapel


University of Cambridge Chapel houses immersive projection installation [Design Boom]
Artist Miguel Chevalier transformed the walls of Cambridge's King's College Chapel into otherworldly universes. The projections were installed as a backdrop for speeches given by staff professors and alumni, presenting graphics that range a variety of topics such as neuroscience, health, biology, etc.
Head to Design Boom to see more of these enthralling installations.
What art happenings are on your radar this week?