7 Things To Know This Week In Art
Our recap of what's happening this week at Saatchi Art, online, and around the world.
#1: Step Into the Wonderful World of Kelly Puissegur   

"An Important Moment in Someone's Life" by Kelly Puissegur. Learn about her creative process and inspirations in this episode of "Art for Your Ear" 
We're huge fans of Danielle Krysa aka The Jealous Curator, whose podcast series brings, "the funny, interesting, behind the scenes stories" of her favorite contemporary artists to you. In the latest episode of Art for Your Ear, Danielle hashed it out with Saatchi Art favorite Kelly Pussigeur, who dished about her creative process. After including Kelly's work in her California Girls show, Danielle was eager to ask her burning questions and explore the fantastic world of her paintings straight from the source.
Kelly's art is whimsical and humorous, with each piece packed with rich visual layers that recount a strange story. In this 30 minute installment, Kelly explained a bit about her process, which begins with putting collages together in photoshop into a sort of a mood board that she then paints from. Vintage photos, animals, and random things she finds on the Internet are her inspirational mainstays.
Get the full scoop – listen to Art for Your Ear with Danielle Krysa.
#2: These Classical Paintings Aren't Meant for the Museum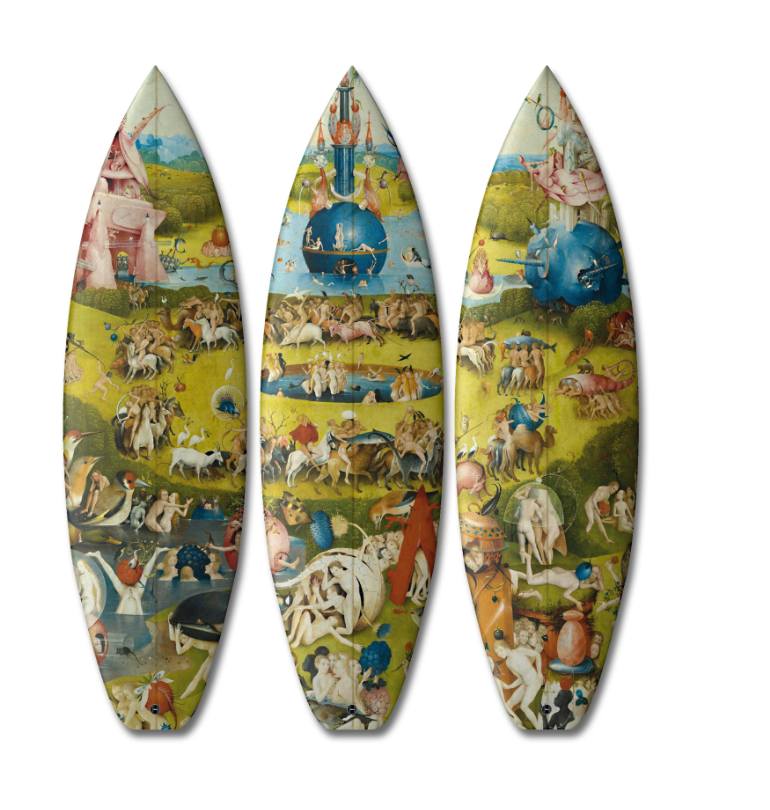 Hieronymus Bosch's famous triptych gets a contemporary spin as part of a limited edition series for Boom-Art
This limited edition collaboration proves that sometimes unlikely pairs make perfect sense. This project was brought to fruition by Boom Art, a company that creates artful limited-edition surf and skate boards, in collaboration with UWL surfboards.
Each handcrafted surfboard in this series features iconic works of art from centuries past, such as Bosch's "Garden of Earthly Delights" and the sixteenth century Flanders' tapestry "The Lady and the Unicorn." The boards are made in France and limited to 10, a true collector's item. Luckily, owning one of these triptychs is easier than you'd think.
Become the proud owner of your own Boom Art surfboard.
#3: Saatchi Art's Flora Borsi Recognized as a '25 Under 25′ by Adobe Photoshop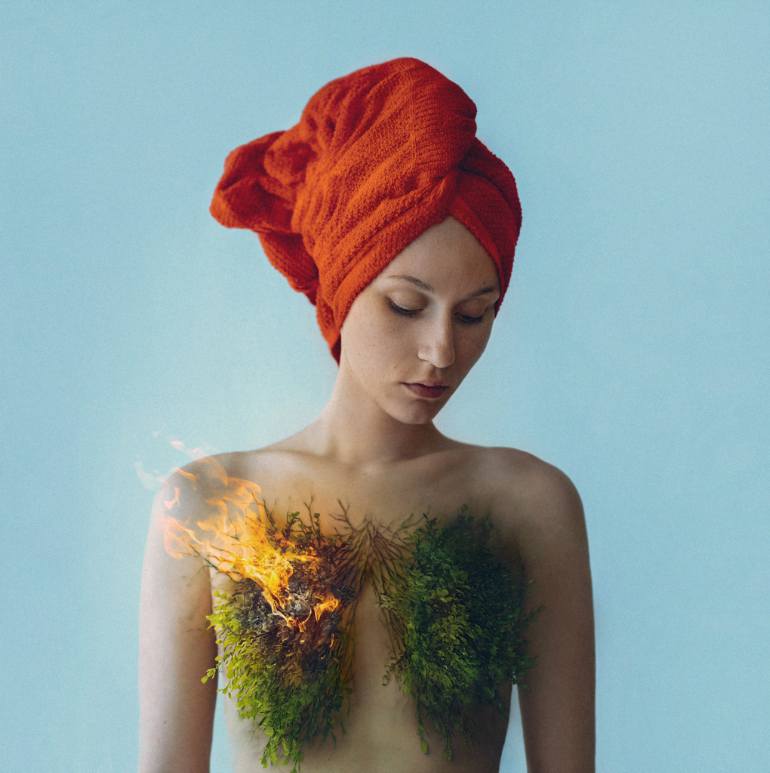 "Home" by Flora Borsi, limited edition digital photograph on Saatchi Art
At just 21, Flora Borsi has garnered international attention for her and her surreal digital photographs at an admirably young age. The Hungarian artist began playing around with Adobe Photoshop at the age of 11, using her web designer sister's copy to experiment with. Over the years, she developed a masterful style that allows her to realize surreal and conceptual visions, manipulating herself and subjects into otherworldly figures. Her work has been recognized by The Guardian's Observer, BBC Culture, and was included in Saatchi Art's Continental Shift exhibition in 2014.
Coming full circle from her early days, the cover of Adobe's Photoshop Creative Cloud 2014 Splash Screen featured a work from Flora's IREÉL series, which utilizes photography and paint to play with perspective and the overlap of the two mediums. Adobe also just included Flora in their "25 Under 25," presenting their selection of exciting young artists.
Keep an eye on Flora—her work is stunning and raw, often expressing a divergent glimpse at the world through another lens. Read Flora's interview with the Photoblographer and explore her work on Saatchi Art.
#4: L.A. Park Gets an Artful Addition

Two volunteers paddle through the spheres at Macarthur Park in Los Angeles [LA Times]
A new project by the arts nonprofit Portraits of Hope brings a bevy of colored spheres to this L.A. park. Since the 1980s, Los Angeles' Macarthur Park has been a hot spot for gang activity, leading to an effort to revitalize the area to benefit the community. The lake is situated near downtown Los Angeles, providing a scenic view of the skyline, an attribute largely wasted as citizens have come to avoid the park.
In accordance, Portraits of Hope organized 10,000 volunteers, many of whom were local schoolchildren, to help paint the 2,500 colorful spheres that now float in the water. Los Angeles mayor Eric Garcetti told the L.A. Times, "This project involves everything that's good about Los Angeles: great weather, open space, creativity and social conscience."
Learn more about this community art project.
#5: Van Gogh's Likeness Is Realized Entirely in Flowers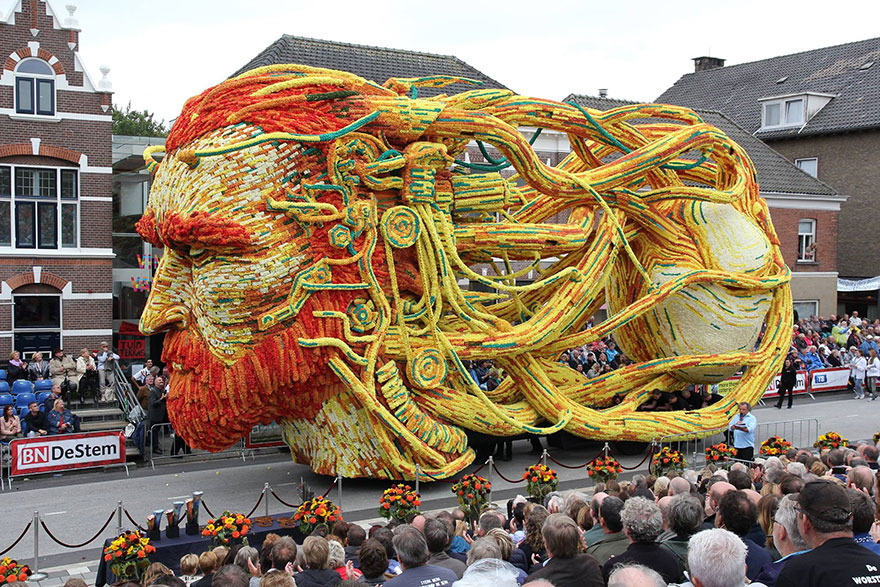 Nineteen teams helped design floats that feature the iconic post-impressionist master [Bored Panda]
The Bloemencorso Zundert floral parade is held each year on the first Sunday of September in Zundert, located in the South of Netherlands. This year's offering paid homage to Vincent van Gogh, who was born in Zundert.
The artist's recognizable likeness and painterly motifs were immortalized in dahlias, 125 years after his death. Head to Juxtapoz for more coverage of the event.
#6: Ed Freeman's Photography Highlights the Overlooked Landscape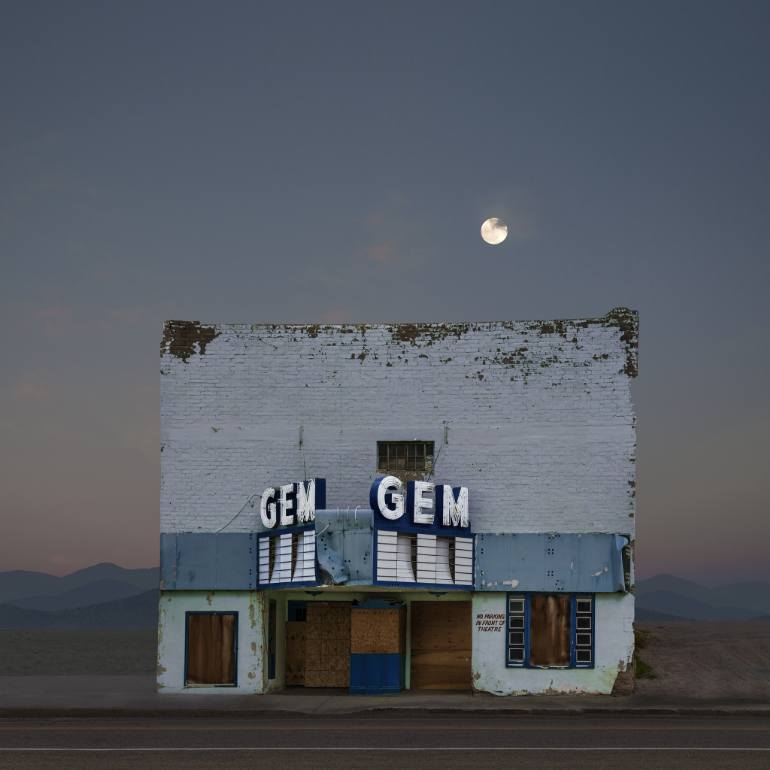 "Striped Trailer, Desert Shores, CA" and "Gem Theater, Pioche, Nevada", landscapes as captured and crafted by Ed Freeman
Ed Freeman has branded himself as a "photo-based artist," as he spends more time in front of a computer screen than camera. Ed captures scenic buildings and natural landscapes before using photoshop to create the final product, stripping away layers and leaving an eerily isolated edifice. With his work, he says:
[I'm interested in] any number of ways of seeing—from pure, detached observation, to total abstraction–but one common denominator in my work is that I'm interested in fundamentally uninteresting things. I love to discover beauty and significance in subjects that might normally go unappreciated.
We took a peek inside Ed's studio this week, and learned more about his process and inspirations. Read the interview here.
#7: Inspired by Ed Ruscha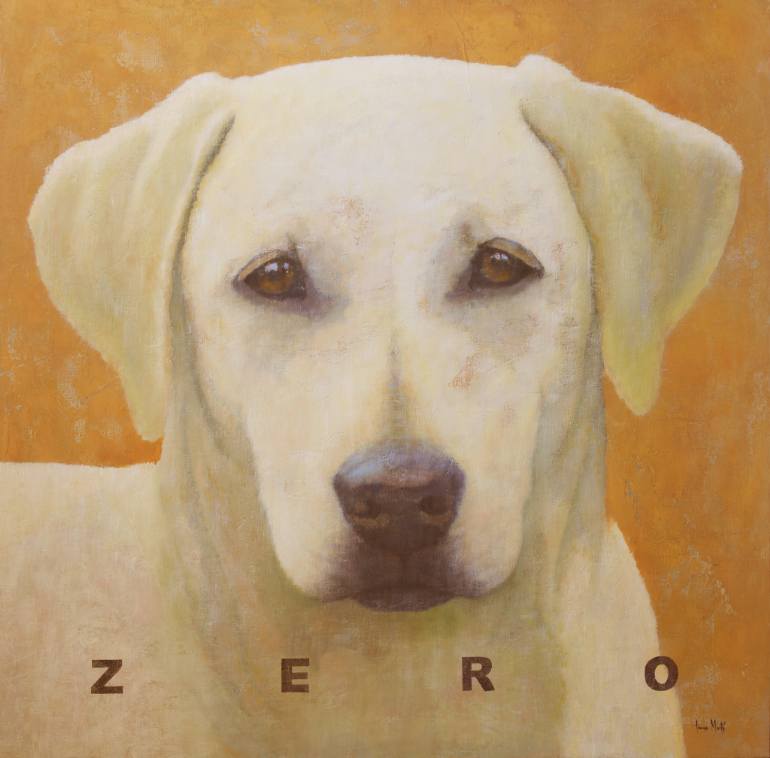 "Zero" by Tomasa Martin. See more work inspired by Ruscha
We're just shy of a month since The Broad opened, and the crowds are showing no signs of ceasing. On weekends the line of eager museum-goers is lined up along the pavement in Downtown Los Angeles, hoping to soak in all of the contemporary art the museum can provide.
If you haven't had the chance to make it out yet to satisfy that contemporary-craving, we can help. We've got a new collection of works inspired by Ed Ruscha, a favorite among contemporary art-lovers. His airy landscapes and text-centric pop art paintings were the inspiration for these works, all available on Saatchi Art.
What art happenings are on your radar this week?