6 x 6: The International Small Art Phenomenon
6 x 6 founder Bleu Cease talks non traditional art auctions and 6 x 6 Parties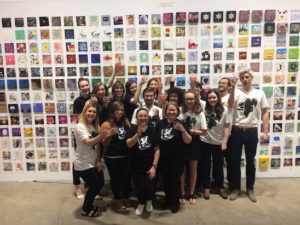 Tell us about the inspiration behind the 6×6 concept, and what are its primary aims?
We started this project to help fill a funding shortfall in 2008, and it's continued to grow and evolve in recent years. We wanted to move away from the traditional model of an art auction as a fundraiser.  Two of our longtime patrons knew of a small arts fundraiser in the UK, so that served as our inspiration. We worked together to look at a number of projects and develop a unique formula for RoCo. We wanted it to be international and for there to be an opportunity for mass participation and a huge amount of artwork and participation. We also wanted the art to be available at a low price point to encourage people to start collecting art. This small contribution from many different people is what we were always aiming for. We nailed it in year one, and the program has grown into what we call the International Small Art Phenomenon.
In what ways does 6×6 support the Rochester Contemporary Art Center program?
As a fundraiser, "6×6" provides about 15 percent of RoCo's annual operating budget. In this sense, these funds help support our other shows that are more conceptual, less sales oriented. It also brings a huge number of visitors to RoCo, some for the first time. It is the kind of exhibition that has sort of 'something for everyone'. It is a crowd pleaser that attracts many visitors who will then come back to see our other programs.
What have been some of your highlights with the program since it first began?
Each year when the artworks start arriving in the mail we are rejuvenated. Thousands of different people from around the globe have taken the time to make an artwork and send it to us. It is really quite touching. We are very grateful… and it is a lot of fun to open up hundreds of packages!
How do artists get involved? Can you explain what the 6×6 Party is?
To encourage groups to have fun making and entering art together, RoCo kicks off its "6×6" Party Month in March. Parties can be formed by any kind of group — businesses, neighborhoods, teams, families and clubs and anyone can host a 6×6 art-making party. A minimum of 12 artworks by at least four people qualify as an official "party." This year for the first time, Sunday, March 2 has been proclaimed as "Make Art Day" by Rochester's Mayor Lovely A. Warren, a past 6×6 participant herself.
What are you most looking forward to for the future of 6×6?
I take it one year at a time. So first and foremost I hope we have more international participation this year. We're encouraging people to challenge their friends to make an artwork with the #daretosqurae and #roco6x6global I hope even more people connect with each other through the universal act of creation.