5 Reasons You Should Go to The Affordable Art Fair NYC This Month
What would you do if we told you that you could buy some one-of-a-kind original art, and still have some money left for shoe shopping and brunch? Meet us in New York for the Affordable Art Fair at the end of the month! 
March 31th – April 3rd, 2016 marks the return of the Affordable Art Fair to New York's Metropolitan Pavilion. If you're in town, be sure to head to Chelsea and check out the best in contemporary artwork from more than 70 exhibitors. Several exhibiting artists will be showing brand new work created especially for the event, so the Fair is a great opportunity to acquire some undiscovered gems for your art collection.
Here are 5 reasons not to miss this year's Affordable Art Fair NYC:
1)  You can tour galleries from 16 different countries in an afternoon with little or no jetlag. This year's galleries hail from 6 different continents…There's plenty of opportunity to gain exposure to new artists and styles. It's truly an art event for everyone.
Visitors peruse the broad selection of art treasures available at a previous Fair. Visit the Metropolitan Pavilion and find out what's new this year.
2) No worries if you're new to the scene. The Affordable Art Fair team is happy to show you around. This year, the Fair is offering 4 different guided "Collect Yourself" Tours. For only $10, you can see what's new in photography, discover emerging women artists, or take a closer look at the current New York art scene. If you're in the mood for a treasure hunt, get ready to join Director Cristina Salmastrelli and see some of her favorites for $500 and under. Personal shopping is also available for those that favor an one-on-one approach. If you're interested, be sure to reach out in advance, as appointments are limited.
3) Saatchi Art is coming to town, and some of our most popular featured artists will be showing their newest works. Do you love the work of Robert von Bangert, Fabio Coruzzi, Koen Lybaert, or David Fredrik Moussallem? Don't miss this special opportunity to view some of their latest original art, along with the vivid layered prints of Kevin Bradley and The Church of Type, while you have the chance. We'll be in Booth 1.49.
Saatchi Art artists Charlotte Evans, Thomas Hammer, Alex Jackson, and photographer Dean West will be there in person, so be sure to stop by and say hello.

9 Saatchi Art artists are showing their work at the Affordable Art Fair NYC this month. Here's a small sample of some of the fantastic contemporary artists that we'll be presenting this year. Clockwise from top left, a detail from one of Fabio Coruzzi's paintings, zen-like ink on paper from Thomas Hammer, an original painting by Charlotte Evans and a detail of a photograph from the 'Under the Sun' series by Dean West. (Image: Saatchi Art)
4) You can learn how to take the leap from being a contemporary art admirer to becoming a contemporary art collector. On Thursday March 31, at 1:30 PM, Saatchi Art's Chief Curator and VP, Art Advisory Rebecca Wilson will be sharing some valuable insights in a complimentary talk on how to start your own art collection and maximize your art budget along the way.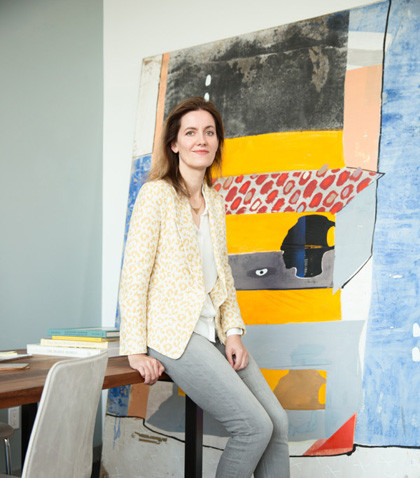 Visit us at Affordable Art Fair NYC and learn how to start collecting with confidence. Meet Saatchi Art's Rebecca Wilson on Thursday March 31, 2016 at 1:30 PM in Booth 1.49 as she shares her guidelines and expertise for starting your own contemporary art collection. (Image: Photo by Pierre Auroux for Malibu Magazine via Design Milk)
5) Your love of art can help others and inspire your children to be more creative. On Saturday April 2nd, mixed media artist Oliver Peterson saves the day with a super hero art session, where kids can make their own mixed media collage while you explore the Fair. Proceeds from the $10 workshop will help support the Affordable Art Fair's non-profit partner, The Art Therapy Outreach Center.
If you're looking for an easy way to boost your art budget, use Saatchi Art's promo code: 10SAAT, and save $10 on General Admission Tickets to the Affordable Art Fair NYC now. Get them while they last.
Affordable Art Fair NYC is located at The Metropolitan Pavilion, at 125 West 18th Street, (between 6th and 7th Avenues). We can't wait to see you there!