100 Voices, 100 Artists — Simple-T
This year marks the 100th anniversary of the passage of the 19th Amendment, which gave American women the right to vote. Despite having fought and won to have a voice in American democracy, women still face blatant inequality in the art world.
In 2019, it was reported that in the last ten years, women artists represent a meager 2% of all auction sales. According to the Public Library of Science, 87% of the works in 18 prominent art museums in the US were done by men. A joint study conducted by artnet Analytics and Maastricht University found that just 13.7% of living artists represented in galleries in Europe and North America are women.
Like the vote, art is a powerful means of expressing one's voice and vision. In recognition of this landmark centennial, and in the spirit of correcting the gender imbalance in the arts, Saatchi Art is celebrating 100 of our most talented women artists for Women's History Month. We have highlighted 8 artists from our 100 Voices, 100 Artists campaign and hope you love their message and art as much as we do.
Simple-T

Based in Nürnberg, Germany, Simple-T brings her camera to desolate landscapes around the world, from Monument Valley in Utah to the black sand beaches of Iceland. Simple-T places her unusually dressed models in these vast landscapes, creating surreal narratives that range from the melancholic to the bizarre. Her elaborately staged photographs are shot exclusively with natural light, which imbues her dreamlike scenes with surprising earthly presence. Many of Simple-T's cast of characters don masks, reflecting the photographer's interest in exploring what lurks behind façades and in uncovering our commonalities through the lens of the strange and uncanny. In her latest project, "Alone no more," two masked figures gradually come together across stark deserts and rocky shores, offering a peculiar representation of the universal experience of falling in love.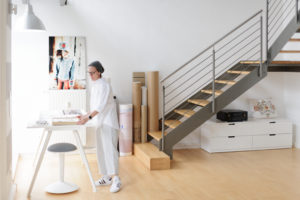 Simple-T's works have been exhibited internationally in New York, London, Paris, Barcelona, Rome, Florence and Sydney. She has been featured in notable publications such as Vogue Italy, Hyperallergic and LensCulture. In 2017, she was a finalist for The Independent Photographer's open contest, and in 2018 she took home the Gold Award in the fine art category of the Tifa Tokyo International Foto Awards.
Love reading about all things art? You can have articles from Canvas, curated collections, and stories about emerging artists delivered straight to your inbox. Sign up for the Saatchi Art Newsletter.