100 Voices, 100 Artists — Marianne Angeli Rodriguez
This year marks the 100th anniversary of the passage of the 19th Amendment, which gave American women the right to vote. Despite having fought and won to have a voice in American democracy, women still face blatant inequality in the art world.
In 2019, it was reported that in the last ten years, women artists represent a meager 2% of all auction sales. According to the Public Library of Science, 87% of the works in 18 prominent art museums in the US were done by men. A joint study conducted by artnet Analytics and Maastricht University found that just 13.7% of living artists represented in galleries in Europe and North America are women.
Like the vote, art is a powerful means of expressing one's voice and vision. In recognition of this landmark centennial, and in the spirit of correcting the gender imbalance in the arts, Saatchi Art is celebrating 100 of our most talented women artists for Women's History Month. We have highlighted 8 artists from our 100 Voices, 100 Artists campaign and hope you love their message and art as much as we do.
Marianne Angeli Rodriguez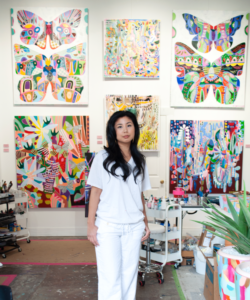 Filipino-American painter Marianne Angeli Rodriguez spent 15 years living abroad in West Africa, Central America, Europe, and Asia—wherever her parents' work with the United Nations took their globetrotting family. Now living and working in the historic downtown district of Covington, Louisiana, Marianne draws inspiration from her eclectic upbringing with a particular interest in the textiles, rituals, and tribal symbolism she encountered as a child. Marianne's ebullient paintings abound with bold organic forms, reflecting her interest in the symbiosis between built and natural environments around the world. Often working on a large scale canvas, Marianne creates dense environments that transport her viewers to the balmy tropical climates in which she grew up. 
Marianne holds a degree in fashion design from the Fashion Institute of Technology in New York. She has garnered international acclaim for her punchy aesthetic, which has yielded design collaborations with home and fashion brands including Anthropologie, AllModern, and The Jungalow. Her work is on permanent display in public venues across the US, including the New Orleans Louis Armstrong International Airport and the Sloan Kettering Cancer Center in New York.
Love reading about all things art? You can have articles from Canvas, curated collections, and stories about emerging artists delivered straight to your inbox. Sign up for the Saatchi Art Newsletter.