100 Voices, 100 Artists — Kim Kimbro
This year marks the 100th anniversary of the passage of the 19th Amendment, which gave American women the right to vote. Despite having fought and won to have a voice in American democracy, women still face blatant inequality in the art world.
In 2019, it was reported that in the last ten years, women artists represent a meager 2% of all auction sales. According to the Public Library of Science, 87% of the works in 18 prominent art museums in the US were done by men. A joint study conducted by artnet Analytics and Maastricht University found that just 13.7% of living artists represented in galleries in Europe and North America are women.
Like the vote, art is a powerful means of expressing one's voice and vision. In recognition of this landmark centennial, and in the spirit of correcting the gender imbalance in the arts, Saatchi Art is celebrating 100 of our most talented women artists for Women's History Month. We have highlighted 8 artists from our 100 Voices, 100 Artists campaign and hope you love their message and art as much as we do.
Kim Kimbro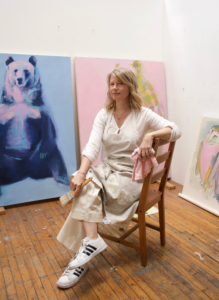 If the prehistoric cave paintings at Lascaux are any indication, artists have long expressed their affinities and fascinations with animals through paint. Kim Kimbro continues in this lineage with life-sized paintings of expressive animals, through which she captures the human experiences of memory, emotion, and mortality. On her primary subject matter, Kim says that animals are "cyphers that stand in for the way we are—corruptible and faithful, fickle and steadfast." Often painted in subdued yet unexpected colors, Kim's creatures convey startling complexity and depth, inviting the viewer to piece together their own narratives surrounding the poignant figures.
Kim holds a BFA from Parsons School of Design in New York, and she exhibits her work frequently in Los Angeles, where she now lives and works. She has been featured in such notable publications as Whitehot Magazine of Contemporary Art and Artillery. Kim's paintings are held in collections throughout the United States, Europe, and Australia. 
Love reading about all things art? You can have articles from Canvas, curated collections, and stories about emerging artists delivered straight to your inbox. Sign up for the Saatchi Art Newsletter.