100 Voices, 100 Artists — Jill Lear
This year marks the 100th anniversary of the passage of the 19th Amendment, which gave American women the right to vote. Despite having fought and won to have a voice in American democracy, women still face blatant inequality in the art world.
In 2019, it was reported that in the last ten years, women artists represent a meager 2% of all auction sales. According to the Public Library of Science, 87% of the works in 18 prominent art museums in the US were done by men. A joint study conducted by artnet Analytics and Maastricht University found that just 13.7% of living artists represented in galleries in Europe and North America are women.
Like the vote, art is a powerful means of expressing one's voice and vision. In recognition of this landmark centennial, and in the spirit of correcting the gender imbalance in the arts, Saatchi Art is celebrating 100 of our most talented women artists for Women's History Month. We have highlighted 8 artists from our 100 Voices, 100 Artists campaign and hope you love their message and art as much as we do.
Jill Lear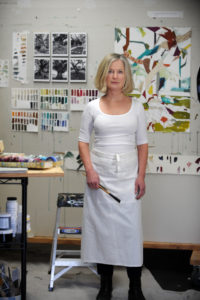 Combining collage, drawing, and painting techniques, Jill Lear explores the geometry and geography of nature while inviting viewers to contemplate the act of looking itself. Jill begins each of her works with a single tree in a specific location–often referenced with titles named after the tree's exact latitude and longitude. She then deconstructs each particular locale through sparse mark making and careful delineation of positive and negative space. Her guiding aesthetic principle is "spontaneity within structure"—Jill uses a grid to map her compositions, then intuitively applies color and bits of scrap origami paper to accentuate certain forms. The resulting works are both analytical and sentimental, spurring viewers to consider their orientation to place as something that is both organic and socially constructed.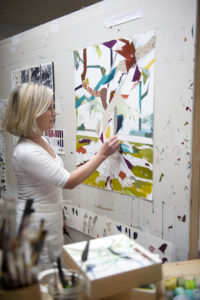 Jill studied at the New York Studio School and holds degrees from Southern Methodist University and The Chambre Syndicale of Haute Couture in Paris. In 2018, she received First Prize at the Long Beach Island Foundation's 2018 National Juried Competition for works on paper, and she has exhibited her work in solo and group shows in New York, Seattle, Houston, and San Francisco. In 2015, Jill published Witness Trees of Texas, a book of drawings documenting the hundred-to-thousand-year-old live-oak trees across the Texas landscape. In her most recent body of work, "Urban Sprawl: Trees in Cities," Jill explores the vital role of trees within manmade environments.
Love reading about all things art? You can have articles from Canvas, curated collections, and stories about emerging artists delivered straight to your inbox. Sign up for the Saatchi Art Newsletter.