The Influence of Judy Chicago
Throughout her five-decades long career, Judy Chicago sought to bring attention to those that had been pushed to the side, much like herself. Judy's artworks used collaborative efforts to bring feminist icons into the Western art historical canon. Despite being largely ignored for most of her career, Judy has been recently named one of TIME magazine's 100 most influential people of 2018. Two of her most famous artworks "The Dinner Party" and "International Honor Quilt" continue to influence emerging artists today.
"The Dinner Party," permanently installed at the Brooklyn Museum, was produced throughout 1974 – 1979. The triangular installation contains 39 place settings for a meal; each setting symbolizing a woman well-known in Western history. Women such as Sappho from Greek mythology and Judith from the Old Testament, to 20th century artist and writers, Georgia O'Keeffe and Virginia Woolf, had table settings.  
When it was first exhibited in the San Francisco Museum of Modern Art in 1979, Judy was met with acclaim; she was featured in national media coverage and received letters from admirers who were moved by her installation. In addition to her praise, Judy received criticism; some critics called her artwork kitschy and not representative of the women depicted on the table settings. Her choice of women was also questioned and in response, Judy initiated her next influential artwork, "International Honor Quilt".
"International Honor Quilt" much like "The Dinner Party" celebrates women throughout history. The quilt has over 500 triangular panels, each submitted by a women's group in reaction to "The Dinner Party". Each panel is to bring attention to a forgotten women, both by society and by Judy in her original work. Through the collaborative efforts of many, a more diverse collective of women are represented in the "International Honor Quilt" than what could have been achieved by a single artist.
Although her two most influential artworks we created decades ago, its sentiments are not lost on artists emerging today.
I am trying to make art that relates to the deepest and most mythic concerns of human kind and I believe that, at this moment of history, feminism is humanism. — Judy Chicago
Saatchi Art artists such as Lisa Krannichfeld, Rusudan Khizanishvili, and Keri Oldman use their artist expression to follow the path that Chicago was able to pave for them. Lisa paints intricate portraits of women in a position of power. She seeks to go against centuries of traditional portraiture of docile women.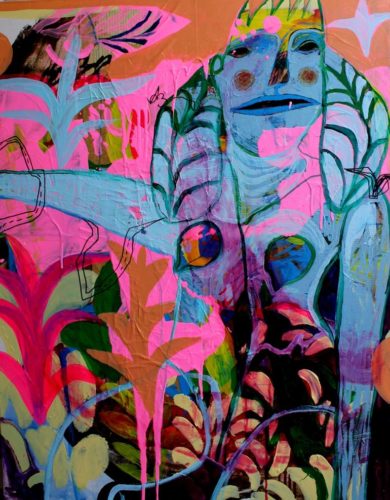 The abstracted works of Rusudan convey the everyday struggles of the modern woman. Her paintings depict the unrealistic expectations put on women by society, and even the expectations women put on themselves that may ultimately contradict their true desires.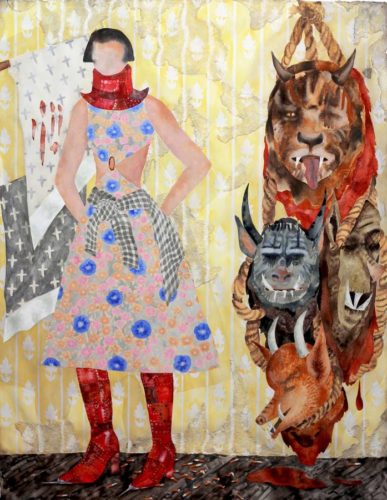 Keri uses mythology and folklore as a source of inspiration in her artworks. The women in her works are typically seen overcoming some sort of obstacle that represents women's struggles in society that have endured through today.
Love reading about all things art? You can have articles from Canvas, curated collections, and stories about emerging artists delivered straight to your inbox. Sign up for the Saatchi Art Newsletter.