Op Art: Illusory Devices and Optical Manipulations
It is unsurprising that Op art, based upon its very name, is an extremely visually recognizable art movement. Op art, or optical art, is predominantly based upon exploring the limits of optics, and is largely recognizable through its use of geometric shapes and lines in conjunction with stark contrasts in color. These elements consequently create optical effects, illusions of depth, or even vibrations in the artwork.
Developed in the 1960s, an age now defined by significant scientific and technological advancements, Op art accompanied this time period as it pushed the boundaries of what we humans were capable of processing. The psychology of perception is therefore carefully considered when creating Op art, as the artist must be aware of how to manipulate stark contrasts between the foreground and background to create impressions of movement, such as swelling and warping. As such, the dynamic visuals rendered in these pieces predominantly rely on juxtaposition and contradictory tension.
Op art's origins are often traced to the Museum of Modern Art's 1965 exhibition The Responsive Eye, curated by William C. Seitz. The exhibition went on to travel to cities such as Baltimore, Seattle, St. Louis, and more, and displayed artists such as Victor Vasarely, Bridget Riley, Ellsworth Kelly, and Alexander Liberman. Although not lauded by critics at the time, it did succeed in attracting attention by the general public as individuals revelled in the illusory manipulation exhibited by such artwork. Op art has evidently remained a compelling, accessible art movement with wide appeal.
These Saatchi artists have embraced features of Op Art in their work, expertly utilizing color and shape to engage with the viewer. The result is a fine collection of artwork demonstrating stark juxtapositions, vibrancy, and significant depth.
Jessica Moritz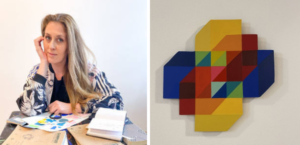 French-Israeli artist Jessica Moritz encapsulates Op art's emphasis upon optical interaction in both her sculpture and painting practices. Jessica is especially sensitive to the use of light in her art, ultimately recognizing its interaction with contrasting colors and geometric objects. She is a self-professed student of color theory and integrates these influences with imaginative geometric renderings that defy physics. Embracing challenges of the mind through her pieces, Jessica aims to lead the viewer to an alternate world where they are confronted by these illusive techniques. Her work has been featured in international publications and she will be collaborating in the upcoming Nazra Palestine Film Festival in Venice. See more of Jessica's work here. 
Ricky Wahyudi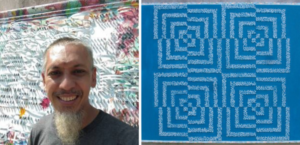 Ricky's upbringing in Indonesia has substantially influenced his practice. Born and raised surrounded by the Muslim religion, Ricky has now come to recognize that the religion's emphasis upon repetition and consistency found its way into his artwork. As such, and harking back to Op Art's dependency upon geometry, duplicated shapes and color combinations are often displayed in his artwork. Ricky, just as his predecessors of the Op art movement, expertly engages with the juxtaposition of foreground and background, utilizing stark color and geometric forms to activate optical illusions such as energetic vibrations. See more of Ricky's work here.
Arantxa Rodriguez
Mexican artist Arantxa Rodgriguez exemplifies the Op art characteristic of geometric contrast through the foreground and background. In integrating the juxtaposition of black and white, as well as other vibrant colors, she skillfully employs color contrasts throughout her artwork. Arantxa has expressed that she grew fascinated by fractal geometry and its impact upon the self, ultimately reflecting upon the concept of interconnectedness between the mind and its physical surroundings. Taking Op art one step further, Arantxa also integrates figurative elements into her work, melding the optically-manipulative shapes with human subjects. Now based in New York, her work is internationally recognized, as she has widely exhibited in Mexico City as well as London, Turin, and New York City among others. See more of Arantxa's work here.
Kristofir Dean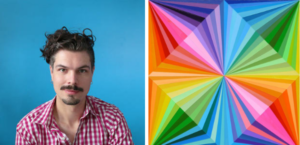 Kristofir's geometric paintings clearly display the influences of Op Art and heightened visual stimulation. His inventive panels emanate a three-dimensionality that largely rely upon pyramidic forms. Kristofir further plays with optics through a spectrum of bright color and manipulation of light or shadow, consequently energizing the viewer and challenging perceptions of visual space. Kristofir aims to engage in a conversation with admirers of his work through these techniques and challenges, encompassing intensity and activity through the use of these optical illusions. Kristofir is currently represented by Ian Tan Gallery in Vancouver, Canada, and Newzones Gallery in Calgary, Canada. See more of Krisofir's work here.  
Love reading about all things art? You can have articles from Canvas, curated collections, and stories about emerging artists delivered straight to your inbox. Sign up for the Saatchi Art Newsletter.