Mark Rothko and the Emergence of Color Field Painting
The American modern arts landscape owes much to the innovations of Mark Rothko (1903-1970). After emigrating from Russia to the United States, Rothko managed to solidify his influence within the bustling New York art scene of the Abstract Expressionists of the 20th century. With his iconic color field paintings, Rothko challenged both representational utilization of paint as well as the more physical and gestural styles of other Abstract Expressionists, instead opting for contemplative use of color across imposing rectangular compositions.
Rothko's formal exploration of the arts began at the Parsons The New School for Design, where he was taught by the likes of Arshile Gorky. It was in New York that Rothko explored several facets of abstract painting, from urban scenes to "multiforms," before expertly developing his color field compositions in 1951. This signature technique of Rothko's involved overwhelming rectangular divisions of color, ultimately aimed to elicit an emotional response from the canvases' viewers.
Critics of Rothko's work argued that these large-scale color compositions lacked substance and skill, in spite of Rothko's rigorous consideration of balance, shape, depth, and color. However, he largely avoided acknowledging such skepticisms with specificity, instead emphasizing the personal and untold emotions fundamental to the greater human condition which he poured out onto the canvas. In fact, one may recognize the influence of such emotions as Rothko neared the end of his life and painted the Black on Grays series, somber canvases which many associate with his depression and eventual suicide in 1970. 
As such, Mark Rothko's compositional strategy and intuitive understanding of mortal drama radiated through his work as he experimented with the infinite possibilities of fields of color. Check out these Rothko-inspired Saatchi Artists who have developed their own approach to color and emotion in their own distinct style.
Kseniya Lozovsky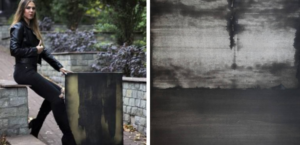 Russian artist Kseniya Lozovsky shares, apart from her native country, an appreciation for color theory and large abstractions with Rothko. Through calculated lines and layers of paint, Kseniya integrates her fascination for universal balances and energies in each canvas. Specifically, Kseniya explores the Rothko-esque utilization of somber and black colors, pushing the boundaries of the hue through careful layering. Kseniya also grapples with the limits of color through her work in interior design and photography. 
Joyce Dunn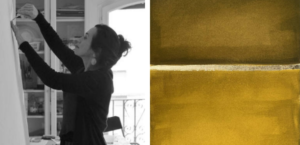 Abstract Expressionist artist Joyce Dunn draws inspiration from the grid-like designs of city streets such as Toronto and Rome. These geometric structures then permeate her color field canvases as she deconstructs cities to capture the emotive, at times chaotic atmosphere of the urban environment. Joyce aggressively builds layers of forms, paint, and color in each composition with a sense of urgency and excitement, utilizing color to challenge the boundaries of the two-dimensional plane. 
Todd Shulz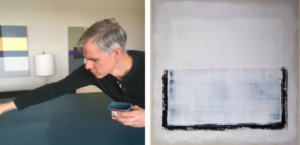 Todd Shulz' hard-edge abstracts expertly combine minimalist aesthetics and with an extreme variety of colors. Informed by crisp aesthetics, Todd has personally expressed the influence of Rothko's work upon his artistic style through his command of geometric forms, color, and clean lines. It is through these techniques that Todd aims to transport the viewer—immersing them in a world of stillness and unadulterated simplicity. 
Stefano Giuliani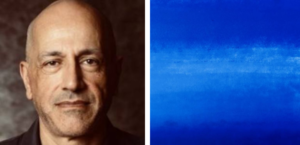 Italian artist Stefano Giuliani carefully explores the emotive relationship between color and shape in his staggering color-field compositions. These atmospheric canvases subscribe to abstract expressionist aesthetics in their exploration of meditative washes of color and stark lines, ultimately triggering the viewer's emotive subconscious. Apart from his work as a painter, Stefano is also a scenographer and set designer, yet another facet of his career which allows him to explore large-scare integrations of color and form to impact an audience. 
Love reading about all things art? You can have articles from Canvas, curated collections, and stories about emerging artists delivered straight to your inbox. Sign up for the Saatchi Art Newsletter.