Happy Birthday, Gerhard Richter
Today we celebrate the birthday of contemporary German painter Gerhard Richter with a riveting collection of original art inspired by his significant contribution to the medium of abstraction and photo-based painting.
Gerhard Richter was born on February 9, 1932 in Dresden, Germany during the rise of the Nazi regime. As power began to shift after World War II in East Germany, Richter cultivated skill in producing highly realistic Socialist Realist murals catered to the agenda of the communist regime. During a brief visit to West Germany, Richter discovered the works of contemporary artists Jackson Pollock and Lucio Fontana. He began to question how a realist style did not seem to capture his experienced tumultuous reality in comparison to the liberating abstract works of his American and European contemporaries. Seeking to find creative freedom beyond political or religious affairs, Richter fled to West Germany where he studied at the Kunstakademie Düsseldorf alongside Sigmar Polke and Werner Hilsing.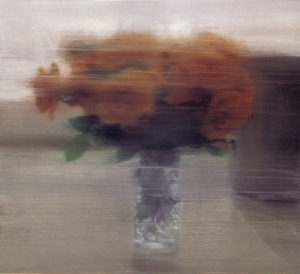 Renowned for his experimental nature of abstraction and photo-based paintings, Richter continues to move effortlessly between abstraction and figuration. During his time in Kunstakademie Düsseldorf, Richter innovatively integrated his photo-realistic images with the element of chance by applying the paint in thick brushstrokes followed with an aggressive sweep of a squeegee. In the following decades, he applied a similar technique to his abstract works. Refusing to label himself to a specific art movement, he worked alongside a quick succession of late-20th-century art movements: Abstract Expressionism, American/British Pop art, Minimalism, Conceptualism. His reinvigorating approach to painting came with profound success. In 2012, Richter set a record auction price for a painting sold by a living artist, which went for $34 million. Impressively, he proceeded to break this record twice.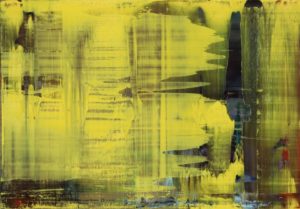 Regarded as one of the most influential living artists of the 20th and 21st century, his works can found today in collections of the Art Institute of Chicago, The Museum of Modern Art in New York, the Tate Gallery in London, and the Albertina in Vienna, among many others. Gerhard Richter stylistically and conceptually challenged the medium of painting, ultimately demonstrating that the traditional medium could still effectively question all images at a time when the "death of painting" was increasingly proclaimed by a new generation.
In celebration of his 87th birthday, we're featuring a collection with original artworks by Saatchi Art artists that showcase the lasting legacy of Richter and his continued contribution to contemporary art.