Georgia O'Keeffe's Lifetime Journey
Recognized as one of the most influential artists of the twentieth century, Georgia O'Keeffe was best known for her paintings of beyond-life-size flowers, New York skyscrapers, and New Mexico landscapes, vividly depicted with bold colors and distinguished compositions. With her calm and lyrical style as well as her intimate connection to the natural world, O'Keeffe challenged conventional contributions to American Modernism in relation to the machine age and redefined art by turning the paintbrush into a magnifying glass on life.
In 1905, O'Keeffe began formal art training at the School of the Art Institute of Chicago and then the Art Students League of New York, where she learned the techniques of traditional realist painting. However, her style of painting underwent a dramatic shift in 1912 when she was introduced to the revolutionary ideas of Arthur Wesley Dow, who created works based on an intuitive interpretation of subjects and an exploration of nature, rather than plainly representing them on the canvas. Dow's approach and philosophy brought O'Keeffe an awareness of her agency, and she started developing her own artistic language through which she could express her feelings and ideas, and break with tradition. Thus, O'Keeffe became one the very first American artists to explore pure abstraction.
O'Keeffe departed from the city after living and painting in New York for over a decade, and sought respite in the tranquil desert landscape of New Mexico. It was there, with the dunes glistening in the sun and the wind brushing her skin, that O'Keeffe felt at home. Her newfound freedom manifested on the canvas: With bones and antlers high up in empty landscapes and skies, in O'Keeffe's paintings, the viewer appears to be suspended in the air, overlooking the sublimity and power of nature. Her iconic paintings revealed the mystery of the Southwest at a time when other American modernists were seeking new expression and a distinctive regional view of America. 
Many critics have described O'Keeffe's painting as intensely sexual and interpreted as erotic. O'Keeffe, however, refused to accept their argument and skepticism, saying, "When people read erotic symbols into my painting, they're really thinking about their own affairs." She instead saw the subject matters in her paintings as the manifestation of the essence of life and enduring nature. With the harmonious combination of the vibrant colors and revolutionary compositions, her paintings glow with not only the brilliance of life, but also the vitality of O'Keeffe herself. 
With a career spanning more than sixty years, O'Keeffe painted to the very end of her life. Even when nearly blind, she continued her art practice with the help of several assistants. In an art world pervaded by male fantasy and dominated by men, from Dadaism to Precisionism, O'Keeffe was an unprecedented artist. She broke away from the machine age, inspired the modernists with a new direction of art making, and questioned the male gaze. Consequently, O'Keeffe sketched a new modern identity for women while promoting the development of American abstraction.
Check out these five female artists taking a cue from O'Keeffe on Saatchi Art, who have developed their own unique approaches and styles, dynamically demonstrating their own emotional and life experiences.
Dorothy Churchill-Johnson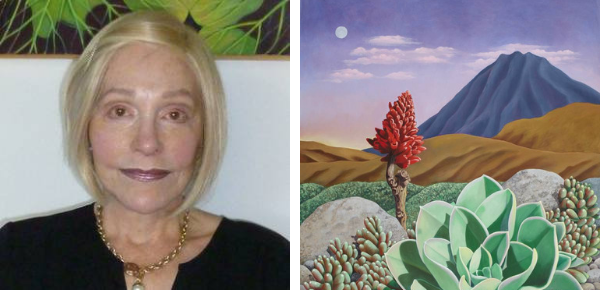 Drawing inspiration from the subject matter and color use in O'Keeffe's paintings, Dorothy Churchill-Johnson developed a unique insight and expression of nature into her art practice. The sense of realism, which Dorothy outlines with delicate details as well as precise color gradients and chiaroscuro, clashes with the surrealistic composition, smooth lines, and highly saturated color palette without compromising harmony. Dorothy's painting is a synthesis of realism and abstraction, emphasizing the intersections where man and nature come together. See more of Dorothy's work here.
Yoojin Shin
Yoojin Shin's flowers have a life on their own. They grow sometimes neatly and sometimes loosely in Yoojin's canvas, and she uses flat but contrasting colors of the background to accentuate the character of each flower even more. Akin to O'Keeffe painted in the desert by herself, no one knows where Yoojin's flowers grow, and they are just there, quietly blooming for themselves. Yoojin's passionate and delicate emotions circulated through the flowers spread across the image. See more of Yoojin's work here.
Marianne Hendriks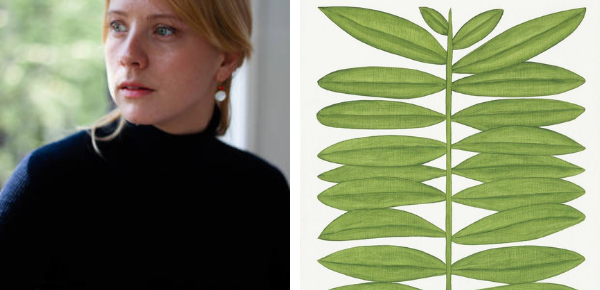 Marianne Hendriks shares her curiosity about the natural world in her paintings influenced by personal experience and background in architecture and design. By enlarging a leaf, a tree trunk, or an insect, Marianne presents them independently in her works, as if she is unwilling to let go of any small thing, attempting to perceive the world in her distinctive form. Her paintings encapsulate the rhythmic movement of nature, created by the repetition of pattern and texture, and seek out balance between realism and highly stylized expression. See more of Marianne's work here.
Jessica Rae Ecker
Unlike O'Keeffe, who manifested her understanding of nature directly with natural subjects, Jessica Rae Ecker is a bystander of the natural world. Growing up in the American Southwest, Jessica was exposed to the vast desert landscape and modern architecture, which are powerfully illustrated in her paintings. The color contrast between the cold steel and concrete in combination with vibrant nature highlights the sense of dislocation and detachment in Jessica's works of art, leaving the viewer an illusion of being in a place yet not being in the place. See more of Jessica's work here.
Chloe Hedden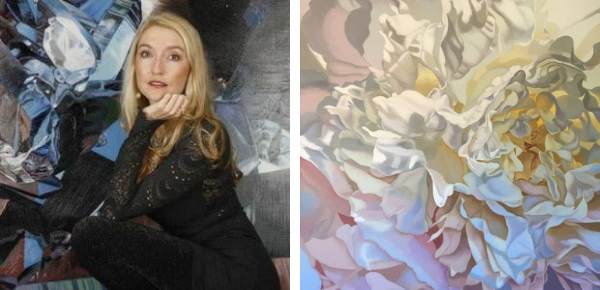 Cross media artist Chloe Hedden looks for the unseen patterns and hidden narratives that reveal the magnificence in all things. Believing in the hidden wisdom of all natural things, Chloe desires to capture the still point and the essential luminescence of every intimate moment into her paintings. With a diverse portfolio, she aims to dive into the richness of the collective unconscious and the imagery and symbolism of her dream to draw out something bigger than herself to share with the viewer. See more of Chloe's work here.
Love reading about all things art? You can have articles from Canvas, curated collections, and stories about emerging artists delivered straight to your inbox. Sign up for the Saatchi Art Newsletter.