Frida Kahlo's Groundbreaking Feminist Artistry
Frida Kahlo's social significance is one not to be underestimated. From her signature look, sporting a floral headband and striking unibrow, to her tumultuous relationship with the muralist Diego Rivera, Frida is now one of the most recognizable artistic figures in contemporary society. Her surrealism, dramatic symbolism, and folkloric imagery explored themes such as identity, class, gender, and race: subjects that remain particularly relevant to the modern audience. As such, Frida's work continues to influence artists of today. 
Elements of Frida's upbringing, from the socio-cultural environment in Mexico to a debilitating bus accident at the age of eighteen, ultimately steered her towards the arts. The injuries from her accident left Frida bedridden for months in excruciating pain, an experience where she processed the pain and trauma through painting. Frida's career as an artist then led her to an acquaintance with Mexican artist Diego Rivera, whom she married in 1929. It was at this time that she developed her own unique and signature artistic style, donning the traditional Tehuana dress and integrating elements of Mexican folk culture in her work. This is particularly recognizable in her self-portraits, which featured bright colors, Mexican mythology, and religious iconography.
Kahlo further artistically collaborated with the Mexican Muralist Movement, a partnership based upon her subscription to the Mexican Communist Party at the time. Her endorsement of these ideals led to her being commonly referred to as a groundbreaking, revolutionary Mexican artist. It was also common knowledge that Kahlo was bisexual and engaged in many affairs throughout her marriage. She further confronted traditional gender norms simply by pursuing a professional artistic career, a particularly challenging feat for a woman in Mexican society.
Despite these limitations, Kahlo became the first Mexican artist in history to be featured in the Louvre's collection following their purchase of her painting The Frame in 1939. It is due to accomplishments such as these that the feminist movement of the 1970s reinvigorated interest in Kahlo's artistic career and bolstered her as a revolutionary icon of women in the arts.
Check out these Saatchi Art artists who share Kahlo's appreciation for surrealist imagery, feminist ideals, and Mexican culture, and exemplify the liberating capabilities of visual arts.
Yanin Ruibal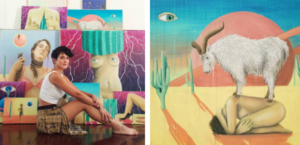 Mexican artist Yanin Ruibal evokes the surrealism and mythical symbolism also found in Kahlo's work, a similarity no doubt rooted in their shared upbringing in Mexico. Yanin expresses this influence herself, stating that cultural influences are imbued in her work along with her own personal, lived experiences. Along with imagery pertaining to animals, the natural surroundings in Mexico, and indigenous mythology, Yanin integrates the female form into her compositions to signify feminine liberation and address visual stereotypes. It is through these techniques that Yanin artistically challenges common expectations of beauty, femininity and their social implications. See more of Yanin's work here.
Andrea Cueva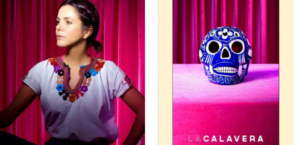 Andrea Cueva is a creative director, designer, and spiritual healer along with her work as a visual artist. Andrea utilizes a practice she describes as mythical realism, integrating a collage-like approach to photography that incongruously contrasts objects and figurative elements. Andrea's La Loteria Viva photography series pays homage to her Mexican heritage and enlivens these recognizable cultural objects through vibrant hues and contemporary references. It is through this series, and Andrea's evident pride in a female-oriented, Mexican identity, that one can recognize Kahlo's influence. See more of Andrea's work here.
Rocio Navarro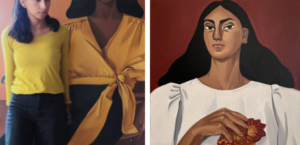 As a daughter of Michoacán natives, Rocio Navarro's bold portraiture explores the complexities associated with traditional figurative representation, female power dynamics in society, and the Latina identity. In her brightly-hued paintings, Rocio concentrates upon her subjects with particular emotional depth as she attempts to visually reflect the Hispanic female, a technique evocative of Frida's own intimate self-portraits. She is particularly influenced by indigenous culture and healing practices, and refers to her artwork as an attempt to address trauma or conflicts by artistically capturing a woman's wholeness. As such, similar to Kahlo, Rocio's work inherently endeavors to address the socially and racially marginalized female community of Mexico. See more of Rocio's work here.
Javiera Estrada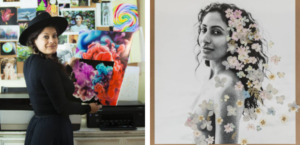 Multi-media artist Javiera Estrada expertly explores the female form through her collage work and photography. Javiera commonly depicts nude female subjects freely surrounded by breathtaking environments, empowering the feminine figure and visually associating her with intense liberation. Her mixed-media approach to visual arts integrates imagery reminiscent of Mexican flora and fauna similarly found in Kahlo's breadth of work. The importance of self-portraiture, an empowering practice for which Kahlo was famous, is self-proclaimed: Javiera describes her photography as an intrinsic expression of the artist herself, even when she is not explicitly depicted. See more of Javiera's work here.
Love reading about all things art? You can have articles from Canvas, curated collections, and stories about emerging artists delivered straight to your inbox. Sign up for the Saatchi Art Newsletter.