Frida Kahlo: Life and Legacy Behind the Icon
With her distinct brow, colorful flower crowns, and captivating gaze, Frida Kahlo (1907–1954) is among the most instantly recognizable figures in art history. But her widely circulated image perhaps makes it easy to take for granted the profound life events that shaped her work and cemented her icon status in the first place.

For one, Kahlo endured significant physical pain throughout her life: she contracted polio at age six, then at age 18, suffered a severe bus accident that resulted in lifelong complications and dozens of surgeries, including the eventual amputation of her lower right leg. But even while confined to bed in a plaster body cast for months, she began painting in earnest and painted what she knew best—herself and her experience of physical pain.

A member of the Mexican Communist Party who came of age in the aftermath of the Mexican Revolution, Kahlo also addressed colonialism in her work. By celebrating Mexico's natural landscapes and indigenous art styles, Kahlo typified a model of proud, modern Mexican identity (hence the flower crowns and Tehuana dresses she famously wore). While her comrades in the government-backed Mexican mural movement, including her husband, Diego Rivera, dealt overtly with images of collective revolution, Kahlo continually returned to the body. Even through intimate scale and subjects, she translated pain, heartache, her experiences of womanhood and sexuality, and her hopes for Marxism with unabashed and accessible sincerity.

Though often classed as Surrealist or magical realist for her fantastical use of symbolism, Kahlo insisted that she merely painted life as she knew it, and she did so up until her death at age 47. Today, audiences and artists alike continue to respond to her candor with awe. Below, meet five Saatchi Art artists taking cues from Kahlo in their own practices.
Alexa Torre Rodriguez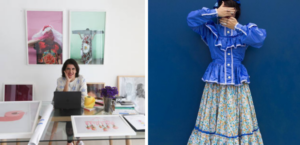 Photographer Alexa Torre Rodriguez creates bright and airy figurative photographs that explore female identity in the context of Mexican traditions and symbols in the vein of Kahlo. By isolating her figures against colorful backdrops in stylized, staged compositions, Alexa explores how context shapes our perception of the subject, particularly in response to stereotypes. Alexa is based in Mérida, Yucatán, and she has exhibited her work across North America and Europe. See more of Alexa's work here.
Yanin Ruibal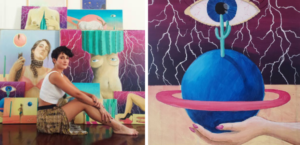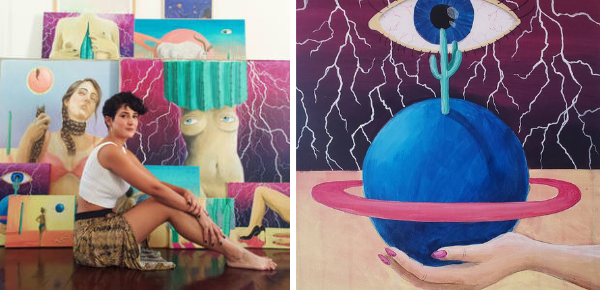 Mexico City-based painter Yanin Ruibal doesn't shy away from darkness. Like Kahlo, Yanin candidly processes her own pain and emotions on the canvas, whether they be the result of relationships, the COVID pandemic, or her own experience with chronic illness. In Yanin's paintings, these personal narratives take on the language of Surrealism while exploring the landscape of her native Mexico, with figures traversing dreamlike desert scenes marked by lightning, cacti, and floating all-seeing eyes. See more of Yanin's work here.
Adam Collier Noel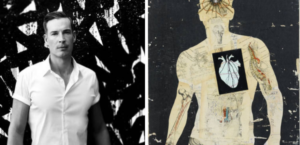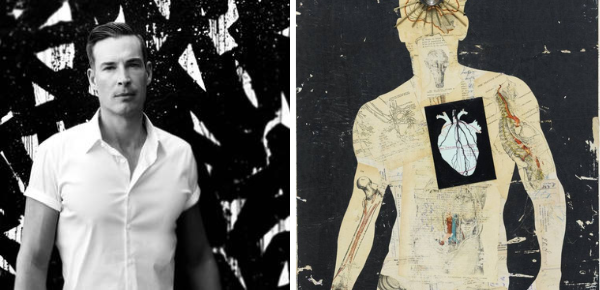 Mixed-media artist Adam Collier Noel builds on Kahlo's symbolic melding of the personal and universal to examine his own life. Just as Kahlo explored gender and sexuality in her life and work, Adam examines social constructs surrounding masculinity and male identity today. Adam lives and works in South Florida, and his work is held in private collections in the US and around the globe. See more of Adam's work here.
Karenina Fabrizzi
Fascinated by flora and fauna, Karenina Fabrizzi combines regal silhouettes with botanical and animal forms in her delicate mixed-media portraits. By fusing her human subjects with their natural surroundings, Karenina explores the fantastical qualities of nature and brings the unconscious mind to the fore, recalling Kahlo's reverence for nature in her native Mexico. Based in Barcelona, Karenina has exhibited widely throughout Europe and the US. See more of Karenina's work here.
Francesca Dalla Benetta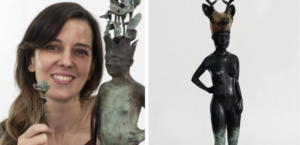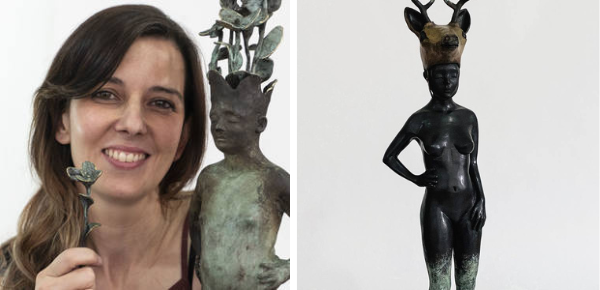 With a background in film set design and special effects makeup, Francesca Dalla Benetta is well versed in making dreams a reality. Working primarily in bronze, Francesca creates startlingly lifelike figures that bloom with dreamlike protrusions and appendages. Delicately rendered, Francesca's sculptures appear to breathe and slump as they contemplate the weight of whatever vines, houses, or animal headdresses sit atop them—like Kahlo, Francesca blends the surreal and the real with ease. See more of Francesca's work here.
Love reading about all things art? You can have articles from Canvas, curated collections, and stories about emerging artists delivered straight to your inbox. Sign up for the Saatchi Art Newsletter.