Elaine de Kooning: Blurring Abstraction and Representation
Elaine de Kooning was a prolific artist, critic, and teacher who, though married to one of Abstract Expressionism's major players, made significant contributions to the movement in her own right. Born in Brooklyn in 1918, de Kooning (née Fried) began drawing portraits as a child and was also a noted daredevil who excelled at sports. These roots came to bear in her paintings, which melded the sensibilities of Abstract Expressionist action painting with the human form, positing a new approach to portraiture and figuration. 
Emphasized by strong draftsmanship, de Kooning's figurative paintings expressed her fascination with movement, perhaps most notably in her depictions of basketball players, bullfights, and the sweeping dynamism of the Bacchus fountain at the Jardin du Luxembourg, which inspired an entire series of works in her later years. Her portraits captured her subjects' personality and essence with the use of gestural mark-making and expressive color, as seen in the 1963 presidential portrait of President John F. Kennedy. Opting to depict JFK without presidential trappings or official colors, de Kooning created a highly personal image that signaled a bold departure from traditional formal portraiture. 
What led to this prestigious commission was decades of tireless work and involvement in the New York School of artists. After studying painting at various schools, in 1938 she met and took drawing lessons from her eventual husband, Willem de Kooning. Known for being gregarious, de Kooning found herself in the center of her husband's artistic circle, befriending the likes of Arshile Gorky and gallerist Leo Castelli. De Kooning focused on figurative work for much of her career and stood out for her then-peculiar focus on male subjects and male sexuality—a choice that subverted the traditional dynamic of male artist and female muse. Alongside her painting practice, de Kooning worked as a critic at ARTNews, and through this position, advocated for many of her artist colleagues, lending a voice to Abstract Expressionism.  
Read on to discover Saatchi Art artists working in the lineage of Elaine de Kooning. 
Mandy Racine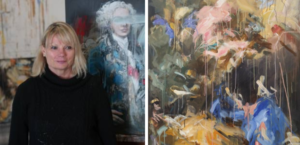 Mandy Racine reinterprets classical subjects through a modern lens. She intuitively reworks her canvases to leave traces of expressive brushstrokes and paint drips beneath the finished product, creating a dynamic coalescence of the layers below. Mandy's works recall the approach of Elaine de Kooning in their sweeping movement and unfettered expression, opting for gesture and essence over realistic representation. Based in Mallorca, Spain, Mandy has exhibited widely across Europe, and her work has been collected internationally. See more of Mandy's work here. 
Laurie Smith
Much like de Kooning, London-based painter Laurie Smith is interested in the dynamism of the male form and in exploring male sexuality. Rendered in solid yet expressive forms, Laurie's nudes float in undetermined spaces marked by loose brushstrokes and reworked marks and stains—even footprints. In this way, Laurie's works ground Abstract Expressionist tendencies in the embodied experiences of queer, masculine subjects. Laurie has been recognized as a Saatchi Art Rising Star and shortlisted for Bloomberg New Contemporaries. See more of Laurie's work here.
Lydia Lee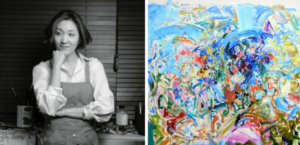 Lydia Lee's oleaginous brushstrokes and proclivity for sweeping gestures are rooted in Abstract Expressionism, while her airy, dreamlike color palettes infuse this style with a personal and fresh twist. Often painting on a large scale, her works share with de Kooning a balance between frantic action and overall harmonious compositions. Lydia was born in Seoul, where she continues to live and work, and has exhibited her work internationally. See more of Lydia's work here.
Tijana Titin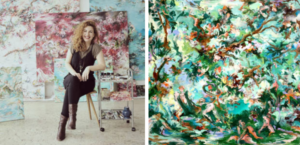 Tijana Titin creates figures that partially emerge from the canvas, only to disappear into the fray of other bodies and brushstrokes, a tendency that recalls the orgiastic energy of de Kooning's Bacchus series. Tijana achieves this visual flurry by flattening her picture planes, creating a push-pull effect between foreground and background to disconcerting, dreamlike effect. The results are abstracted scenes that recall the chaotic interiors of the mind as much as the physicality of the body. Based in Berlin, Tijana has participated in solo and group exhibitions throughout Europe. See more of Tijana's work here.
Seb Sweatman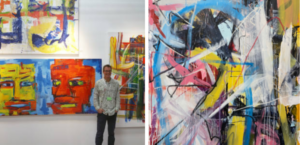 Enamored with color and movement, Seb Sweatman's expansive Abstract Expressionist paintings recall the energy of de Kooning's work. Alternating between moments of tension and calm, Seb evokes speed and the passage of time in his often monumentally scaled paintings. Seb was born in South Africa and now lives and works in Vermont, where he has held multiple residencies and exhibited in numerous solo exhibitions. See more of Seb's work here.
Love reading about all things art? You can have articles from Canvas, curated collections, and stories about emerging artists delivered straight to your inbox. Sign up for the Saatchi Art Newsletter.