David Hockney's Vivid World
David Hockney's lively and refreshing paintings are imbued with vibrancy and energy, qualities which make them some of the most instantly recognizable—and widely admired—images today. Hockney, now considered one of the most influential contemporary British artists, served as an instrumental figure in the Pop art movement. An early adopter of acrylic paint, Hockney cemented his position at the forefront of the 20th century art historical canon with his iconic poolside scenes and intimate figurative works. 
Born in Bradford, England, Hockney pursued the arts in his home country at the Royal College of Art in London. During his early training, Hockney developed considerable skill as a figurative painter. Personal relationships and autobiographical figures materialized throughout his compositions: From self-portraits, formal portraiture, and casual depictions of friends, Hockney's desire to visually capture his relationships with others continues to this day. Specifically, scholars of Hockney's work have witnessed the progression of his romantic relationships through his depictions of former partners Gregory Evans and Peter Schlesinger, compositions whose moods dramatically altered throughout the years.
Following his study in the United Kingdom, Hockney's move from England to Los Angeles in 1964 heavily influenced the trajectory of his artistic style. It was at this time that Hockney began depicting swimming pools and mid-century architecture. One such painting, The Splash (1966), persists as arguably one of the most famous contemporary paintings to this day. Public fascination with Hockney's work was reinvigorated through another poolside painting, the 1972 work Portrait of an Artist (Pool with Two Figures). In 2018, the work sold for $90 million at Christie's auction house, making it the most expensive work of art by a living artist to be sold at auction. 
Now at 84 years old, Hockney continues to experiment. He has specifically embraced the integration of new technology and art, utilizing iPads to create his most recent body of work. Admirers of his work can now view the step-by-step creative process of his compositions through his personal website. 
Bring clear skies, punchy portraits, and clean compositions to your art collection with works by notable Saatchi Art artists who echo Hockney's liveliness and love of color.
Ieva Baklane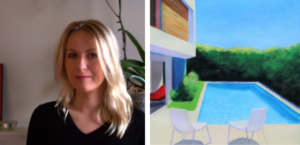 Latvian artist Ieva Baklane shares Hockney's penchant for vibrant hues, aquatic imagery, and sharp geometric contrasts. A love of California's warm climate is yet another similarity shared by the artists. Ieva is a self-proclaimed admirer of bright, California days, an appreciation that stems from her upbringing in Latvia, which has short summers and often rain-ridden days. One can instantly recognize The Splash and its influence throughout Ieva's work, which captures the bright colors and contemporary architecture of Palm Springs, California. See more of Ieva's work here.
Theophilus Tetteh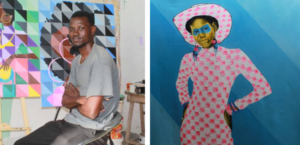 Ghanian-born painter Theophilus Tetteh expertly integrates elements of pop art such as geometric contrasts and bright juxtapositions of color in his figurative work. Theophilus attempts to express  intimacy in his portraits by focusing on the eyes of his subjects as vehicles for their underlying personalities. Much like Hockney, it is through vibrant hues and geometric contrasts that Theophilus's  subjects acquire a particular individuality and liveliness. See more of Theophilus' work here.
Dan Nelson
Dan Nelson's intimate figurative work and its emphasis on its subjects is particularly evocative of David Hockney's portrayals of acquaintances. Dan captures his subjects with vivacious life and personality, whether he is painting solitary individuals, romantic couples, or energetic party scenes. His compositions are evocative of the California landscape of the 1970s, integrating bright colors, mid-century modern architecture, and the iconic pools of Palm Springs. Dan has expressed that he ultimately strives to integrate joy into his artwork, a mission clearly demonstrated by his ability to capture cheerful figures and refreshing surroundings. See more of Dan's work here.
Su Ok Joo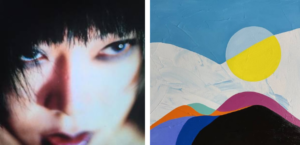 Su Ok Joo's bold abstract paintings share the same colorful energy found in David Hockney's work. Originally born in Kwangju, South Korea, Su now lives and works in  Atlanta, Georgia. Like Hockney, Su's art practice flourished with her move to a new country, and new forms of artistic expression, specifically live concerts, became major influences for the painter. The bright hues and juxtaposition of forms in Su's paintings give form and color to to the feelings and emotions sparked by listening to live music. See more of Su Ok Joo's work here.
Love reading about all things art? You can have articles from Canvas, curated collections, and stories about emerging artists delivered straight to your inbox. Sign up for the Saatchi Art Newsletter.