Color and Texture: Gerhard Richter
German artist Gerhard Richter (born 1932) has famously worked in many styles over the course of his career. But perhaps his most well-known and celebrated artworks are his iconic large-scale abstract paintings, made with bright colors and diverse layering techniques. Richter's various methods include applying multiple layers of paint with alternative tools and then scraping the paint away to reveal the richly layered colors beneath. This process results in entrancing textures and surface effects, which are often quite difficult to describe. Many art critics have taken to using the language of nature to describe Richter's abstract paintings, using phrases such as "the wispiness of cirrus clouds," "the reflectiveness of rippling water," and "the roughness of cracked earth." Richter's lifelong spirit of experimentation is also reflected in his other artworks.
Richter's childhood in Nazi Germany influenced his early work, which fell under the Social Realist movement during his time at Dresden University from 1952-1956 and for a short time thereafter. In 1961, Richter was granted permission to travel to West Germany to study at the Kunstakademie in Dusseldorf, where he stayed until 1963. At the Kunstakademie, he was inspired by his colleagues working within the Tachisme and Art Informel movements and other avant-garde, experimental movements like Fluxus. Taking inspiration from these styles, Richter began painting photo-based images with a blurred effect which mimicked the results of a photograph taken while in motion. Soon after, Richter began to make color chart paintings, which depicted multiple blocks of solid color in squares or rectangles alongside each other. Further experimentation with color led Richter to develop his iconic large abstract paintings. Most recently, Richter has created large digital 'strip' paintings which consist of hundreds of thin, multicolored horizontal stripes.
These five Saatchi Art artists create work in the same experimental spirit as Richter. Explore these artists' portfolios to discover how they utilize color, texture, and alternative techniques to create their artwork.
Preston M Smith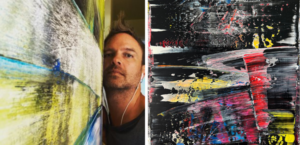 L.A.-based artist Preston M Smith has had a storied artistic career. Beginning as a professional actor, musical artist, and writer, Preston now focuses primarily on the visual arts. Preston's abstract artwork is vibrantly colorful, tactile, and highly textured. He has exhibited extensively in the Los Angeles area and was commissioned to paint 12 paintings of President Barack Obama for the 2009 Inaugural Purple Ball in Washington D.C. Preston's artwork can be found in private collections around the world. View his portfolio here.
Leon Grossmann
Berlin-based artist Leon Grossman creates abstract minimalist paintings that combine color and surface texture with the goal of providing a space for meditative contemplation. Leon studied at both Tel Aviv University and the Sabel Academy of Berlin. His artworks are in collections across the globe, including the United States, Australia, Germany, the United Kingdom, Portugal, Switzerland, Spain, Greece, Hong Kong, and the United Arab Emirates. View his portfolio here.
Daniela Schweinsberg
German artist Daniela Schweinsberg creates expressive canvases with bold brush strokes, splatters, and playful color palettes. Daniela appreciates the creative challenge that abstract art presents, stating, "An abstract painting challenges the artist even more because it's an act of creation on the artist's own terms." Daniela has exhibited her artwork across Europe, the United Kingdom, and the United States. View her portfolio here.
Mário Pires Cordeiro
Portuguese-American artist Mário Pires Cordeiro experiments with media and color as he explores the interaction between art and design. His practice is deeply rooted in the theme of color, particularly in unpacking the symbolic and cultural meanings imposed on color in contemporary society. Mário received his MFA at the University of London and completed three years of a Ph.D. researching color trends in fine arts. He has been commissioned by the Olympic and Paralympic Games Committee and is currently a resident artist of the Minnesota Street Project Studio Program in San Francisco, California. View his portfolio here.
Kemal Yazici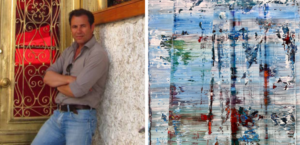 Born in Turkey and brought up in Germany, Kemal Yazici is a contemporary abstract artist who is inspired by the simplicity of geometrical and organic elements. Kemal says his self-made heavy work tools bring him closer to his art pieces. He is adept at creating vividly colored artworks with intricate details through layering and scraping paint. Kemal's work has been exhibited in numerous group exhibitions in Dubai and Turkey. View his portfolio here.
Love reading about all things art? You can have curated collections, stories about emerging artists, and more delivered straight to your inbox. Sign up for the Saatchi Art Newsletter.